ENGLEWOOD, Colo. --Last year, five of the eight offensive linemen activated by the Broncos for their Week 1 game against Baltimore had never taken a regular-season snap. Two of them -- Ty Sambrailo and Matt Paradis -- started that game. Two more -- Max Garcia and Michael Schofield -- would eventually start before the end of the season.
Barring a cataclysmic wave of injuries, that scenario will not repeat itself this year. So it becomes far more likely that rookie Connor McGovern's development will be more typical of offensive linemen in this scheme than it was for those young linemen last year.
During Gary Kubiak and Rick Dennison's previous stints on the Broncos' coaching staff, rookie starters on the offensive line were rare. Ryan Clady in 2008 was a notable exception, but the typical pattern involved a year of development before starting multiple games, as evidenced by the career track of George Foster, Chris Kuper, Chris Myers and others.
But the reward for last year is a group that is wise beyond its years.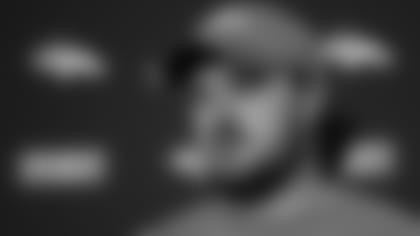 Paradis, who played every snap last season, has become the seasoned veteran of the group. Thrown into the fire last year, Paradis plays with maturity and intelligence and dispenses advice you'd normally expect from a 10-year veteran, not someone with just 19 regular-season starts.
"Matt Paradis is definitely a good guy to talk to," said McGovern. "He'll always answer your questions. He's a super nice guy."
Sambrailo and Garcia, the two projected starting guards working ahead of McGovern, have also dispensed plenty of wisdom to him.
"The offensive line has a lot of good guys," McGovern said. "Being an offensive lineman, you always have those role models there for you."
And with those role models fitting in, the Broncos can take their time with McGovern, introducing him to the scheme piece by piece.
During OTAs, that meant keeping the focus on technique.
"All the technique stuff. You really have to refine your technique in the NFL," McGovern said. "The technique that [Offensive Line] Coach Clancy [Barone] was teaching us, it was nice, because I got to practice that in the offseason. He gave us a lot of drills that we could do on air, on our own, so it was good to get that done and practice it."
As McGovern hones his technique, he can learn the scheme position by position.
Although he can play anywhere on the offensive line, he expects his focus to be on the interior three spots, with his first work at both guard positions. Center repetitions will come, but "not right away," he said.
"In any NFL offense, center has such a big responsibility, so I think they want to work me in at guard just so they make sure I can play," McGovern said. "Once the mental side is really there, they can move me back to center."
And if the Broncos have good health up front, they can take their time and ensure that when McGovern's time up front comes, he's ready for an impact as big as the prodigious weight-room numbers he posted at Missouri.
Ahead of the start of training camp, Broncos rookies have reported to get back up to speed on the field before camp begins in earnest. (Photos by Ben Swanson)