HIGHLANDS RANCH, Colo. --Few people know the ins and outs of what the Broncos' offensive linemen face this summer better than Chris Kuper.
A 2006 sixth-round draft pick who eventually became one of the league's best guards, Kuper played eight seasons for the Broncos, including four with current Offensive Coordinator Rick Dennison as his position coach and one with Clancy Barone, the current offensive-line coach, on the job. He understands a zone-blocking-based scheme based on his first three years when Mike Shanahan was still the head coach, and other concepts that followed from 2009 onward until injuries forced his retirement after the 2013 season. What Dennison, Barone and Head Coach Gary Kubiak want is a result of equal parts technique, athleticism, quick thinking and attitude. As right guard Louis Vasquez said Aug. 1, "My mentality is by the end of the fourth quarter, we want to feel your soul wilt in our hands."
And Kuper says that Vasquez, a 2013 All-Pro, is in the best position to send that message to a young group that features five players who have never started in the NFL among its first two units.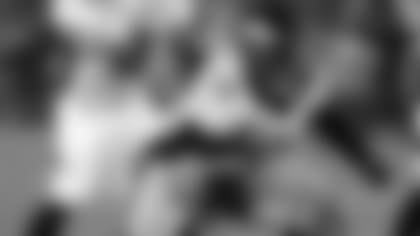 "I think the leader in the room has to kind of instill that in the young guys," Kuper said when he joined Broncos TV for a live show at Buffalo Wild Wings in Highlands Ranch on Aug. 5.
"It's hard to come in as a young guy and just -- there's guys who naturally have it, and you're just like, 'OK, that's one of those players that he's going to have that and he's going to bring that type of attitude and people can feed off that,' but it's hard to kind of step off that and put yourself out there at that point when you're a rookie.
"But that's definitely what they want, and they're going to get it just with the scheme. They're going to be cutting every play. Someone's getting cut, and the defensive line hates it, but it's part of the game. They're going to call them, 'dirty,' you know, whatever it is, but that's part of the game. There's going to be some nastiness out there regardless."
But it's nastiness with a purpose: to keep the defense guessing and give the offense an extra split-second to get a jump on its foe. One of Kuper's most distinguished predecessors, Hall of Famer Gary Zimmerman, noted this in April.
"I think the biggest thing in the zone blocking is that the defense has a lot more to think about, because a lot of plays look alike, and there's a lot of pass plays that look like run plays," Zimmerman said then. "It kind of puts a little more thinking on the defense as in the previous years, where they just lined up and played, and knew that the pass was coming. Now they're going to have to first determine if it's a run or a pass, and then go from there."
Kuper expanded on Zimmerman's breakdown.
"The run game, period, is going to be great. And then the run action, the play pass off of that, but when you get really good in this system, and you make everything look the same, the defensive line doesn't know whether they're on the front side or the back side," Kuper said. "They don't know whether they're protecting themselves against a cut, or getting reached.
"So that little split-second, half-second, whatever it is, we get the edge or they're going to try to play the cut -- [whether] they're going to cut back or they're going to get cut, it's there."
But it will take some work for the young offensive linemen to get there. Kuper did not start until the sixth game of his second season and felt it took a bit longer before he truly mastered the scheme.
"I know that I probably wasn't ready my rookie year. I probably would have been sufficient enough to get out there and play. But I think in my third year [2008] is when I really started to pick things up and learn some of the tricks, watching that older group of guys in front of me," Kuper said, "and then you just get to the point where you're so comfortable with the scheme that you have a little bit of confidence to try those things."
Some of the young linemen may not have the luxury of that extensive gestation time before their first start. But that doesn't mean they can't be ready.
Kuper watched practice Tuesday and likes what he sees from some of the young linemen, specifically second-round pick Ty Sambrailo -- who Kuper described as "pretty athletic" -- and fourth-rounder Max Garcia, who "has got some strength to him."
"They'll both fit well in the system," Kuper said. It's going to be a battle. They've got some decisions to make, and I think it's too hard to tell where they're at at this point in camp.
"They're going to figure it out as we get into [preseason] games and kind of see who shows up, because that's when you really see what you have."