DENVER — Chris Harris Jr. isn't just following in 12-time Pro Bowler Champ Bailey's footsteps on the field as an elite cornerback in the NFL. Off the field, he's embodying his mentor's legacy at the Denver Rescue Mission's The Crossing location by devoting his time and energy to the Mission's work.
"It's the homeless. They don't have a place to stay," Harris Jr. said. "[The Crossing] is providing a place for them, a shelter for them, so any time you can help those people, I think that's what really made it important for Champ and for me."
Bailey was integral to The Crossing's beginning when it opened 10 years ago. He spent extensive time giving back at both The Crossing and its Broncos Youth Center, volunteering about once a month in different capacities to help expand the Mission's purpose.
"I think his presence just lingers. He was so humble, but also so giving and willing to talk to anyone or ask how he could help the Mission, really do almost anything that we asked of him," Denver Rescue Mission spokeswoman Alexa Gagner said of Bailey's impact. "He was such a true partner that didn't ask for anything in return. … I don't remember him being late. I don't remember him not showing up to something. It really shows his true character — humble, giving and just a very kind guy."
Monday night, Harris Jr., who has since replaced Bailey as an ambassador of sorts for the Mission, joined several other Broncos players, cheerleaders and Miles the Mascot to kick off the holiday season by hosting the Mission's annual holiday party.
"I've just seen Chris step up as a leader on the team and really guide other players to join this party and really to serve at the Mission because that's what it's all about," Gagner said. "When Champ served here he really brought the energy to the Crossing when it first opened 10 years ago. Seeing Chris come and follow in those footsteps is really cool."
Harris Jr. arrived earlier than the rest of the players because of a prior commitment that he had later in the evening that prevented him from staying for the gingerbread cookie decorating portion of the night. Instead, the cornerback and his wife, Leah, visited with families living at The Crossing as they ate their holiday dinner. He refused to let anyone in the room leave without taking a photo with him or letting him autograph anything they might have had, including Broncos gear, pieces of scrap paper, Pokémon trading cards, clothes off people's backs and even a little kid's shoes.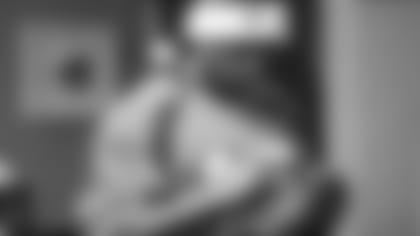 "Champ would remember people's names and people's faces. Chris is really taking that on and saw that example from another leader of the team," Gagner said. "I think the other players that see Chris doing that will follow in his footsteps and want to be a part of something that is really, truly amazing."
Monday night's turnout was the biggest player involvement at the event since it began 17 years ago, much in part ­to Harris Jr.'s championing of the event. The players' participation is what made the night so special as those who live at The Crossing were in awe of their time spent with the Broncos during this season of giving.
"This is their Christmas present," Harris Jr. said. "They don't get a lot of presents, so this is a present for us to give to them."