As I lay in my hospital bed, I get to reminisce about my day at the Broncos Headquarters. I was fortunate enough to be selected to represent the Broncos and Children's Hospital Colorado as a Junior Reporter, who was able to interview nose tackle, Domata Peko. My first thought when I found out that I was interviewing Domata Peko, was that he was very intimidating looking as he is much bigger than I am – like huge! He looks like a big bear, but in reality, he is a big teddy bear.
Something that Peko immediately taught me was to not give up on my dreams as he is truly living his dream right now! Growing up, Peko wanted to be a professional athlete. He watched his brother, Tupe Peko, who is also his real-life hero, "make it" playing at Michigan State, so it encouraged him to play, because, if his brother could do it, then he could also do it. Peko said, "I have been able to accomplish this goal and dream through God and by extremely hard work, sacrifice and determination." Tupe Peko also played in the NFL prior to Domata Peko playing, which helped lead the way for him to play football professionally. Peko has a cousin named Fou Fonoti, who also played football for Michigan State. It has kind of become a family tradition for Domata's family to go to Michigan State. Domata's kids even hope to attend Michigan State someday. I was born in Michigan so it was fun to have a connection to Michigan with him.
Peko is very well-known on the field as "the guy on the Broncos' line with the really long hair." Peko's hair is all the way down his lower back, and he loves his hair! He plans to grow out his hair the rest of his life, but is getting a trim soon. His hair is definitely longer than mine! I should have asked if I could have braided it for him! If you cannot find Peko's hair on the field, you can also find him as he wears the #94. In college, Peko was #96 and then his rookie year playing for the Cincinnati Bengals, they gave him the #94. Ever since then he has been #94 as it has been "good to him."
This is Peko's third year playing for the Broncos as the nose tackle, which is typically the largest player on the team who lines up over the tip of the ball in the middle of the defensive line. Peko is one strong athlete as he can bench press 400 pounds and he can squat 500 pounds. That is 8-10 times my weight! He is so strong, and he likes to eat! Peko eats a lot of food, as it is one of his favorite things to do. He can much pretty eat whatever he wants as a "D-lineman" and nose tackle, unlike receivers who have to eat a lot of salads. He still does a good job of eating healthy and taking care of his body though.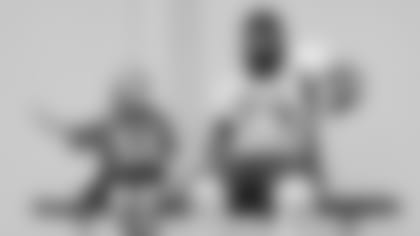 If Peko did not play his current position as a nose tackle, and he had a choice to play another position, he would choose to be a wide receiver, or a tight end, so he could, "get the crowd to go crazy by scoring touchdowns and getting in the end zone." When asked about who his best friend on the Denver Broncos team was, he said, "I did not have one best friend on the Broncos team, I am really good friends with a lot of the guys, but my best friends are the defensive line players as we are a very close group and hang out a lot after practices." You can tell they have good friendships and care a lot about each other, as Peko, and all his teammates attempt to help each other out with their charities and foundations. The foundation that Peko supports is The Domata Peko Foundation, where he is building a Medical Center/Hospital right now in American Samoa, which is where he is from.
When asked if Peko had one favorite story while playing for the Denver Broncos, he said, "that even though last season was a hard one, my favorite memory is when I got to meet football players like Von Miller, the "Goat", and DT (Demaryius Thomas)." He went on to say "that even though Von and DT are really big-name guys, they are nice, humble and down-to-earth guys, even though they are celebrities and professional athletes." He definitely reinforced how humble of people his teammates are. I do not see Peko having many enemies as an individual as he appears to be an extremely caring, compassionate, and a supportive teammate, football player, friend, father and husband, but when it comes to football his biggest rivals are the Raiders, Chiefs or LA Chargers, but really any team in the Broncos' division is a Denver Broncos rival and a rival to him.
On a more personal note, one of Peko's best moments in life was when he had his first child, a son, as he "knew life wasn't about himself anymore. It was about my kids, and making sure I was raising them the right way," he shared. We had a really good laugh together when I asked him what he was scared of, as he is not scared of very much when it comes to football. However, off the football field he is scared of snakes and spiders. "I hate those things" he said! We laughed even harder when he said his wife had to kill a spider on his coffee table the night before.
Peko's hidden secret talent, which many people do not know about, is that he plays the guitar. He actually has his guitar in his locker in the Broncos' locker room. You can occasionally catch him playing guitar on his social media accounts and on Instagram. Another talent that others do not know is that he can do some break dancing, especially the robot which is quite impressive for a "big guy, which makes a big robot."
There are a lot of funny things that go on, on the sidelines, but one of the funniest guys he played with was Chad Johnson, also known as "Ocho Cinco", who came up behind him and started sniffing his hair. He said, "it was really funny, but kind of weird!"
If Peko could have 3 wishes that do not involve football, they would be:
1) to feed all the poor and make sure there are no more people struggling
2) to bring world peace as there is so much war and bad stuff going on
3) and that everyone got to know Jesus the same way he knows Jesus and his personal relationship with God.
My favorite part of our interview was when Peko taught me his favorite dance which is like a break-dancing pop-rocket wave and I got to teach him how to get down to "the Floss" and "Orange Justice."
I even got to "dab" with him!!!
The most exciting and most impactful part of our conversation that I can take away from my interview with Peko is that he and I believe in the same God, and live each day exemplifying how to live a Godly life, only wanting others to get to know the God we know and serve!
Thank you for giving me this opportunity and experience! And thank you Domata Peko for taking time to be with me! This is a day I will never forget!!