On Sept. 6, I got the chance to visit the Broncos' facility. It was so cool. I got to see all the trophies, meeting rooms, weight room, practice field and cafeteria. After the tour, inside linebacker Alex Singleton came out to meet me and I got to ask him some questions.
Johnny: What are your goals for your football career?
Alex Singleton: To be a Pro Bowler or All-Pro.
Johnny: Who are your biggest influences in football?
AS: My little sister Ashley — she influences everything.
Johnny: Do you have any rituals or superstitions before the game?
AS: I used to have a lot, but now I listen to a song my dad played when I was younger it's called Bungle in the Jungle.
Johnny: What was the best game you ever played?
AS: First game against the 49ers, [I] got a pick-six.
Johnny: What college did you go to and would you recommend it?
AS: I went to Montana State. It's cool and pretty. I would recommend it.
Johnny: Why do you love football?
AS: It's the greatest sport in the world and I get to hangout with my friends.
Johnny: How many games have you won in your career.
Johnny: What's your day-to-day life like as a football player?
AS: At 8 a.m is breakfast then meetings, weight lifting, practice, more meetings and lifting and home by 6.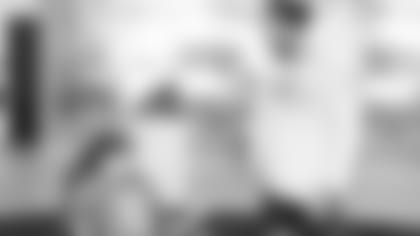 Johnny: What are the biggest sacrifices you have to make to pursue your career?
AS: Family. I'm away a lot and have to travel. I bounced around the league until I got a home.
Johnny: Who were your favorite football players growing up?
AS: I wanted to be a quarterback. Matt Leinart, he had a great college career. [Also] Clay Matthews, the outside linebacker for the Green Bay Packers.
Johnny: Who is crazier, Rocky or Miles?
AS: Rocky is wild. Miles is more tame.
Johnny: Where does Thunder go when not on the field?
AS: I was just with one of the trainers a few days ago. Thunder goes into a pen behind the bleachers.
Johnny: If you could go back and change one thing about your time playing football, what would it be?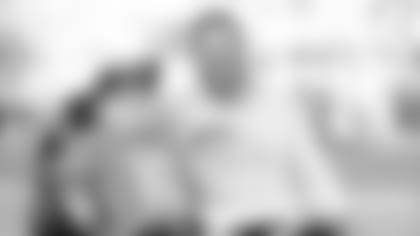 I got a gift bag that had a lot of merch in it. Alex signed my jersey and mini-football helmet. We took lots of pictures and then it was time to go. I will never forget the Broncos' facility and Alex Singleton. Thank you for the experience!