I had the great opportunity to go to the Denver Broncos practice facility and take a tour and interview one of the Bronco players. 
My tour started in the main room where they have all their Super Bowl trophies and other awards they have received over the years. They also had banners hanging from the ceiling with many of their accomplishments. The tour guide then came out to get us and we had to sign in and get a pass to wear to enter the building. 
When we got inside the building, there were walls of pictures from every team for every year. It was cool to see all of the pictures. We then went to the big room where they have their team meetings. I was able to stand at the podium and sit in the seats where the players sit. Then I got to go to all the individual group rooms where they study for the upcoming game. I even got to see the quarterback room where they wrote down some plays and some calls that they were going to make in the game later that week against the Packers!
I loved the fact that around every corner, there was a drink and snack station. I was able to steal a Gatorade from one of the refrigerators!
I walked through the players locker room and saw all their stuff laying around. I also got to go to their cafeteria to see the food they get to eat each day. And then we walked through the player parking lot and saw all their super cool cars.
We saw their weight room and a big indoor field where they will work on their rehab and prepare for their games. I was told that instead of going through security at the airport, the security comes to them. So they get scanned and then go straight to the plane and board it for the flight to their away games.
The Broncos were having practice while I was there. We were able to look through windows and watch some of it.
After my tour, we went back to the main room. I got a bag of goodies that included a hat, hoodie, t-shirt, and a mini helmet, and that is where I got to meet and interview Zach Allen. Here are the questions and answers from our interview: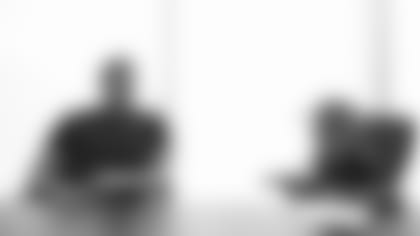 Q: What college did you attend? 
Q: How long have you been in the league and what teams have you played for? 
A: This is his fifth year in the league.  He played his first four seasons with the Arizona Cardinals, and this is his first year with the Denver Broncos.
Q: What is your favorite memory from a game? 
A: He scored a touchdown in his third year in the league and said it was very cool.
Q: Do you have a touchdown dance? 
A: He did when he scored his touchdown, but he does not have one now until he scores again.  He asked if I had a touchdown dance and I told him I could do the Griddy.
Q: Do you prefer Gatorade or Prime? 
A: He said he has not had Prime. But he told me he would go to the gas station that day and get one. His favorite is light blue Gatorade.
Q: What sports do you like to play besides football?
A: He likes to play baseball and basketball.
Q: What do you want to do after you retire from football? 
A: He wants to be a coach. He likes to teach people.
Q: Do you have any pregame rituals?
A: He likes to eat the same meal before every game. He has to eat pasta before he plays each week.
Q: What is your favorite part about being a Bronco?
A: He loves the city of Denver. He thinks it is a great place and he loves the mountains.
Q: Who is your best friend on the team? 
A: D.J. Jones is his best friend and he is really close to him.
I had an incredible day, and it was great to see where the Broncos get to practice. It was also super cool to get to meet and talk with Zach Allen. He was very nice, and I am happy that he took the time out of his day to hang out with me for a bit. 
I also want to say thank you to everyone who helped put this together for me and everyone who walked around on the tour with us. And thank you to Children's Hospital for giving me the opportunity to be a Denver Bronco Junior Reporter for a day.
Thank you again to everyone who helped make this day special for me!!!