Hi, my name is Harry and I got to be the Junior Reporter for the Denver Broncos on Sept. 13.
The day started off with a tour of the practice facility. First, we started in the big film room and then we moved on to smaller rooms where different team divisions meet to talk strategy, such as the QBs, RBs and DTs, which was cool.
After that, we went to the training room where I fist-bumped cornerback K'Waun Williams and we got to see other players' lockers, too. Afterwards, we went to the gym where they showed us how they custom-make workouts. Then, we saw this cool room with a wall that had projectors where players can pretend to run plays against an opposing team.
Finally, we waited for the players to finish practice, and I interviewed inside linebacker Josey Jewell.
HARRY: Thank you for coming.
JOSEY JEWELL: Yeah, no problem
H: So, my first question is: In your life, who has been your favorite coach?
JJ: My favorite coach... oof. We're going to keep it nice since I've got a good coach right now. We'll say Greg Manusky, my coach here. Maybe he'll like me a little more if I say that.
H: Who or what inspired you to play football?
JJ: My Grandpa and my Dad. When we were growing up, football was pretty big for us. Every fall was a fun time, playing football, being outside with friends, and having fun memories. My Dad and my Grandpa definitely influenced that and it's been great ever since.
H: Me and my friend Connor, we really connected through football. Are there any teammates that you've connected with as friends?
JJ: Oh, heck yeah. All linebackers. There's [inside linebacker] Justin Strnad, [inside linebacker] Alex Singleton [and safety] Justin Simmons, too. There are a bunch of guys that if I wasn't in football I definitely wouldn't have connected with just from being from different parts of the States, different parts of the country. So, it's definitely brought me a lot closer to people who maybe I wouldn't have known.
H. That's pretty interesting. Making a really good play or an interception, stuff like that, how does that feel?
JJ: It's hard to describe, that's for sure. It's one of the best feelings in life. So much joy and happiness comes to you and then you've got something to celebrate. It's a good time, man. Love it.
H: Do you play video games?
H: Have you ever played the video game, Mario Kart?
H: Who do you play mainly on Mario Kart?
H: Yeah, who do you play?
JJ: Who are you, first of all?
JJ: Diddy Kong guy, huh... I'm probably a Mario guy. I'll keep it clean.
JJ: Toad, maybe. Toad's a good one, too.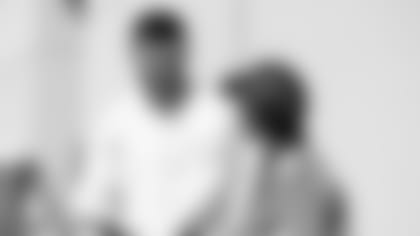 H: Obviously, it's hard to come off a loss. It was a really close game last week. I was there. How do you respond after that?
JJ: Going out and working just like we did today, flushing it out, learning from your mistakes. It's on to a new team and you can't do anything about the last one, so just trying to think about how to win this game now.
H: I know you mentioned it with your grandpa, did you play football with friends growing up?
JJ: Oh yeah, yeah. A lot of friends. ... A bunch of neighbors, guys who lived by me, used to play. So, it was always fun to play with them and then come back home with them and talk about our day, how much fun we had and all of the different plays, which I'm sure you also do, so it's awesome.
H: Yeah. What superpower would you want and why?
JJ: What superpower? To be able to fly, to be like an eagle and be able to fly around. What about you?
H: I think I'd like superspeed because you could just go anywhere you want.
JJ: That's true. You'd probably be able to fly if you had superspeed.
H: What are some plays in your career that really stand out?
JJ: Let's keep it to the NFL. A couple of interceptions I had last year vs. Pat Mahomes. Those are a couple that stand out, especially the two in one game. That was awesome. But there's a lot of good ones. I'd rather win games than sometimes have interceptions or stuff like that. Every win has been awesome.
H: Would you rather win the Super Bowl or be the MVP?
JJ: Win the Super Bowl, for sure. MVP would be cool, but I'd rather get a ring before winning MVP.
H: What's your favorite place you've ever traveled?
JJ: My favorite place I've ever traveled to... I don't do much traveling. I'm from the Midwest and grew up on a farm. So, we'll keep it simple, something in Colorado: Guanella Pass. Have you ever been there?
JJ: Oh, you need to go up there. That's one of the most beautiful places I've ever been, especially in Colorado.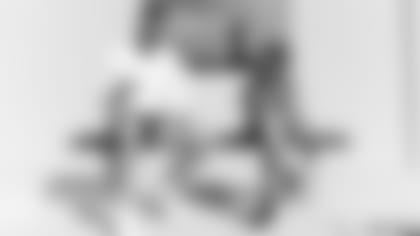 H: What does it take to be a professional football player?
JJ: A lot of commitment, a lot of time, a lot of hard work. Day in and day out, yeah, all of those things. You've got to stay true to the grind and be able to do it every single day, and you can't take days off.
JJ: I don't have any pets here. Back at home, my parents have some pets on the farm. After I'm done with football and done traveling, I'll get a couple of dogs.
H: I love dogs. If you could talk to anyone in the world, dead or alive, who would you pick?
JJ: Well, since we've talked about my Grandpa, I'd say him since he passed away years ago. It would be cool to be able to talk to him and see his thoughts on today what he thinks of people and what he thinks of me.
H: That's sweet. What's your biggest accomplishment in life?
JJ: That would be playing in the NFL. Being able to make it this far. Growing up in a small town, everyone in my family went D3. There's a school about a mile away from our house called Luther College. Everybody went there. I went to Iowa. Luckily, I got a scholarship and somehow made it here. So, it's one of my best accomplishments so far.
H: That makes so much sense. What do you listen to before games, like hype music to get you pumped up?
JJ: All types of music. It can go from some hard rock to some rap to some country. Whatever I'm in the mood for that day. Some good early 2000s rock would be a good one for me.
H: I know you grew up in Iowa, so what team did you root for?
JJ: We didn't have any professional teams in the state or really within a couple of hours of us, so it was always the Iowa Hawkeyes for me, which then I went to go play for. That was the biggest one. Other than that, I grew up a Broncos fan and a Rams fan, which is weird because the Rams used to be in Missouri, in St. Louis, and the Broncos were somewhat close in the Midwest.
H: What's a show you're watching?
JJ: There are a couple of different ones that I'm just finishing up. Yellowstone, I just finished up the other day. That's one of my favorite ones right now.
H: Yep. What's your favorite meal before a game?
JJ: It would have to be steak and potatoes. Or some sort of hamburger and potatoes. Keep it simple with a little bit of fruit. That's my main stuff.
H: What do you think your life profession would be if you weren't a football player?
JJ: I'd probably be a farmer since I grew up on a farm back home in Iowa. My brother farms with my Dad now and so I think that's probably what I would have been doing. So, something that is totally opposite of what I'm doing now.
H: I was told you're involved with a juice shop?
JJ: I've got a little juicery back there, yeah. We have some juices and acai bowls and stuff like that. So, I own one business, yeah.
H: I was also told that you have a turkey farm.
JJ: Yeah, I grew up on a little over 1,000 acres with cattle and turkey and some crops. The turkeys were a part of it. They're an interesting animal, that's for sure. (laughs)
H: That's all the questions I've prepared. Thanks.
JJ: That was awesome. I appreciate you.