I was so excited when I found out I could have the chance to interview a Broncos player! I got to leave school early to drive down to the Broncos' training center and it was a long drive, but the anticipation was high. It was exciting to pull up to the training center and see the massive BRONCO sign on the side of the buildings. I knew we were in the right place!
We were welcomed in and got a tour to see all the cool rooms where they talk about offense and defense and so much more. They even had cool snacks inside the meeting rooms. We got to see the locker room and the gym, and the players' car park which was full of cool cars. Then we saw the practice field where the team was practicing their kicking and throwing. 
I was nervous to find out who I was going to interview, but when I met wide receiver Brandon Johnson, he was super nice and fun. He seemed super friendly and warm-hearted.
Brandon: What's up man! What's your name?
Brandon: Blake, Brandon. Nice to meet you!
Brandon: I like that jersey!
Brandon: Awesome, how y'all doing?
We sat on the bench in the hot sun and I asked him my questions:
Blake: What was your favorite grade in school?
Brandon: My favorite grade in school … 11th grade, my junior year. That was a lot of fun… a lot of fun.
Blake: Do you like reading?
Brandon: Yeah, I like reading! I like reading a lot.
Blake: What's your favorite book?
Brandon: My favorite book [would be] the first four Harry Potter books. I love those.
Blake: What is your favorite animal?
Brandon: Favorite animal, I would have to say it is a shark. Probably a tiger shark.
Blake: Who is your favorite superhero?
Blake: How hard is it to play in the NFL?
Brandon: It's pretty hard but it's also fun because everybody's so good. It's hard, but it's fun, you know?
Blake: What's the best thing about playing for the Broncos?
Brandon: I'd probably say the camaraderie and like getting to be around my teammates everyday. It's definitely a lot of fun.
Blake: What motivates you when you're having a bad day?
Brandon: God and my family. Knowing that they're always watching, and they always got my back.
Blake: What do you like best about living in Colorado?
Brandon: Just the beauty of it, it's really pretty, like everywhere is pretty, you can see mountains everywhere like … it's just like it's real serene.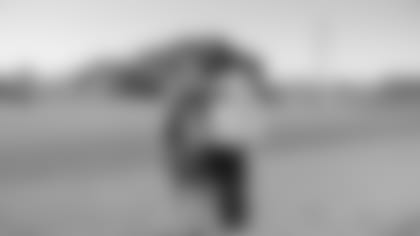 Blake: What's your favorite moment from your career?
Brandon: Scoring my first touchdown and like everybody was there. My whole family was there and they got to see it. I got to give them the game ball and it was awesome!
Blake: Outside of football, what sport would you be the best at?
Brandon: Basketball hands down, for sure.
Blake: What's your biggest fear and how do you overcome it?
Brandon: My biggest fear… generally speaking, probably just messing up and I get over that by just knowing who I belong to like I'm God's child. Like God's the only person who can judge me, you know?
Blake: What is your favorite city in the whole world?
Brandon: Favorite city in the whole world is Fort Lauderdale, Florida. That's where I'm from. Favorite city ever.
Blake: What's your favorite candy?
Brandon: Favorite candy … I'm gonna give you two parts to this. So like if I go to the gas station and I get a little candy, my first thing I'm gonna pick up is a Twix, king size. But I really love… I'm a huge cookie donut honeybun kinda guy. So like, I like Crumbl cookies, honey buns and things like that.
Blake: Does pineapple belong on pizza?
Brandon: I'm open to all foods honestly so I'm not gonna say it doesn't belong, but it definitely is kinda taboo, so yeah…
Blake: Is your favorite number 89?
Blake: What's your favorite number?
Brandon: 3. 3 is my favorite number but I can't wear that obviously 'cause of Russell, my other favorite number is 7 but I can't wear that cause of Elway so I just wear 89.
It was a very fun experience and I am very glad that I could do it. I can't wait to look out for my guy Brandon during the Broncos games this season! GO BRONCOS!!