ENGLEWOOD, Colo. –Wide receivers Demaryius Thomas and Eric Decker combined to rank third in the league in receiving yards in 2012.
They were one of two 1,000-yard receiving duos in the NFL, and the two led the league with a combined 23 touchdowns.
Yet quarterback Peyton Manning, fresh off being named the AFC Offensive Player of the Week, says there is still room for improvement.
"I'm not sure you can do it in one season," Manning said. "I really don't. I think we have done a good job of being the best that we possibly can in this short period of time."
Manning said he wasn't quite sure what to expect entering his first season with the Broncos in 2012, but figured that developing the type of chemistry and familiarity with his wideouts would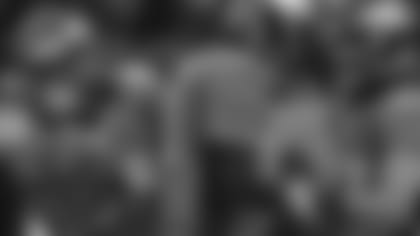 But after 16 games, Denver ranked fifth in passing yards per game and Manning claimed nearly every single-season passing record in team history.
"I would agree that the rapport with the receivers has come probably quicker than I thought," Manning said. "I really didn't know on some of the timing routes, some of maybe the kind of the adjustments and things."
Decker and Thomas have both played all 16 games and neither has missed a practice this year. In addition, the pair spent their offseason working with Manning both at Dove Valley and on their own outside the building.
"I think it started back in the offseason before OTAs even, when we were doing stuff on our own," said tight end Jacob Tamme, who had a head start having played XX years with Manning in Indianapolis. "The group as a whole — receivers, tight ends, backs — everyone in that category has really been working hard for a long time and I think it's starting to pay dividends. We need to keep it up. No need to stop now, but it's really starting to pay off."
Maximizing their time together has been a key to the rapid development of trust and timing that has shown up in the stat sheet.
"It has been kind of like cramming for a test," Manning said. "I think both of those guys have put in the time to cram and we've really worked hard in the short time that we've had together."
The hard work showed in Sunday's regular-season finale against the Chiefs that locked up the AFC's No. 1 playoff seed.
Decker and Thomas each caught seven passes and totaled 198 yards and three touchdowns, all of which came on precise throws that Manning squeezed into tight windows. Those three scoring strikes demonstrated how far Manning and his top wideouts have developed since the beginning of the year.
"Probably would have thrown them earlier, not sure if we would have completed them," Manning said of the touchdown passes. "Those couple plays that you mentioned against Kansas City, we didn't get any coverages quite like that up until the last game of the season. If you play together long enough then you can say, 'Hey, remember in Kansas City in 2012, remember that? Oh, yeah.'"  
While there is no way to replicate years of experience together, Manning and his receivers are doing their best to continue improving with each practice rep.
"It's like night and day now," Thomas said. "I feel like it's always something to work on, but we feel like we're on the same page. We always can get better."
With the biggest tests still to come, the trio will be doing plenty more cramming before the Broncos Divisional Round matchup.
"You have to get better every week," Decker said. "That's the name of the game. You have to play your best football in January."