ENGLEWOOD, Colo. -- **With Demaryius Thomas' franchise tender still unsigned and Wes Welker no longer with the team, Emmanuel Sanders is for now the veteran leader of a wide receiver corps in transition.
"That's my focus, even starting today when we were working out, just taking the young guys," Sanders said. "Not only serious, but also loosening the young guys up.
"I think sometimes as a leader, you've got the guy that takes everything seriously, but I'm one of those guys (who says), 'Hey, loosen up, man.'"
Sanders wants to share the fun he had in 2014, his first as a full-time starter. With a looser demeanor and additional playing time, he smashed his previous career standards and ended the season in the Pro Bowl.
But a tweaked offense under new Head Coach Gary Kubiak might limit his chances of repeating his 101-catch, 1,404-yard, 9-touchdown season.
"We've got a totally different offense. We're not going to be spreading the ball out -- at least, that's what I'm getting from it. We're going to be more of a balanced attack, more of a running style," Sanders said.
"My goal is always to try to have a 1,000-yard season," he added later. "62.5 yards a game. That's the focus, because that's how you get 1,000. Whatever comes after that, that's a positive. But other than that, as long as we're winning ballgames, I'm happy."
Thomas' eventual return will help make that task easier. Sanders knows he will return.
"That's all personal; that's his business. I try not to get too far into that," Sanders said. "All I know is that I feel like they're going to work everything out, and he's going to be back.
"I know that he's working his butt off right now and he's looking forward to getting back, and when he does, we're going to pick up from there."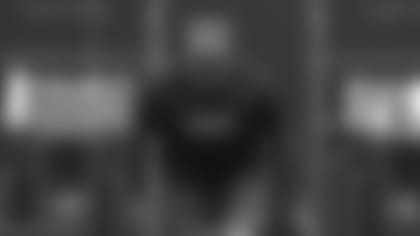 In the meantime, no one will benefit more from extra practice time than Latimer.
He attended the Peyton Manning-organized sessions at Duke University in the last two weeks, underscoring the elevated expectations of which Kubiak and Executive Vice President/General Manager John Elway spoke during recent weeks.
"On my Twitter, I'm real vocal about Cody, and that's because I believe in Cody," Sanders said. "He's a special player. He has strong hands; he has the physical tools. I think this is going to be the year than he jumps onto the map, onto the scene.
"I think that he's going to have a big year. I'm happy that he's on my team in the wide-receiver group."
With the 2014 second-round pick expected to assume a bigger role and veteran Andre Caldwell back in the mix for his fourth Broncos season, Sanders confirmed that he will move into the slot in three-wide receiver formations.
"That's what (Wide Receivers Coach) Tyke (Tolbert) told me today," Sanders said. "I'm very comfortable in doing that, because I played in the slot in Pittsburgh; I played in the slot a lot in college. So I'm looking forward to that."
The Broncos got back to work Monday, April 13, with the first phase of their offseason program.