ENGLEWOOD, Colo. —** Emmanuel Sanders likes to walk past where the words "Championship Habits" are affixed to walls in UCHealth Training Center in enormous block letters. There's one set in the cafeteria that he passes on the way to the locker room and meeting rooms and another, larger set in a hall that leads to the practice field from the south side of the locker room.
It reminds him of his goals and what it will take to get him and the Broncos to get there.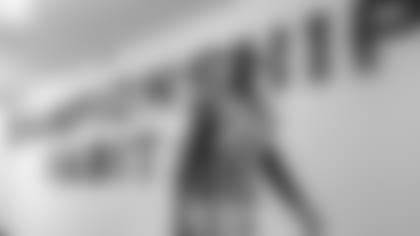 It's also the new motto, reminder and demand plastered around Broncos headquarters, a message to the players that returning to the game's greatest heights requires more than just talent on the field.
"It means a lot: what we put in our bodies, our off-the-field behavior, our on-the-field behavior and our work ethic," Head Coach Vance Joseph says. "To be a champion, it takes a lot. A lot goes into that, not just football play. It's really a lifestyle."
Maintaining championship habits isn't supposed to be easy. The Broncos know that, and they know where those habits can lead. The sterling silver proof is in the trophy case.
"Championship habits [means] just performing to a standard of excellence, holding everyone to that standard and everybody just balling," cornerback Bradley Roby says. "That's championship habits: making plays, doing your job, rallying around the guys, getting other guys better, getting the young guys out here working hard, get them better. That's championship habits. And you have to do it every day. It can't be one day you're doing it and one day you're not, because that's not championship habits. Habits are doing something the same way every day, so we're working on getting those championship habits and continuing to do those every day."
How do other players view the team's new slogan?
Says Sanders: "It's sitting in the cafeteria: Eat right. It's in the weight room: Make sure you're lifting right. Make sure you're doing all the right things. It's in the meeting rooms: Make sure you're studying. Make sure you're doing all the right things so that all of it adds up and hopefully we can win the championship."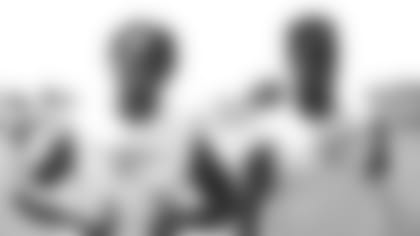 Says cornerback Aqib Talib: "To have that drive every day. It's hard to come out here every day ready for work and to have that drive every day, to have that 'want to' — to be great. That's the hardest part, man, but that's what champions gotta do."
Says Roby: "Just watching a lot of film. I've learned from Aqib and Chris [Harris Jr.] that film is everything, and I'm just watching and critiquing myself, critiquing the defense, looking at offensive schemes and stuff like that. I think that is the biggest thing, for me."
These are the fundamentals: eating well, staying in top shape, taking care of your body, bringing a hunger to improve to work every day, honing your skills. It's these habits that transform careers.
That's why Vance Joseph is demanding attention to cultivating championship habits in his first year as head coach. By keeping a high standard in everything they do, the Broncos have their sights set on nothing less than greatness.