GREENWOOD VILLAGE, Colo. —Garett Bolles had his eyes on the Wagyu Tomahawk Chop.
As he scanned the menu, nothing looked better to the 6-foot-5 offensive lineman than that 32 oz. ribeye.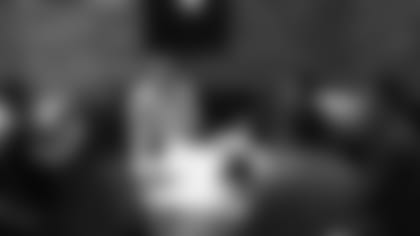 But his Thursday trip to Del Frisco's Double Eagle Steak House was about more than a prime cut of meat.* *
Bolles dined with Lisa LaPoint, who won the third annual "Dinner with a Draft Pick" contest, presented by Century Link. 
The Broncos rookie offensive tackle was joined by his wife, Natalie, and their infant son, Kingston. While Kingston played with a toy in his high chair, the couple posed for pictures and chatted with LaPoint and her guests over dinner.
"It's good for the fans to sit down with us and see how we are in the normal life," said Bolles before the meal began. "They only see us in a helmet and jersey, and they enjoy watching us on social media. So being with [them] will be awesome."
The contest, which began on April 27 and ran through May, gave Broncos fans the opportunity to win an all-expenses paid dinner for themselves and three guests with one of Denver's 2017 NFL Draft picks.