Running through that tunnel Thursday night -- it felt great. That's what I was looking forward to. That's why we play the game. It's for the fans and obviously because we love it. You just love to run out of the tunnel with your teammates, because it's time to play some football.
For it being my first NFL game, I was a little nervous at first just because I know I've got high expectations this year and I've most definitely got to match those standards. But it felt good, though, to get the first few carries out of the way, because now I feel a lot more comfortable.
I do feel like it went well. Probably one of my runs I could've cut it up earlier, but we've all got room to improve. Especially playing running back, getting five carries, you need to get a feel for the game, get lathered up. But more carries will come.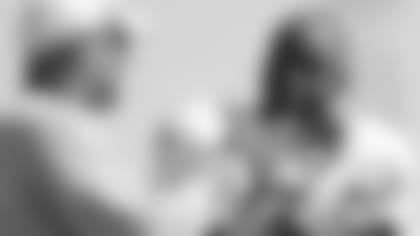 It was a good test especially going against a team like the 49ers -- that defense is good for a reason. But our defense is good, too -- 13-3 last season. I most definitely love practicing against them because it's making me better.
Watching our guys get four turnovers in the game, it got me excited over there on the sideline just because turnovers are huge. They decide the game. Our defense did a great job.
Already I felt a lot more comfortable in yesterday's practice after having played in the game. Still obviously there are some errors that we're all going to clean up on tape, but I feel a lot more comfortable back there in the backfield.
Every practice I'm working on something specific to get better. Yesterday I was working on trying to get more comfortable with my outside zone reads, because that's a tough run if everything doesn't go according to plan. Other than that, just playing fast.
Still after every practice, we work with Peyton. It's honestly a blessing. Yesterday, we worked on signals. He threw some tricky signals at me that I haven't seen, but that's what he said, he said it's good because it's going to be loud come game one. You've just got to catch the signal and then go from there.
Today's a day off for us, but still making sure I'm hitting the playbook. We'll be back at it Monday.