SANTA CLARA, Calif. --By the time he was done wrecking the Panthers, all that was left for Von Miller and his fellow defensive players was to prepare for the post-game party and work on their potential nicknames.
Miller cemented his elite bona fides once and for all on the sport's grandest stage, with strip-sack fumbles that led to both of Denver's touchdowns in the 24-10 win.
His Super Bowl Most Valuable Player award was as no-doubt a selection as there has ever been in the game. As was the case with previous defensive MVPs -- including Seattle's Malcolm Smith in Super Bowl XLVIII, Tampa Bay's Dexter Jackson in Super Bowl XXXVII and Baltimore's Ray Lewis in Super Bowl XXXV, Miller helped set the tone for the defense to dismantle an opponent.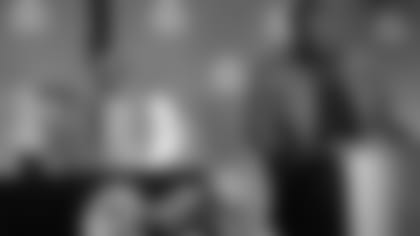 On a day when the offense found little footing against a Carolina defense that brought power and fury of its own, Miller's thefts of Panthers quarterback Cam Newton represented all the offense the Broncos needed.
"We've been seeing that all year," defensive end Antonio Smith said. "That's his move to get around the edge so fast, I don't even think the quarterbacks know he's already got the guy beat -- not just to rush, but to look and get the ball."
He did that to Derek Carr in Week 5 at Oakland, and in the Broncos' return trip to the Bay Area, Miller repeated the feat, then added one for good measure.
"He's around there so fast he has a lot of time to go for the ball," Smith said. "And he's done that several times this year, where he can just get around so fast and catch them off-guard."
All Miller is missing is a good nickname.
"Von is a monster. They call him 'The Von-ster,' or whatever they call him," inside linebacker Brandon Marshall said. "But look, he's one of the best players in the league, man."
"I call him, 'Super Freak,' because some of the things that he can do are just freakish, man," Smith said. "The way he bends the corner, I'm telling you, it was like sometimes the tackle never even touches you. He gets around there and he dips, and the quarterback never even knows that he's scot-free.
"Two times he was able to run right past the guy and he was able to bend the corner. I haven't seen many people capable of doing that, other than [DeMarcus] Ware."
But because Miller forced the fumbles, the MVP was his. It's not a coincidence that the Super Bowl defenses to which the 2015 Broncos are compared all featured MVPs from defense: Smith, Jackson, Lewis and Richard Dent from the 1985 Bears in Super Bowl XX.
It means a car and a trophy. But something else meant more.
"The Super Bowl MVP is special, but the Super Bowl ring is something that I will keep with me for the rest of my life," he said. "I'll be able to be with my brothers for eternity. I'll be able to be with those guys for 100 years from now and that's truly beautiful."
It will be as beautiful as his performance Sunday.