The Broncos' streak of having at least one undrafted rookie on their 53-man roster coming out of the preseason ended last month. But it doesn't take far to find the continued legacy of a run that was the second-longest in the NFL. On defense, you just look to the "No Fly Zone" of Chris Harris Jr. On offense, you just look at the man in the backfield with Peyton Manning.
That's C.J. Anderson, and to describe him just as a running back only scratches the surface. Why has he emerged from the undrafted ranks to join the long lineage of Broncos Pro Bowl running backs that includes such luminaries as Ring of Famers Floyd Little and Terrell Davis?
C.J. Anderson is his own harshest critic -- almost.
The last time the Broncos played a game that counted here at Sports Authority Field at Mile High, they fell 24-13 to the Indianapolis Colts in the divisional round. It would precede a philosophical and coaching-staff overhaul that defined the team's offseason, ensuring that only the score and its aftermath would be remembered, and not any glimmers of greatness along the way.
None shone brighter than Anderson's determined, fourth-and-1 run at the end of the third quarter that saw him break five tackles to pull his team back from the brink of oblivion. Had the Broncos come back to win that game, his run would have taken its place alongside John Elway's Super Bowl XXXII helicopter spin in team annals. Instead, it will be a footnote -- albeit one that the most die-hard of Broncos supporters will never forget.
A few months later, he re-watched the game. He didn't celebrate his indefatigable effort. Instead, he lamented the yards left ungained and the touchdowns not scored.
"A lot of people came to me and said, 'You played so hard. You did this,'" he said shortly after re-watching the game. "Man, that was unacceptable. I had 24 touches and I didn't get in the end zone to help my team win."
As rough as Anderson can be on himself, one person is tougher: his mother.
"She'll never pat me on the back. Never," Anderson said. "She'll say, 'Good game,' every once in a while. She'll definitely talk about [how] there was a lot of yards I left out there."
C.J. Anderson is his mother's son.
Her resilience, her moral compass, her compassion are all reflected in her son. This is not to say that Anderson is perfect; he makes mistakes. His short, testy question-and-answer session in the locker room after last December's crushing Monday Night Football loss in Cincinnati is proof of that.
But life isn't about being perfect. It's about learning from your missteps. It's not just what you are today; it's how today makes you better tomorrow. On Christmas Eve of last year, Anderson showed just how that is true for him.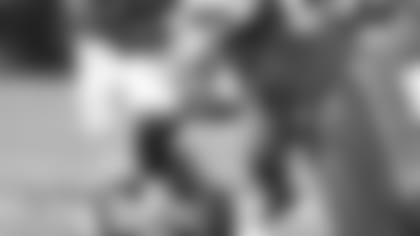 When the locker-room doors opened to the media two days after the Bengals defeat, Anderson wasted no time offering a public, heartfelt apology. To him, there was no alternative, no hiding behind the excuse of being caught in a heated moment, no excuses.
"I just felt like that's the type of guy I am," he said then. "My mom and my grandma raised me a lot better than that and you shouldn't disrespect or down someone else's job because what you're going through at the time is wrong or is a bad feeling. At the end of the day, you've got to take the good with the bad and you've got to be a professional."
And that was what his mother reminded him on the day after that loss. The terse, curt replies were not the true Anderson, who is one of the most approachable, courteous and honest men you could hope to meet in this game.
"She said, 'You said what you said and you've got to live with it.' She knows I'm not that type of person and she was just like, 'There's only one way to clear it up.'"
And that was through not only an apology -- but an explanation. After all, why was Anderson he so upset? The Broncos struggled, but Anderson played well; he racked up a team-leading 138 yards from scrimmage against the Bengals. He wasn't a cause of defeat; he was a crucial reason why the Broncos were still in the game during the dying moments.
"A lot of you guys probably thought I played good, but I played terrible," he said as he apologized. "I didn't want to make myself like a big individual by keep telling you guys 'I played terrible.' I just thought we played terrible as a team, but I just felt like I played terrible. And that's why I was really upset."
C.J. Anderson is conscientious.
During the summer of 2014, Anderson wanted to make a positive impression in any manner possible. He pored over his playbook and studied his iPad. He asked Peyton Manning questions whenever possible, eager to become a more consistent player who was worthy of extensive playing time. He didn't want to show flashes of brilliance; he wanted to be brilliant.
It was impossible not to notice how active and engaged Anderson was during those practices. So as that year's organized team activities neared its conclusion, I wanted to interview him. I arranged the chat with him and the team's public-relations staff. Just one problem: it was an unusually busy day of meetings and practice, and the interview got overlooked; he was already heading home to get some much-needed rest.
No problem, I said, we'll talk another day. There was no looming deadline. This happens all the time when you cover professional sports.
That wasn't good enough for Anderson. In what was a personal first -- and will likely be an only -- Anderson turned his car around and drove back to Broncos headquarters, all because he wanted to make a good impression in a five-minute interview.
C.J. Anderson is reliable.
And a significant part of the reason why has nothing to do with running the football: it's because he's willing to stay home, watch the A- and B-gaps and take on a blitzing linebacker.
This isn't to say he's perfect. San Francisco's NaVorro Bowman beat him for a sack early in the Broncos' 19-12 preseason win Aug. 29. But his blocking is the area in which his improvement has been most profound over the last three years, and given the premium placed on keeping Manning upright, it will remain a crucial priority.
"I just always try to be valuable for him," Anderson said. "I'm always trying to keep him on his feet, protect home. That's what we call it: 'Protect Mama.' I was trying to keep him on his feet."
More often than not, Anderson succeeds. And that's why as the 2015 season begins, he's a returning Pro Bowler, the Broncos' starting running back, and potentially at the cusp of some big things in an offensive scheme that consistently maximizes its running backs' potential better than any other.