DENVER -- The first time C.J. Anderson remembers seeing himself on SportsCenter with the Broncos came after a 2014 road win over the Raiders in Oakland.
Anderson, who grew up in nearby Vallejo, California, caught a short pass from Peyton Manning, broke three tackles and zigzagged his way 51 yards down the field for a touchdown. The play gave the Broncos a 12-10 lead, and they would roll the rest of the way to move to 7-2 with a 41-17 win.
For Anderson, who transferred from junior college to the University of California before signing with the Broncos as an undrafted free agent, the touchdown – and the corresponding SportsCenter highlight -- wasn't about proving himself to anyone other than himself.
"I knew I emerged into the player I wanted to be," said Anderson of the play. "I knew what I could put out, so I was happy about that, and now it's just about being consistent."
He wasn't at that point coming out of Cal, where he racked up 14 touchdowns and nearly 1,500 all-purpose yards in two seasons after enrolling as a junior.
He wasn't there when general managers passed him up time and time again during the 2013 draft. Twenty-five times, a running back was chosen. Twenty-five times, Anderson's name wasn't called. He remembers that.
Only four of those backs are now starters: Eddie Lacy, Latavius Murray, Christine Michael and Le'Veon Bell. Anderson knows that, too. He still finished the 2015 season with more touchdowns than Lacy, Michael and Bell (who missed most of the season due to injury). 
"I don't wish bad on any other back drafted ahead of me," Anderson said. "It's just a motivation factor for me. It has nothing to do with them. … I said when I came out, I blamed it on myself. I didn't do enough in college to get drafted. They did. So I'm just doing enough now to keep myself in the league."
Entering his first year as the full-time starter, Anderson looks like he's ready to more than just stick around in the NFL. Instead, he seems ready to prove he belongs not just near the top of his own draft class, but among the best running backs in the NFL.
"That's the plan." Anderson said. "That's up to me to make that happen. It's up to me, myself, up front. Of course, a lot of things have to go your way. Yeah that's the plan. That's the plan every year. The plan every year is to put yourself … where you want to be in this league. And I've always said I wanted to be the best. I'm just hungry and eager to go get it."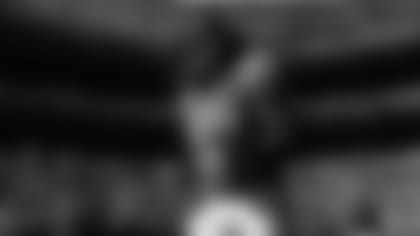 Anderson moved a step further in 2015, when he came off a Pro Bowl season and the Broncos leaned upon him in the latter part of the season. He turned up his game down the stretch, racking up 337 yards and four touchdowns in his final five games. Then, in the playoffs, he added 234 yards and a pair of touchdowns.
The Broncos saw enough to match offer sheets from other teams in free agency – a sign that Anderson had earned the respect of the team.
Now he's trying to earn it from the rest of the league after a pair of seasons that were productive yet incomplete. He has goals in place to make that happen, even if he won't share them with the public.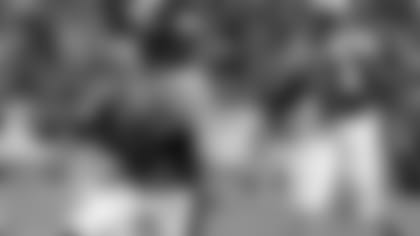 "I always do, but I don't say nothing," Anderson said. "I let the numbers speak for themselves. I'm not saying I'm not a second-tier back in the mix for the first-tier back. I mean, we all know what I've done. People talk about, 'He's only had two great last halves of seasons.' Well one of those seasons, I could only play the last half of the season.
"That's just how it goes. And last year, you learn some things. Your first time really starting, you learn some things. And then this year you're supposed to get better off that, off what you learned last year. I do believe I have gotten better every year. It's just so happened to happen [from] Week 8 on. And now we're trying to get it from Week 1 preseason."
Week 1's 21-20 win over the Carolina Panthers suggests Anderson is on the right track. His 96 rushing yards trailed only Lamar Miller and Matt Forte in Week 1, and he added 47 more yards through the air. Among his four receptions was a 25-yard catch and run that pulled the Broncos back within striking distance after following behind 17-7. In a game in which Trevor Siemian looked fully capable, Emmanuel Sanders and Demaryius Thomas were their usual selves and rookie Andy Janovich made a statement, the offense owed its success in large part to Anderson.
He picked up tough, necessary yards on the ground and served as Siemian's safety valve through the air. Against the Colts, he added 74 yards and a touchdown on the ground and 19 more yards on receptions.
With every run and catch, he further solidified the faith that Executive Vice President of Football Operations and General Manager John Elway and Head Coach Gary Kubiak placed in him when they gave him a new four-year contract this offseason. 
"I just think he's had a really good camp," Kubiak said. "He's got his weight down a little bit. His stamina is much better than it was last year, and I think C.J.'s challenged to be on the field more, to stay on the field all the downs he possibly can. Come out of games playing 50 plays instead of 35-40, so I think that's where we're headed. But I think C.J.'s accepted the challenge to become a better player from a consistency standpoint and all those things. He's just improved."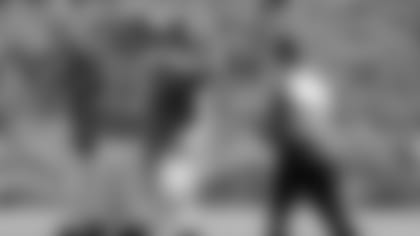 Anderson sees it in others, too.
The need for respect. The struggle to prove oneself.
As Anderson battled an MCL injury his rookie year, he met Justin, a young football player from Colorado Springs who had dislocated his hip. Anderson drove down to Colorado Springs to talk with him and mentor Justin. In the young player, Anderson saw someone who needed help to take the next step. He helped for the same reason he regularly returns to his hometown of Vallejo, California to host youth football camps.
Justin, now a junior in high school, is currently being recruited by Colorado and Colorado State.
He's taking the next step in his career, just like Anderson.
"It just reminds you [of] where I came from and my journey," Anderson says. "My journey wasn't Peyton Manning's or Andrew Luck's or even Demaryius Thomas'. I didn't have the name going across the ticker on draft day. That still fuels me."
Yet while the motivation remains the same, his role in the offense has changed. And Anderson recognizes the difference in his game, especially in regard to the mental component. He says he's grown "tremendously, just with the I.Q." due to his time with Manning. He also has Running Backs Coach Eric Studesville in his corner, who he called a "tremendous, tremendous" asset.
With their help, Anderson has gone from sharing carries to the featured back. He's gone from a player soaking up the playbook to one who advises Siemian which blitz may be coming so he can change the protection.
Anderson isn't ready to declare himself the player through which the offense runs – it's just one game, he says – but his teammates are prepared for a big year. Sanders, whom the Broncos signed to a three-year extension, sees Anderson as a core piece of Denver's offense.
He envisions the type of full season Anderson has been searching for since the Broncos took a flyer on the undrafted rookie out of Cal. And it's one Anderson will need to prove he belongs among the likes of not just Bell, but Adrian Peterson, Jamaal Charles and LeSean McCoy, as well.
"C.J. is a special back," Sanders said. "I know C.J. is special because he is smart. He is one of the smartest guys I've been around in terms of football knowledge. He came out and proved it. I've said it before, if C.J. says healthy, he's going to have a big year — a Pro Bowl type year."
Odds are, Sanders will soon see that type of performance again from Anderson on the field.
And on SportsCenter the next morning.