ENGLEWOOD, Colo. --As a running back, you can't control how your teammates block, how an opponent reacts to a play, or even the footing the playing surface provides you.
But you can control your energy and enthusiasm.
To watch C.J. Anderson the last two-plus seasons is to see a player who usually bounces out of his cleats from the moment he bounds through the tunnel and onto the field. But as the ground game struggled the last two weeks, Anderson wasn't himself, and his most observant supporter and critic -- his mother -- noticed.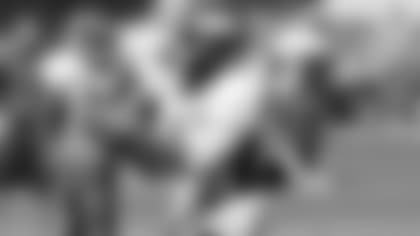 "'Have fun.' That's all she kept saying. She called me and was like, 'You're just not having fun,'" Anderson recalled. "I was sitting there having a conversation, and I was like, 'My mom's right.' As bad as I wanted to be wrong, she was right. "
When you're struggling, you have to create your own enthusiasm -- which can be difficult, as Anderson learned in Week 1 as the offense struggled and did not account for a touchdown.
"I said that Week 1. I was like, 'Man, I just had no fun today.' There was no excitement on the sideline. It was just so dead," Anderson said.
"Coach Studesville says it all the time, our backfield -- nine times out of 10, we're the juice -- unless [Peyton Manning] throws a big play. We're the juice to get this going, whether it's a physical 6-yard run or a 14-yard carry, a 20-yard-carry, we're usually the [players that say], 'Okay, it's time to get going.' And that's just something me, Ronnie (Hillman) and Juwan (Thompson) have to put on ourselves."
The enthusiasm returned a bit against Kansas City last week as the offense drove to three touchdowns and 24 points in the final two and a half quarters after a slow start. But the ground game still lags; it ranks 31st in yardage per carry and 27th in first-down rate.
Further, it has yet to account for a touchdown, which angers many who took Anderson near the top of their fantasy-football drafts. Some of those disappointed fans vented their wrath at Anderson on social media, and he has responded by maintaining his long-held stance regarding fantasy football: he just doesn't give a flip about it.
"I just block it out and laugh," Anderson said. "I guess that comes with the ups and downs of being a top-10 pick and who they expect you to be, those types of things. I just always say, 'Hey, don't bet on sports; you never know what's going to happen.'"
But between Twitter and television, Anderson is aware of the critiques.
"I tell people, 'You can sit me for 17 weeks, and I don't care.' I saw something on ESPN [asking], 'Was C.J. Anderson a fantasy bust?' I wish I could call ESPN and say, 'Tell them to drop me. Every owner can drop me. I don't care at all.'
"I took a lot of heat," Anderson added later. "I can just imagine what [Eagles RB] DeMarco Murray went through. Some people don't watch the game. He didn't have a lot of help up there."
Fantasy has been easy to ignore when reality has been so eventful -- and so rough for Anderson to this point, as he battled through a toe injury suffered in Week 1 and fought off potential tacklers in the backfield throughout the last two games.
But he played the entire game-tying drive in Kansas City last week, functioning as an underneath and outside target and in pass protection. As with the offense as a whole, Anderson has shown some flashes of effectiveness.
"We're clicking at certain times. We're clicking at desperate times when we need [big drives]. I don't want to say, 'desperate,' but we're clicking at times when we need a touchdown, or when we need to put together a drive to give our defense a rest," Anderson said.
"The thing is, we need to take that and put it in a 60-minute football game."
The first step is being healthy. The second is finding cohesion in the blocking scheme. But Anderson's enthusiasm will be a key component; if he runs with energy, the results are usually what he -- and the team -- wants to see.
"I went back and watched the last two games on tape, and I just wasn't having fun. I wasn't being myself -- the typical C.J. that everybody loves to see," Anderson said.
"That's going to change."