ENGLEWOOD, Colo. --With a new offensive scheme to learn this offseason, Pro Bowl running back C.J. Anderson can return to the core elements of his craft.
"I get a chance to teach myself the fundamentals, get back to the basics of what makes running backs and offenses successful," he said after a recent workout. "That's what I'm taking in right now, it's a slow process, but I'm picking it up real quick, and I'm going to continue just working and being ready to go."
The process began April 13 with the start of organized workouts and meetings at Broncos headquarters, and continues with a voluntary minicamp next week and organized team activities that commence May 27 as a part of Phase III of the offseason.
Anderson's first 2015 look at the iPad playbook and the altered scheme it displayed came last week.
"Totally different," he said. "Not as complex, so that's a good thing. A lot of verbiage, just a lot of different terminology. Kind of the same concepts, different terminology. You just try to compare this word, this concept to what it was last year, and that's the easiest way to learn it for me."
What Anderson hopes to see is an offense that forces the defense to commit extra resources to stopping a revived ground attack.
"Now, who knows what we'll see. With [Peyton Manning], we might see six and seven (men in the box), and we'll run the ball down your throat. If you want to throw that eighth (man in the box), you just throw it over the top," Anderson said.
"So it's going to fit well and complement well. We've just got to keep working, pick up the playbook, pick up the terminology and get going before we hit this field."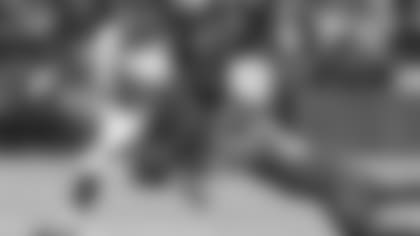 And that's when Anderson must be ready to hold on to his spot. Although he is the incumbent No. 1 back after averaging more yards from scrimmage from Week 10 onward last year than all but one running back (Pittsbugh's Le'Veon Bell), two of the names on the depth chart were the first two starters at the position last year for the Broncos: Montee Ball and Ronnie Hillman. Both are back, healthy and eager.
The return of Juwan Thompson, Jeremy Stewart and practice-squad member Kapri Bibbs further strengthens the depth and competition.
To keep the job, Anderson must attack his work in the manner of a hungry reserve, not a set starter, and he must -- as he put it -- "know everything."
"Just the same things I was doing," he said. "Be the smartest in the room and go out there and put in work every day. When we get the chance to run the ball, hit the right spots, and when we're running our routes, make sure I'm very detailed on my depth, and when I'm in pass protection, hit somebody in the mouth.
"I think that's what helped me last year to get on the field, and I think that's going to help me throughout my career."
Go through a frame-by-frame sequence from three different angles of C.J. Anderson's 20-yard run on fourth-and-2 against the Dolphins.