DETROIT --Each week, the details of the mayhem caused by the Broncos' defense change: the nature of the blitzes, the substitution patterns.
But the general plotline remains the same: defenders in the box attack, opposing quarterback and blocking scheme become discombobulated, offensive players make mistakes, and defensive backs clean up the mess. Lather, rinse, repeat.
Through three games, the defense has yielded just 35 points and a league-best 4.25 yards per snap. Two teams have more sacks; one has more takeaways. But none have more combined takeaways (10) and sacks (11). They are connected; each in some way a result of the other.
"We're going to challenge all throws. We're not going to hide what we're doing," said cornerback Chris Harris Jr. "We're going to play the bully. That's our motto: 'Be the bully.'"
Sunday night, near downtown of perhaps the toughest, hardest, no-nonsense major American city, Harris and his fellow defenders pushed around the Lions to the tune of a 24-12 win.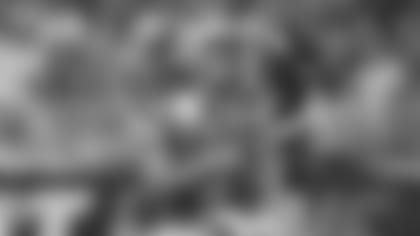 The Broncos sacked Lions quarterback Matthew Stafford four times -- 1.5 on the ledger of OLB DeMarcus Ware -- and coaxed three takeaways from him after putting him under siege throughout the night.
It is a defense that is forceful. It plays to the whistle -- and sometimes beyond. That is the only quibble its head coach has with an otherwise dominant unit: a predilection for penalties that extend drives.
Denver's defense has conceded just four touchdowns this season. Three came after drives that included at least one 15-yard infraction.
"We've got to eliminate some penalties. I told the guys tonight, 'You usually don't go in there after a win and start with something negative, but we need to fix the penalties,'" Head Coach Gary Kubiak said. "That starts with me as the coach. We have to do that."
"Penalties are going to happen, but I think the timing of the penalties is absolutely a must-fix for us on defense," added Von Miller, who didn't sack Stafford but pressured him constantly and hit him once.
"There's a lot of stuff we can fix, but that's definitely at the top of the priority list. We've got to get those 15-yarders out of there. We've got to be smarter. We can't put ourselves in that situation. If we line them up and make them earn it, we feel good with the odds on that, but we've got to cut that out.
"It's been three weeks straight, honestly, and we're going to get that fixed up."
The Broncos must walk a fine line: to remedy that single flaw while maintaining the fury and opportunism shown by the defense as a whole.
Five different defensive backs have interceptions this season; Bradley Roby and David Bruton Jr. became the latest to join the club Sunday night; they helped push the Broncos' takeaway total to 10 through three games.
Only one team has more this year -- the New York Jets, with 11. But the significance of 10 takeaways is in comparison with last year's team, which did not force its 10th takeaway until Week 10.
"I just think we've got playmakers in the back. There's not a lot of teams that have got that," Miller said. "We've got guys that aren't trying to get a PBU (pass breakup), they're trying to get the pick. And it's not just Chris and Talib, but you see Bradley and all these guys.
"It's not just me and DeMarcus with the rush, it's all these guys rushing -- Shane [Ray], Lerentee [McCray]. It's not just one guy, it's a group, it's a combination of things that's making it happen for us."
And that combination includes Shaquil Barrett, Miller's understudy at strong-side outside linebacker, whose thunderous strip-sack of Stafford in the fourth quarter squelched yet another Lions possession.
Along with Bruton, Barrett provided the final jolts, causing thefts that led to the Broncos' final 10 points of the game that sent most of the sold-out Ford Field throng streaming to the exits.
There was no question about Bruton's interception. But Barrett wasn't sure that his big play -- which was also the first regular-season sack of his career -- would stand.
Three plays had already been subject to instant-replay review; two were reversed. And as Barrett watched his handiwork on one of the Godzillatrons perched above the end zones, he fretted his first game-changing play as a pro would be next.
"I thought it was coming back, for sure. I thought [Stafford's] arm was going forward," Barrett said, smiling.
But unlike when penalty flags flew, the officials did not intervene. The play stood. Barrett proved once again that the pass rush does not stop with Ware and Miller, and that the turnover touch does not end with the defensive backs.
Indeed, the Broncos' defense shows total dominance from front to back. Its members take games and shape them into their own form. As Harris said, they want to be bullies. When bullies succeed, they take what they want. And, of course, this is the rare instance where bullying is not only okay, but encouraged.
"They've been exceptional," Kubiak said.