ENGLEWOOD, Colo. --Recently released quarterback Brian Hoyer visited with Broncos officials Thursday as the team continued to explore all of its options for fortifying the position.
Hoyer, who started nine regular-season games for the Texans last season, was released Sunday, April 17 just over a month after Houston signed Brock Osweiler to a massive, potentially $72 million contract.
The visit with Hoyer came as the Broncos continued to evaluate where they stand at quarterback, just one week before the NFL Draft. Eight-year veteran quarterback Mark Sanchez and 2015 seventh-round pick Trevor Siemian are the Broncos' other QBs under contract for the 2016 season.
For now, the players' focus is on Sanchez and Siemian, and not the still-fluid and developing depth chart at quarterback.
"I really haven't paid much attention to it," wide receiver Demaryius Thomas said of the quarterback situation Wednesday. "I've been working out with Sanchez and Trevor. Those are the guys we have right now.
"It's their decision upstairs to [decide] who they're going to bring in. I'm going to work with who I've got right now."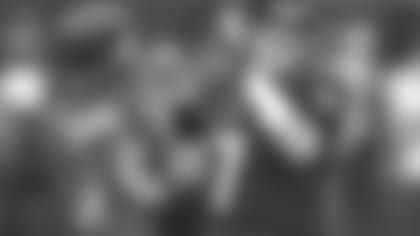 The 30-year-old Hoyer had the best season of his career last year, posting a 19-to-7 touchdown-to-interception ratio and a 91.4 quarterback rating in helping guide Houston to a 9-7 record and the AFC South crown. His completion percentage of 60.7 was his highest for any season in which he threw at least 30 passes.
But Hoyer struggled in the subsequent 30-0 playoff loss to Kansas City, throwing four interceptions and fumbling twice in the defeat.
That performance was anomalous for Hoyer. Since he broke into the league in 2009 he has averaged an interception or a fumble once every 30.5 plays with the football (carries, sacks and passing attempts).
That places Hoyer 14th among 46 quarterbacks with at least 1,000 combined passes, rushes and sacks in that span, and better than the league rate of one interception or fumble every 26.6 passes, rushes or sacks.
Hoyer's rate is also better than such accomplished quarterbacks since 2009 as San Diego's Philip Rivers (one every 28.8), Indianapolis' Andrew Luck (one every 28.1), Baltimore's Joe Flacco (one every 28.0), Arizona's Carson Palmer (one every 26.6) and the New York Giants' Eli Manning (one every 23.3).
According to multiple reports, Hoyer visited with the Jets on Wednesday. The Jets have yet to re-sign their 2015 starter, Ryan Fitzpatrick, who remains an unrestricted free agent.
Broncos officials also visited with Colin Kaepernick in recent weeks, but he remains under contract with the 49ers.