ENGLEWOOD, Colo. --The Broncos' practice Monday wasn't perfect practice by any means, but it did offer some promising glimpses for a 2016 camp-best crowd of 4,813 gathered on the west hillside at the UCHealth Training Center.
1. PAXTON LYNCH IMPROVING DAY BY DAY.
As mentioned before training camp, success for Lynch isn't defined solely by whether he wins the starting job, but whether he shows progress and grows more comfortable over time.
The last two days provide the strongest evidence yet of his growth and ability to take coaching and apply it to the field. His confidence seems to increase every day, and he delivers some of his strongest work late in practice, including a 17-yard touchdown strike to Jordan Taylor on a fade route that concluded Monday's two-hour session.
Lynch's improvement, at minimum, will help push Mark Sanchez and Trevor Siemian.
"I think the competition is excellent. I think one of the things for sure, is No. 12 is really stepping up. He's making some progress," Head Coach Gary Kubiak said. "I think they are all doing a good job. I would say the young kid has just gotten better each and every day."
Lynch's passes are sharper than they were during OTAs and early in training camp. He anticipates his receivers' breaks better. His placement of the football has improved, allowing him to reduce the risk of interceptions.
"Obviously, he can throw that rock," said TE Virgil Green, who caught a pass from Lynch midway through practice during a team period. "He can launch it."
And in the two scenarios in which he's been asked to drive the offense in a game-condition situation, he's succeeded, with a 70-yard march Saturday and the 20-yard red-zone drive Monday.
"He's learning," Green added. "He's being comfortable, not getting frustrated when Coach is coaching him. He's a guy that wants to learn.
"He gets excited when he get's things right, and it's good to see him happy and getting excited and making those long passes."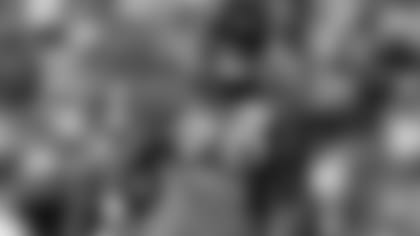 2. KYLE PEKO IS MAKING AN IMPRESSION.
The Broncos were high on the undrafted rookie from Oregon State when they signed him after the draft, and the last five days he's shown why, constantly bursting into the backfield and showing outstanding power off the snap to break through blockers. He did something to leap into my notebook in each of the first five days of training camp; although he's not a pure bull-rusher, he uses hand and shoulder placement well to get leverage and penetrate into the backfield.
"He looks like a good player. It is going to be interesting to see how he plays during the preseason," Kubiak said. "He's obviously stood out."
But what he's also doing often is something Defensive Coordinator Wade Phillips and Defensive Line Coach Bill Kollar love to see: He's getting his hands up in the air when he doesn't get to the quarterback in a pass-rush situation. Monday, that resulted in a deflected pass at the line of scrimmage during a team period play.
"We've always stressed that as being able to get your hands up if you're not able to get there quite in time. It just shows because he's not a tall guy," Phillips said of the 6-foot-1 Peko.
"I had Jamal Williams at San Diego. [He] was the same kind of stature and he knocked down a bunch of passes. That's when I thought, 'Well gee, anybody can do it if they just work at it,' so he did a good job today. Peko's been impressive."
Phillips wasn't comparing Peko to Williams, per se. But it's high praise considering that Williams, at his peak, was the most disruptive nose tackle in the NFL. Injuries ensured Williams didn't have much left in the tank by the time he got to Denver in 2010, but he was one of the two best nose tackles ever to work in Phillips' scheme, along with three-time Pro Bowler Greg Kragen.
TAUREAN NIXON NOW IN THE MIX ON RETURNS.**
During the kickoff-return period midway through Monday's practice, the second-year cornerback was the first man up, working ahead of rookies Kalif Raymond and Bralon Addison.
Nixon has the speed to handle the role; he clocked a 40-yard dash time of 4.3 seconds in his Pro Day a month before the Broncos used a seventh-round selection on him last year.
"Nix has been working on it since last year," said Special Teams Coordinator Joe DeCamillis. "When we had him on the practice squad, we had him working on it. You obviously see the speed and the things that he can do so we want to try to get him a job. I think he's going to be good on the cover teams and we want to try to get him a return role, too."
Nixon's advantage is his practice experience. Raymond has to work on his mechanics DeCamillis said, but he has impressed.
"He's done a good job," DeCamillis said. "On punt return, in the team stuff that he's returned, he was good. He's just got to work on returning mechanics and make sure that he keeps catching every ball because that's the most important thing for sure."
SHANE RAY'S SPEED OFF THE EDGE.**
Not only is Ray stouter at the point of attack against the run than he was as a rookie, it appears as if he's a half-step faster when he attacks off the edge, which reveals itself during one-on-one pass rush drills.
"He came back with a tremendous attitude and he's worked hard at it," Phillips said. "He's got ability and we just have to keep working."
Ray discussed his commitment to better study habits and an improved diet during the offseason. The result has been a player who has looked like the first-round selection he was last year. Von Miller wasn't around him in the offseason but immediately saw the difference upon returning to the UCHealth Training Center last week.
"Yeah, just look at him: He's definitely been working this offseason, I can tell you that," Miller said. "He's a lot sharper mentally on the football field; not that he didn't know his plays or anything like that, he's just understanding—understanding what it takes to play in the National Football League, what this play is going to do for us.
"He's just understanding more, and it's a leap that you want to see out of second-year players. You want to see that huge leap and Shane has done that. He's gone above and beyond what he's supposed to do."
But all this isn't to say Shaquil Barrett isn't showing the same qualities; he has. This makes the competition for playing time particularly intense, but even after DeMarcus Ware returns, both should have prominent roles, allowing them to keep Miller and Ware fresh.
"Shaquil and Shane could be starters on any team in the National Football League," Miller said. "Shaq has been flawless in the secondary, been flawless in the pass rush, [and] flawless in [the] run game."
McGOVERN GETS A FIRST-TEAM LOOK.**
If it was the regular season, perhaps Connor McGovern would not have received the call to work on the first team at right guard, replacing the injured Ty Sambrailo (shoulder) and Sam Brenner (concussion). But this was a chance to gauge McGovern's progress -- and with Sambrailo and Brenner expected to miss at least a few days apiece, a chance to see how McGovern adjusts to the higher level of competition.
"Sometimes when a guy misses [practice], you make a decision as a coach that you might not make in a game. You say, 'Hey, I'm in camp. You've got four, five weeks here I don't want to hurt people and move them around,'" Kubiak said. "The natural thing was for Connor to move up," he said.
McGovern had a tough task, working against Derek Wolfe on plenty of snaps. McGovern was tenacious, but Wolfe broke into the backfield multiple times. But a rookie is measured by how he grows from day to day, and McGovern's work Wednesday will be worthy of close examination to see how he adapts.
The Broncos continued to work at UCHealth Training Center on Monday on Day 5 of training camp. (photos by Eric Bakke unless otherwise noted)