ENGLEWOOD, Colo. --For part of the team, Saturday's work without pads was exactly what Head Coach Gary Kubiak wanted to see.
"We're less than 48 hours out of a game and to come back and practice is tough. We handled it defensively," he said.
"But we didn't handle it offensively."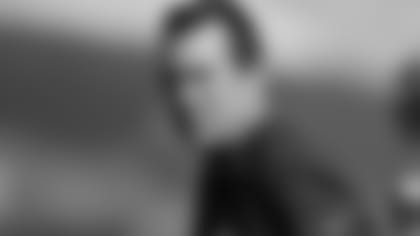 And that's where Saturday's takeaways begin.
1. OFFENSE'S SLUGGISH DAY
Two near-interceptions in the first seven-on-seven period. An interception in the red zone by Lorenzo Doss. Two passes batted down by defensive linemen.
Some of those were forced by the defense, but a fumbled snap was not. It was a rough day that left Kubiak visibly disappointed during practice, when he called the entire offense together following Doss' interception off Mark Sanchez, and then afterward when the offense was kept on the field for extra walk-through snaps while the defense went back inside.
"I think we got off to a slow start," wide receiver Cody Latimer said. "We started to pick it up, but then fell down again. It happens. We have to be more consistent.
"I think we left some plays out in the field today that we are going to go correct."
Nevertheless, the pattern of offensive struggles after off-days is a concern; this is the second time in three post-break practices that the offense has struggled to find a rhythm following a respite. None of the three quarterbacks managed to complete 50 percent of their passes in team and seven-on-seven work.
"It's disappointing for me," Kubiak said of the offense's performance.
THE QB COMPETITION CONTINUES**
Although Kubiak was displeased with their work Saturday, he was still encouraged by what Sanchez, Trevor Siemian and Paxton Lynch did Thursday in combining for a 93.4 quarterback rating on 23-of-32 passing for 261 yards with a touchdown and an interception.
"All three of them I thought played well," Kubiak said. "Except for the one turnover, our decision making was good. I thought we were accurate. We threw for a 70-plus percentage as a group, those three guys.
"Good things carry over, but it's a new week. It's time to go back to work again today. We'll see. They all did fine."
All saw work with the No. 1 receivers and No. 1 offensive line, although Lynch saw the fewest snaps in that scenario; he received a burst of three snaps during a team period of practice. He also saw some other scattered repetitions with the No. 1 and No. 2 units, with the rest of his work coming with the third team.
"We'll keep plugging," Kubiak said. "We are going to find the right one."
THE IMPACT OF FOWLER'S FRACTURED ELBOW**
It's obviously a tough break for Fowler, who had enjoyed a strong training camp, punctuated by his blocked punt that led to a Zaire Anderson touchdown in Thursday's 22-0 win at Chicago.
Fowler's injury also alters the dynamic of the race to be the No. 3 receiver, as Latimer, Jordan Norwood and Jordan Taylor will likely all see more opportunities while Fowler recovers over the next few weeks.
"It's camp. Everybody has an opportunity," Latimer said. "You never know what is going to happen. I just have to keep focusing on me, keep making plays and doing what I can to make this team and get out there on offense."
Latimer, in particular, had a solid performance in Chicago, leading the Broncos in receptions (seven) and receiving yardage (82), catching a variety of short to intermediate passes. He was particularly effective in traffic, using his size to his advantage in one-on-one matchups.
This has been a strong summer for Latimer, who has struggled the last two seasons as he learned the offense and adjusted. He cites confidence as the reason for his improvement.
"I don't have to do a lot of thinking. I know the offense, so I can just go out there and just run," he said. "I don't have to think so much and worry about things. I just go out there with confidence and make plays."
The Broncos kicked practice off on Saturday following a 22-0 win in their preseason opener at Chicago. (Photos by Eric Bakke unless noted)