ENGLEWOOD, Colo. --Takeaways from the final practice before the Broncos' preseason opener at Chicago ...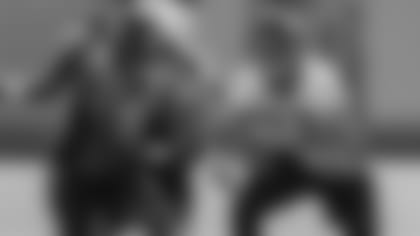 1. A LONG LOOK AT PAXTON LYNCH
Obviously, the news that Mark Sanchez would start and play the first quarter with quarterback Trevor Siemian working the second quarter was the dominant story Tuesday afternoon.
But the fact that Paxton Lynch will play the entire second half could have the most impact long-term. In the moment, it offers him an extended chance to show that he can compete for the starting job and close the gap that exists between himself and the co-No. 1 quarterbacks.
Game repetitions are much different than practice ones; the attention is magnified, the contact is full speed and the defense is only equipped with rudimentary knowledge of the offense's intent. And while Lynch's practice repetitions have seen palpable improvement, if he has a sizzling performance Thursday and shows evidence that he is a "gamer," it will provide intriguing data for Head Coach Gary Kubiak and his staff to consider when making their quarterback choice.
"The more I can play him, the more I can find out about him," Kubiak said. "If the game is rhythmic, like we hope, then hopefully he plays the whole half. We've been practicing that way, too."
Games and practice will factor into the decision prior to Week 1, which is why Thursday will be crucial into unlocking the mystery that still exists.
"I think we will use every little bit of information and everybody's opinion in the building on the offensive staff," Offensive Coordinator Rick Dennison said. "Obviously we'll just see how they do. I think it'll play out pretty smoothly. Then we'll have to use the games. We have to have a starting point."
Jordan Norwood is listed atop the depth chart at kickoff and punt returner, and rookie Bralon Addison could get some opportunities on returns in Chicago on Thursday.
But the priority on special teams will be getting Kalif Raymond a long look at both return spots after impressive work during the offseason and training camp.
"My expectations are to look at Kalif extensively," Kubiak said. "I want to look at Kalif. He's looked really good in practice. I want to see him handle the ball, so that's what I plan on doing."
Raymond has shown an adeptness for hitting holes on returns, and has overcome some early-training camp bobbles when fielding punts.
Beyond "production," Special Teams Coordinator Joe DeCamillis wants to see how cleanly Raymond fields the football.
"You want to see his return mechanics, if he has good ball security, catches the ball well and makes good decisions, that's really important," he said.
"Addison is going to be out there. We've got some other guys that we are going to try to look at, too. It's going to be important for all of those young guys."
DARRION WEEMS' BIG OPPORTUNITY**
Weems is listed on the third team at right guard. But with Ty Sambrailo "week to week" because of a right elbow injury and Michael Schofield set to line up at left tackle in place of Russell Okung, the former Cowboys offensive tackle is set to make his first pro start at guard.
"Hopefully you see the progress he's been making," Kubiak said. "... Hopefully he keeps coming. He really likes to play. He's a big physical guy. We'll see how he does."
Weems is still learning how to play guard; his pro experience came at tackle prior to joining the Broncos this year. His technique isn't exactly what the Broncos want just yet, but he has done a good job opening holes for the running backs in recent days, and if he has some success there Thursday, he can stake a claim to at least a roster spot.
"He's a productive guy. It might not be exactly how you coach it, but he's a productive guy. He gets on his guy," Dennison said. "He finishes his guy. He plays hard."
A CHANCE TO LEARN ABOUT DEFENSIVE DEPTH**
With Von Miller, DeMarcus Ware and Aqib Talib all not playing in Chicago, Shaquil Barrett, Shane Ray and Bradley Roby are all expected to start, with the subsequent chain reaction giving additional repetitions to reserves like OLBs Eddie Yarbrough, Vontarrius Dora and Sadat Sulleyman and cornerbacks Kayvon Webster, Lorenzo Doss, B.J. Lowery and John Tidwell.
Sulleyman had a good day diagnosing play-fake bootlegs Tuesday, while Lowery and Webster were responsible for two of the three interceptions posted by the defense during a strong practice.
"I feel good about our depth again," Defensive Coordinator Wade Phillips said. "We have guys stepping up that I think can play."