ENGLEWOOD, Colo. --Another gathering of more than 5,000 Broncos fans watched a practice that saw red-zone work, a no-huddle period and two touchdowns off takeaways for the first-team defense, which lived up to its "No Fly Zone" nickname.
Four takeaways from the day's work follow:
Trevor Siemian's arm has been strong from the moment he arrived. But in the last year, he's improved his accuracy thanks to extensive footwork drills, and now he's adding to that by doing some of the little things.
For example, Siemian's pre-snap cadence is more confident -- and more effective at drawing an opponent offside. He got nose tackle Sylvester Williams to jump early in practice.
Siemian also has improved at disguising his intent. He was able to create separation for Demaryius Thomas on a quick slant by motioning as if he was going to hand off, creating a split-second of defensive hesitation that he was able to exploit for a completion.
The second-year quarterback's growth as he splits first-team repetitions with Mark Sanchez and tries to stake a claim to the starting job might surprise some onlookers, but not Head Coach Gary Kubiak. "I don't use the word, 'surprised,'" Kubiak said. "I think I'm excited watching him become a player.
"He's very confident. He knows exactly what we are doing. He's really a first year player in a lot of ways. You see him getting better."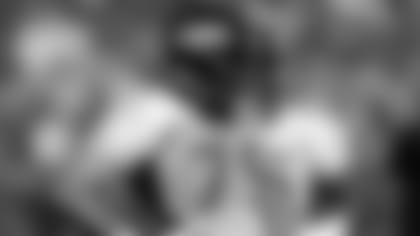 2. SCHOFIELD ANSWERS THE BELL.
No one on the offensive line is more versatile than Michael Schofield, and this summer he has distinguished himself by showing why, working at guard, left tackle and on Saturday, right tackle -- the position he manned for 16 games last year, including the postseason.
Schofield struggled at times last year, but the trial by fire of going against defenders like Oakland's Khalil Mack has strengthened him.
On the run, he surges forward with more power and has done a good job creating holes for the running backs behind him. In pass protection, he sets up quicker off the snap and has improved at using a quick edge rusher's speed against him by guiding him wide and behind the pocket, as he did in a one-on-one duel against Von Miller early in Saturday's practice.
This is what Kubiak hoped to see.
"If you were a Super Bowl starter and all of a sudden you were a backup going to camp, a lot of guys would [be] bothered. They'd go in the tank, so to speak. Michael is motivated to become a better player," Kubiak said. "We've brought guys in here to push him and he has responded."
AGGRESSIVE DEFENSE COMES UP BIG.**
It shouldn't surprise anyone when the "No Fly Zone" lives up to its name. Bradley Roby's pick-six off Mark Sanchez to open the two-minute drill was one of two takeaways for the first-team secondary during Saturday's work.
But its ability to make some plays even after allowing a reception helps separate the group from others. In each of the last two practices, one of its safeties -- Justin Simmons on Friday, T.J. Ward on Saturday -- stripped the football from a tight end. Ward wrested the football from Virgil Green, recovered it and returned it for a touchdown.
"It just shows the emphasis that we put on taking the ball away," Simmons said. "I think [Defensive Coordinator] Coach Wade [Phillips] and the rest of the coaching staff does a great job of making sure that we're prepared to not only get out there and stop teams, but to get the ball back as well."
Forcing more turnovers is a goal of the defense this year. With more performances like Saturday's, it will succeed.
HOW WILL THE TEAM RESPOND MONDAY?**
The team's first day off last Tuesday led into the most lethargic practice of camp, causing Kubiak to call the entire team together for a huddle with just over 45 minutes remaining as a result of the collectively subpar effort and energy.
If it happens again, there will be cause for worry. But the players know that a repeat of Wednesday's work is unacceptable.
"It's going to be big," Roby said. "I think Coach Kubiak made it known he wasn't happy with the way that we came back after the last day off, so I'm sure we'll come back more focused.
"He kind of threw us a bone and let us gets off a little early today. I'm sure we'll come back with next week being game week and be more focused for sure."
The Broncos practiced Saturday morning under cloudy skies before a day off on Sunday. (Photos by Eric Bakke, unless noted)