... Head Coach Gary Kubiak saw the improvement he wanted to see from his team after a rough morning Wednesday, but that had something to do with the pleasant conditions in which Thursday's work took place.
"The cool air helped us out a little bit," Head Coach Gary Kubiak said. ""We improved from yesterday, but we were practicing in 70 degrees, so we should be moving around pretty good."
... Perhaps no one moves around better than OLB Von Miller. He isn't yet up to a full practice workload, but when he's on the field, he's nearly unblockable.
It took only three plays into the first team period of Thursday's practice for Miller to make an impact, as he whipped around TE Jeff Heuerman to get to Trevor Siemian for what likely would have been a sack in game conditions.
Moments later, Miller and the No. 1 defense were back on the field, and he dashed past Donald Stephenson to meet Kapri Bibbs in the backfield just after he took the handoff from Siemian. Miller also dominated one-on-one drills.
... No one made more of extensive red-zone work Thursday than Virgil Green.
He caught four touchdown passes in seven-on-seven periods -- two from Mark Sanchez and two from Trevor Siemian -- capping the day with a leaping grab on a fade route to beat Corey Nelson. Green landed hard on his left hip on the play, but said he expected to be okay following ice and electrical-stimulation ("stem") treatment.
Green's four scores came on a variety of routes: two slants -- one of which saw him he cut just in front of T.J. Ward for a catch at the goal line -- the fade route, and a post route down the middle, which saw him make a leaping grab in the back of the end zone.
"Virgil was the red-hot player today," Kubiak said. "What a day he had."
... Britton Colquitt and Riley Dixon worked on placement punting during the special-teams period, with the line of scrimmage between the offense's 48-yard line and the defense's 46-yard line.
Each kept the football out of the end zone on three of four punts. After Colquitt and Dixon exchanged punts that resulted in fair catches, Colquitt fired a 41-yard punt that bounced once and was downed at the 7-yard line by Cody Latimer. Dixon followed with a punt that hit at around the 3-yard line and bounced into the end zone after Lorenzo Doss could not quite save it.
Colquitt's next punt bounced into the end zone. Dixon followed with a 39-yard punt that hit at the 8-yard line and was downed by Corey Nelson at the 7.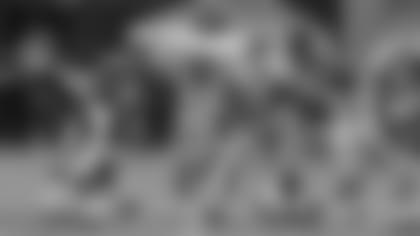 On the final round, Colquitt successfully executed a coffin-corner punt that hit at the 11-yard line and bounced out of bounds at the 8. Dixon followed with a punt that bounced at the 6 and was headed for the end zone before Doss and longtime teammate Taurean Nixon collaborated to down it at the 1-yard line.
The two punters exchanged long blasts out of the end zone before the period concluded, but with their work Thursday, it remained as Special Teams Coordinator Joe DeCamillis described: a "neck and neck" competition.
... K Brandon McManus went 7-of-9 on his field-goal attempts during two periods Thursday. In the special-teams period, he went 4-of-6, hitting from 31, 36, 41 and 46 and missing from 33 and 48 yards. Colquitt and Dixon alternated holding responsibilities with each kick.
During a move-the-ball period later in practice in which the offense was down 23-21 with possession at the 50-yard line, one minute remaining and three timeouts, McManus drilled all three attempts, including a 60-yarder after the No. 2 offense stalled on three plays.
… Sanchez and the No. 2 offense gained just eight yards on their three move-the-ball plays. Siemian led the No. 1 offense on a six-play drive to the 10-yard line; Siemian went 2-of-5 for 38 yards, including a third-down conversion. Paxton Lynch led the offense down to the defense's 28-yard line, with the key play being a 6-yard, third-and-7 pass to Durron Neal.
... CB Chris Harris Jr. watched most of practice from the sideline because his "hamstring tightened up," Kubiak said. "He wanted to go; I pulled him out," Kubiak said.
... RG Ty Sambrailo remains "day-to-day" because of his right elbow injury, Kubiak said. Sambrailo is still wearing a brace on the elbow, which he injured during Sunday's practice.
... OL Sam Brenner sat out for a third consecutive day as he goes through the league-mandated post-concussion protocol. Fellow backup guard Robert Myers Jr. also was on the sideline for the first time during camp.
... TE John Phillips missed a fourth consecutive practice because of the ankle injury he suffered last Saturday.
... CB Kayvon Webster remained sidelined because of a thigh bruise he suffered Monday.
... Guard Max Garcia was in pads, but limited to individual work as he recovers from a sprained ankle he suffered in the walk-through practice Monday.
... OL Michael Schofield worked at guard early in practice, then moved to left tackle when Russell Okung went back to the sideline. Okung continues to be brought along slowly as he completes his recovery from offseason shoulder surgery.
... Okung and Miller are expected to see about an hour and 25 minutes of practice work per day for the next week leading into the preseason opener in Chicago, Kubiak said.
... OL Darrion Weems saw some first-team work at guard during Thursday's practice. "Weems has really started to look like a good football player for this team," Kubiak said.
... C James Ferentz saw some snaps at guard for a second consecutive day. "He is going to have to play guard, along with center, because that's what helps you play seven guys [on the game-day active roster of 46]," Kubiak said.
... CBs Lorenzo Doss and B.J. Lowery saw first-team work Thursday because of the injuries to Harris, Webster and the continued absence of Aqib Talib, who remains on the non-football injury list.
WEATHER REPORT:Overcast skies and fall-like temperatures greeted the Broncos, with the temperature hovering between 65ºF/18ºF and 69ºF/21ºF during the course of practice, which stretched over two hours.
After Wednesday's practice following a day off, the Broncos worked toward getting back in their groove. (photos by Ben Swanson unless noted)