ENGLEWOOD, Colo. -- **The Broncos returned from their off-day with Malik Jackson back -- but a new-look offensive line across from him.
Rookie Max Garcia and 2014 practice-squad member Matt Paradis worked with the first unit throughout practice at left guard and center, respectively, giving the Broncos a first unit that included three players with no previous regular-season experience interspersed with seasoned veterans on the right flank in Louis Vasquez and Ryan Harris.
"Hey, we're going to be young. We know that. But we're going to play our best five, and believe me, those two guys are in the mix to be our best five," Head Coach Gary Kubiak said.
Kubiak felt that Garcia and Paradis earned the chance to show their skills with the top line.
"You saw those guys bump up. You're going to see that occasionally," he said. "Those two guys have been playing well. They deserved to work with the ones, and we're going to get it all evaluated, so it's part of the plan."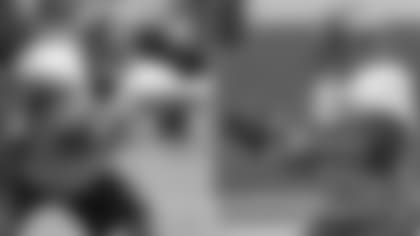 It didn't always go smoothly; Paradis and Peyton Manning had a mistimed snap that resulted in a loose football recovered by defensive end Kenny Anunike. Garcia also had to contend with defensive end Malik Jackson, who was back after missing four days because of a calf strain. The well-rested Jackson looked like his dominant self, blasting through the line on multiple occasions.
But there were some signs of progress as Garcia and Paradis continued their work together from the second unit on the first five days of training camp.
"They're playing well. We'll see," Kubiak said. "But they got a good opportunity today."
Kubiak said there was no significance to the fact that Garcia and Paradis saw their extended first-team work on the day after the players' day off, which the coaches spent watching tape and evaluating the progress of players over training camp's first five days.
"I wouldn't go there," Kubiak said. "It's really just a matter that we're trying to be even.
"We did sit and talk personnel [Wednesday] from an organizational standpoint, a coaching standpoint, but there were no moves made just based off [Wednesday]."
... Before WR Emmanuel Sanders left with a hamstring injury, he made a big impression, starting with a deep reception on a post route from Peyton Manning. Manning was under pressure from DeMarcus Ware around the right side, but quickly stepped up with a deep strike that was reminiscent of the Kubiak-led offenses of the 1990s and 2000s. Sanders also had a good catch near the left sideline later in the team period, but that play might have been blown up in a game because of pressure from Von Miller, who sprinted past Virgil Green.
... Von Miller dominated one-on-one drills, but this should come as a surprise to no one. He whipped past Louis Vasquez and Ryan Harris on consecutive pass-rush snaps, then jogged back over to the adjacent field where seven-on-seven work continued.
... ILB Brandon Marshall saw work in a team period for the first time during training camp. He was limited to seven-on-seven periods during the first five days of practice. Fellow ILB Danny Trevathan sat out with an illness, but even without that, Marshall was ahead of Trevathan as both recover from injuries, Kubiak said. "If Danny would have been out there, you wouldn't have seen Danny doing the same thing that he's doing."
... With all the shuffling on the offensive line, Ryan Harris has settled in at right tackle, working five consecutive days there on the first team. "He just picked it up. He's doing some really good stuff," Kubiak said. "I've had Ryan before. I really like this Ryan that's with us right now. I think he's really focused. I think he sees an opportunity as a pro, and he's taken advantage of it." Kubiak said that Chris Clark will continue to work as a swing backup, but that Harris "is deserving of more reps right now."
... Louis Vasquez also continues to be the linchpin of the offensive line. One of his best plays came near the start of the team period, when he pulled left -- with TE Owen Daniels sealing the left edge and created a hole for C.J. Anderson to run through.
... Kubiak likes the balance of big plays and successes between the offense and defense. "We're battling back and forth," Kubiak said. "I look at practice today: we made big plays on offense, but we made big plays on defense. Toward the end of practice defensively we really picked it up. Hopefully it's going back and forth all the time."
... With Vance Walker excused from practice, Derek Wolfe being evaluated for a possible concussion and Antonio Smith and Malik Jackson being eased back into work, the addition of Sione Fua came just in the nick of time. "John (Elway) and Matt (Russell) spoke highly of him," Kubiak said. "We're obviously short on the defensive line and we're trying to nurse along a couple of guys."
... The Broncos had to waive punter/kickoff specialist Karl Schmitz to make room for Fua, but Kubiak said he was proud of how Schmitz worked. "I think he'll make it in this league," Kubiak said. "But that's tough anytime guys do everything for you and you've got to let them go. We talked to Schmitz, and I told him to stick with it. I think he'll make it, somehow, some way."
... Brandon McManus and Connor Barth worked on long-range kicking today. McManus hit attempts from 60 and 64 yards, and Barth drilled a 60-yard attempt. All kicks had room to spare.
... This was Ronnie Hillman's best day. He quickly got to the edge and exploded into the open field for several long runs.
... WR Demaryius Thomas saw his first team repetitions of training camp. Although he is not back to full-scale participation, he has seen incremental increases in snaps since the start of training camp.
... DE Malik Jackson (calf strain) saw his first team work since he was injured last Friday.
... ILB Brandon Marshall saw his first team-period repetitions of training camp.
... ILB Danny Trevathan missed practice because he's sick. "Other than that, it's nothing," Kubiak said.
... DE Vance Walker missed practice because of an excused absence.
... DE Antonio Smith saw his team repetitions increase as the Broncos get him back to full speed.
... OT Michael Schofield was held out of practice after his back bothered him during Tuesday's session. "He could have went today, but we made a decision to give him another day [to rest]," Kubiak said.
... RB Kapri Bibbs returned after leaving practice because of an ankle injury Tuesday.
... CB Tevrin Brandon (shoulder) was forced to miss his third consecutive practice since being injured Sunday. Safety Ross Madison joined him on the sideline.
... OLB Lerentee McCray missed a second consecutive practice because of a groin injury incurred during Monday's session.
... NT Marvin Austin Jr. also missed a second practice in succession because of a groin injury suffered Monday.
... TE Jeff Heuerman (torn ACL) was the only other player on the 90-man roster to not take part in practice. Unless the Broncos want to expose him to the waiver wire, he cannot go on injured reserve before the first cut to 75 players on Sept. 1. * *
... WR Emmanuel Sanders left practice early after suffering a hamstring injury. Sanders was treated on the sideline during seven-on-seven work before retreating to the locker room. "He was trying to go get a ball and felt something," Kubiak said. "Obviously we're going to be smart there."
... ILB Steven Johnson "got his knee banged" during practice, Kubiak said. Johnson remained on the sideline until the end of the session. Corey Nelson saw some first-team work as a result.
... CB Curtis Marsh left practice because of tightness in his quadriceps.
... DE Derek Wolfe is being evaluated for a possible concussion after a collision during practice.
WEATHER REPORT:A few clouds but plenty of sun greeted fans, players and coaches. Temperatures rose from 78°F/25.6°C to 85°F/29.4°C by the end of practice.
ATTENDANCE: 4,247. Total camp attendance: 24,915 (average: 4,153).
After a day off the Broncos return to UCHealth Training Center to continue training camp.