ENGLEWOOD, Colo. --It took 20 days, but competitiveness finally mushroomed into scuffles on the practice field.
In the previous 19 days, there were occasional shoves and scuffles, but nothing like what exploded Wednesday, first when TE Dominique Jones and OLB Danny Mason exchanged blows and tumbled to the ground, and later when OLB Danny Trevathan delivered a crushing hit on RB C.J. Anderson as a play was ending.
Shoving between DE Derek Wolfe and LT Ty Sambrailo followed Trevathan's hit. Wolfe also shoved rookie guard Max Garcia when he strode into the area.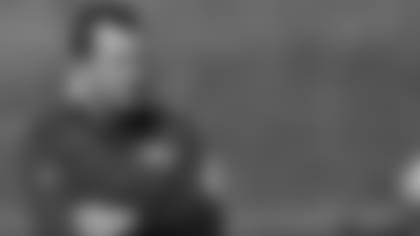 No one emerged the worse for the wear; although Anderson received attention from team trainers, he arose and lined up two plays later. But the scuffling was understandable, and with two games and joint practices with the San Francisco 49ers over the next 10 days, the Broncos will have ample outlets.
"We're tired of each other, tired of working against each other," Head Coach Gary Kubiak said. "It's kind of a good sign, too. They're battling. I like when they do it and they get on top of it."
The Broncos also received the message Kubiak wanted to send. After the Jones-Mason kerfuffle he called them together for a full-team huddle -- the first that early in practice in two weeks -- to redirect their energies.
"The message today was [that] I don't want to see being selfish on the football field," Kubiak said. "When you go out to work, there's going to be good; there's going to be mistakes. That's part of football. But we can never get selfish as a team and do things that will cost us games. I felt like we were that way early in practice. But we regrouped and practiced hard.
"Hopefully we learned some things. You've got to learn some things, and if you learn those things on the practice field, they don't bite you during the game."
.... WR Demaryius Thomas had arguably his best catch of training camp with a leaping grab up the left sideline over CB Bradley Roby. "The last three days, I see a different guy," Kubiak said of Thomas.
... Field goals and placement punting were among the points of emphasis in practice Wednesday. Punter Spencer Lanning had one punt that took a particularly funky trajectory and flipped over sideways as it came down, which led to a fumble by returner Isaiah Burse.
... WR Bennie Fowler had another strong day, but was left lamenting after the one that got away, a dropped potential touchdown pass in the right side of the end zone. After the play, QB Brock Osweiler ran up to Fowler and gave him a reassuring high-five.
... WR Andre Caldwell didn't get into a fight, but he did lose his cool after a dropped pass, throwing his helmet. It was a tough day for Caldwell, who was the intended target on a pass that CB Curtis Marsh intercepted up the right sideline.
... TE Marcel Jensen saw some extensive work and made some nice receptions, including one on a post route down the middle from QB Peyton Manning.
... Lanning and K Brandon McManus handled kickoff work. Lanning averaged 4.03 seconds of hang time on the three kickoffs timed before the Broncos worked on onside kickoffs; McManus' average was an impressive 4.25 seconds.
... WR Corbin Louks was particularly active and intense. He caught back-to-back passes from Trevor Siemian during the seven-on-seven period and did a good job getting downfield. Later in that segment of practice, CB Tevrin Brandon intercepted Siemian, but Louks stayed with the play and stopped Brandon well upfield.
... WR Jordan Taylor had one of his best receptions of training camp, grabbing a touchdown pass on a go route from Siemian just after the Brandon interception.
... Dan Reeves, the only Broncos head coach in the Ring of Fame, attended practice. He also watched Tuesday's special-teams walk-through session.
... DE Kenny Anunike will have his knee scoped Thursday, Kubiak said. Anunike has missed the last two days of practice because of swelling in his left knee. Kubiak said he did not know which knee; Anunike has had multiple surgeries on his left knee.
... Four defensive starters received a veteran's day off: CB Aqib Talib, OLBs Von Miller and DeMarcus Ware and safety T.J. Ward. Chris Harris Jr. practiced as he continues his recovery from a hamstring injury.
... DE Antonio Smith attempted to practice after learning of a death in his family, but returned to the locker room during the individual period of practice.
... WR Emmanuel Sanders continues to sit out as he recovers from a hamstring injury.
... CB Tony Carter did not practice. He reported cramping in his hamstring Monday..
... NT Marvin Austin Jr. and OLB Lerentee McCray remained sidelined because of groin injuries.
... TE Jeff Heuerman remains out with a torn ACL. He cannot go onto injured reserve until the first cut Sept. 1, because the Broncos do not want to risk exposing him to waivers.
There were no new injuries during practice.
WEATHER REPORT:It felt like a late September morning at Broncos headquarters. Practice opened in 53°F/11.7°C conditions and concluded with a temperature of 57ºF/13.9ºC under mostly sunny skies.
Wednesday Broncos corporate partners and suite ticket members were hosted at UCHealth Training Center for an exclusive look at training camp.