... It's just two days into training camp, and we've already seen what appears likely to be the catch of the year: WR Jordan Taylor's turning, one-handed grab near the sideline on a deep pass from Mark Sanchez during the one-on-one period. Taylor broke outside of cornerback Taurean Nixon and raced up the right sideline, then turned back to catch the pass. Taylor leapt and caught it with his inside (right) hand just outside of Nixon.
"[Nixon] had good coverage on me," Taylor said. "He pushed me to the sideline. There wasn't much room. Mark threw a good ball, and I saw the ball at the last second. I don't know why I threw one hand up, why I didn't put my left hand up. It just all happened real fast.
"By the time I turned my head and threw my hand up, the ball was in my hand. It all happened really quick."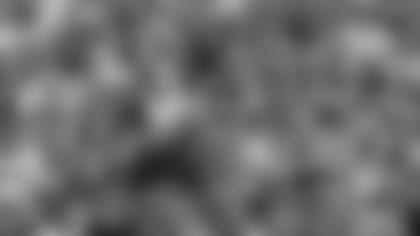 ... That wasn't all for Taylor. Before his highlight-reel grab, he ran one of the best routes I've seen from him, taking off as if he was on a go route, then dekeing B.J. Lowery and cutting inside on a post. The move froze Lowery, giving Taylor plenty of separation with which to make a perfect reception from Trevor Siemian.
... Siemian and Sanchez split first-team work Friday. Siemian was the first quarterback up for the initial seven-on-seven period, and Sanchez opened the later seven-on-seven work. A similar rotation existed for the team periods. "Mark has practiced really well for the last couple of days, and I think Trevor has done fine," Head Coach Gary Kubiak said.
... Chris Harris Jr. had a diving interception of Sanchez for the defense's only pickoff of the day during the seven-on-seven or team periods. The interception probably would not have happened in game conditions, because Shaquil Barrett burst around the right flank and got to Sanchez, but pulled up, allowing Sanchez to roll to the left. Sanchez threw toward Emmanuel Sanders, but the pass was short.
... Kubiak opted to split the team onto two fields for the seven-on-seven periods. Sanchez and Lynch split the repetitions on the south field, while Paxton Lynch got all the snaps on the north field, giving him twice as many throws. It also doubled the work in the period for the third team, giving extra chances for newcomers like WR Marlon Brown, TE John Phillips and others.
... Kubiak said that when he splits the team into two groups, he typically watches the younger players, "because I want to pay attention to how they're progressing." This isn't a new idea; during the Mike Shanahan era, the team would sometimes use the split-field arrangement during OTAs to get all of their players enough repetitions.
... OLBs Shaquil Barrett and Shane Ray often seem to match each other play for play. Both were responsible for plays that likely would have been sacks in game conditions, bursting off the edge to get to the quarterback against the No. 1 offense. "In all honesty, they're probably going to be starters for this team for about three weeks as we work Von up and wait on DeMarcus [Ware] to come back," Kubiak said. "I'm excited about both of their opportunities with this team."
... WRs Kalif Raymond, Bralon Addison and Jordan Norwood got extensive work on kickoff returns during an early special-teams period. Norwood, the punt returner during the postseason last year, is getting an extended look on kickoffs as the Broncos try to see whether he or rookies Raymond or Addison can handle both kickoff and punt returns.
... Kicker Brandon McManus went 1-for-2 on his long field-goal attempts at the end of practice. He was short and wide left on a 70-yard attempt, but subsequently launched a 67-yard blast that would have been good from 75 yards. During an earlier special-teams period, McManus hit all of his field-goal attempts.
... ILB Todd Davis had a good day working against the run, consistently reading the flow of plays and shooting forward to fill holes as they were created. Davis continues to work with the No. 1 defense alongside fellow ILB Brandon Marshall.
... OLB Von Miller added nine-on-seven repetitions to his work during individual drills as he continues to be eased back into full-team work. "I would like to think that by mid-week next week, he's pretty close to being out there full-time, Kubiak said.
... LT Russell Okung saw some more repetitions, but was held out of team-period work for a second consecutive day as he continues to be eased into full work. As with Miller, Okung is considered a "progression player" by Kubiak who will be brought up to speed gradually.
... Injuries to Phil Taylor and Sylvester Williams could leave more opportunities for Darius Kilgo and rookies such as David Moala and Kyle Peko, a pair of undrafted signees.
... NT Phil Taylor left practice after suffering a left knee injury. Taylor was able to make it back to the locker room under his own power, but moved slowly. He will undergo an MRI examination to determine the extent of the injury.
... NT Sylvester Williams also suffered a shoulder injury during practice, Kubiak said.
... RT Donald Stephenson had his ankle rolled on during practice, but did not have to leave the field and remained at his position.
... CB Aqib Talib and OLB DeMarcus Ware remained on the sideline, as they are on the non-football injury and non-football illness lists, respectively.
... DE Kenny Anunike worked with a team strength and conditioning coach after taking mental repetitions early in practice; he is on the physically-unable-to-perform list.
QUOTABLE:"Honestly, I just threw my hand up, and thank God for these gloves. It [the football] kind of stuck in there." -- Taylor, on his one-handed catch
WEATHER REPORT:Practice opened under bright sunshine, but cloud cover rolled in over the course of the session. Temperatures rose from 71°F/22ºC to 75°F/24ºC during the practice.
The Broncos continue to work at Day 2 of training camp. (Photos by Eric Bakke unless otherwise noted)