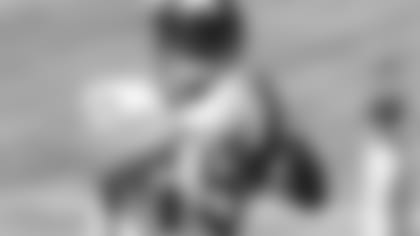 ENGLEWOOD, Colo. --On Day 2 of training camp, the Broncos continued with no-pads, low-contact work. But it didn't prevent a season-ending injury to wide receiver Kyle Williams.
Williams injured his Achilles tendon during a return drill and was carted off the field. A subsquent MRI examination revealed that the tendon was ruptured.
Williams did not play in 2014 in the wake of shoulder and ACL injuries, but had battled his way back and was in the thick of a crowded field at punt and kickoff returner before succumbing Saturday.
"He was doing a good job. He came back in great shape. He was doing some return stuff, and he wasn't even touched," Kubiak said.
Williams shared his frustration via Twitter, writing, "I worked too [expletive] hard for this!!!!!!" just after the injury. His pain was palpable and understandable, given that he overcame a torn anterior cruciate ligament and a shoulder injury in the last two years just to have this chance.
"You just feel bad for him. I know he's very disappointed," Kubiak said.
But practice went on, as it always does.
... CB Omar Bolden was the first Bronco on the field for practice. He was followed by OT Ryan Harris, FB/TE Joe Don Duncan and G Ben Garland.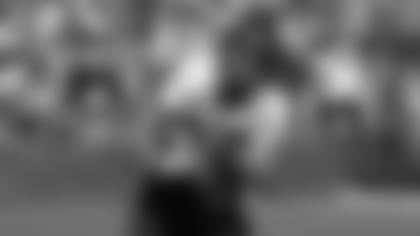 ... WR Jordan Taylor earned on-the-record compliments from Peyton Manning during OTAs, and he continued to justify that praise by making two of the day's biggest receptions. The first was a one-handed grab from QB Trevor Siemian during the one-on-one period. Taylor got past rookie CB Taurean Nixon with a perfect precise route, starting with an inside slant and then cutting back outside toward the right sideline, where he made the grab.
... Two plays after Taylor's big reception, WR Nathan Palmer barely missed his chance for a one-handed catch from Siemian that would have spurred an explosion from the fans on the hillside. Palmer later had a chance for a deep reception past rookie CB Tevrin Brandon, but a perfectly led pass from Siemian bounced off his hands. Palmer subsequently heaved the football 25 feet skyward on the bounce in frustration.
... Brandon later got the better of Siemian, intercepting a pass from him in seven-on-seven period. Siemian attempted to lob a deep pass to Taylor, but Brandon read it perfectly for the pickoff.
... WR Cody Latimer and QB Peyton Manning were on the same page Saturday. They connected on multiple passes, beginning in one-on-one drills when Latimer caught a quick slant in front of CB Chris Harris Jr. But that paled with the one-handed catch Latimer made the next time he was up. Manning threw to Latimer on a quick out route, and the receiver reached out and made the grab.
... WR Jordan Norwood got some work with Manning during the one-on-one period, which he punctuated with a reception on a go route past CB Tony Carter. Norwood made a good adjustment to the ball after getting turned around before the reception.
... Manning and WR Emmanuel Sanders also connected deep down the left seam, with Sanders beating CB Aqib Talib, who was flagged for holding on the play. Another flag flew on a later Sanders route when CB Kayvon Webster grabbed his jersey on a quick slant.
... One-on-one drills favor the offense, it must be said. But despite allowing a pair of receptions, CB Bradley Roby displayed his usual tenacity, getting his hands up near the line of scrimmage and making it difficult for WR Andre Caldwell to break out on his route.
... CB Lorenzo Doss needs to show that he can be the same kind of ballhawk that he was at Tulane, and he took a good step with an interception of QB Brock Osweiler during a seven-on-seven period.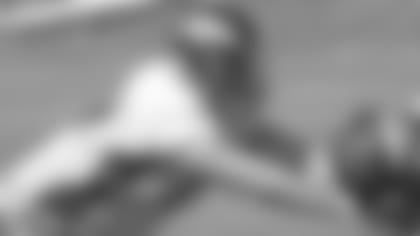 ... OT Michael Schofield was among the linemen who had some promising moments in line drills. The coaches emphasized lateral movement, and Schofield looked much better at keeping his balance while getting low and moving than he did Friday.
... Bolden and Solomon Patton were the punt returners for a special-teams drill late in practice. Patton fielded his punts cleanly; Bolden bobbled one and fumbled after coming forward to field a short Karl Schmitz punt.
... The field-goal unit again practiced end-game attempts. Connor Barth hit his 51-yard attempt, and Brandon McManus connected from 51 and 52 yards.
... Kubiak shuffled the offensive line, as per his camp plan. Schofield saw snaps at right tackle, and Chris Clark worked at left tackle. "We like what Michael has done on the right," Kubiak said. "We don't want Michael to get buried on the left. We want him to be able to compete on the other side."
... Kubiak said he wanted the Broncos to start by watching the practice film from the end to the beginning, because most of their mistakes were made then.
... NT Sylvester Williams was dominant at times during one-on-one line drills and was singled out for praise from Kubiak after practice. Williams was almost throwing the centers he faced out of the way, although Matt Paradis was stout against him, not falling for spin moves and holding his ground.
... The Broncos will wear shells tomorrow and have their first full-pads practice Monday.
... TE Jeff Heuerman (ACL), DE Antonio Smith (funeral) and OT Connor Rains (foot) were not in uniform and did not practice.
... DE Malik Jackson was in uniform, but did not have a helmet and was limited to conditioning work after suffering a calf injury Friday morning.
... RG Louis Vasquez returned to practice after missing Friday's walk-through because of an illness.
... WR Demaryius Thomas was limited to individual work for a second consecutive day.
... LBs Brandon Marshall and Danny Trevathan saw limited work as they continued to recover from the injuries that kept them from offseason practices. They participated in individual and seven-on-seven drills, and moved well, with quick, sharp cuts. "We're going to be smart in our approach [with them]," Kubiak said. Todd Davis and Steven Johnson continued to work on the first team in their place.
... WR Kyle Williams suffered an Achilles tendon injury on a return drill early in practice and will miss the season.
... NT Marvin Austin Jr. left practice early because "he got a little heat at the end," Kubiak said, adding that Austin would be "fine" going forward.
... RB Jeremy Stewart was pulled because of a "tight hamstring," Kubiak said. The move was precautionary and Stewart is "fine," Kubiak added.
QUOTABLE:"My mentality is by the end of the fourth quarter, we want to feel your soul wilt in our hands. So I'm trying to instill that in the offensive line because it's dirty work. You might as well get nasty with it." -- RG Louis Vasquez
WEATHER REPORT:For a second consecutive day, practice took place under mostly sunny skies. Temperatures rose from 77°F/25°C to 86°F/30°C by the end of practice.
ATTENDANCE:3,412. Total camp attendance: 7,437 (average: 3,719).
Get a first look at photos from Day 2 of Broncos Training Camp.