ENGLEWOOD, Colo. --The fans returned to the UCHealth Training Center on Wednesday, but with Friday's preseason opener against the Seattle Seahawks looming, the Broncos throttled back on the contact in a shorts-and-shells practice.
Practice was more like one you would see in the third week of the preseason (in years when there are not joint practices) regular season, with the first unit facing a scout team of third-teamers.
For some players on the No. 3 unit, it was their first chance to go against proven NFL starters.
"It's a little different going against the ones; that group's usually got it together," said rookie QB Trevor Siemian. "At the same time, you're running plays off of cards, so it's not as realistic as you want it to be.
"But it's a great look for me to get a look against those guys and kind of see what Peyton [Manning] and Brock [Osweiler] are going against and how they play them."
The workload in the preseason opener should be light for the starters -- especially the veterans who have already received two extra off-days during training camp. The degree of the work will be determined as the coaches meet Wednesday.
"We've got a few guys that we'll talk about that have had a lot of birthdays," Kubiak said, smiling.
No matter which unit is on the field at a specific time of Friday's game, the Broncos will keep it simple. But that's not because they want to avoid putting anything on film. Rather, Kubiak wants to see and evaluate his players' true performance level.
"I think people are simple because they don't want to confuse the young guys. It's hard to find out about a young player if I go out there and complicate a game plan and he's out there thinking," Kubiak said. "I want him to know what he's doing where I can see his talents take over and he can play fast."
... Perhaps the most noteworthy period of practice was in a goal-to-go period even though the Broncos practiced without pads and weren't hitting. FB/TE Joe Don Duncan caught two touchdown passes from Osweiler and came close to a third, but had the pass from Zac Dysert skip off his hands.
... TE Dominique Jones continued to find ways to get open, both short and long, catching multiple passes throughout the morning. He also had a touchdown reception from Dysert in the goal-to-go period, catching a pass in the back right corner of the end zone.
... WR Bennie Fowler continues to show impressive body control and ability to adjust to the football in flight. He made two receptions of more than 20 yards on which he turned around 180 degrees as the ball sailed toward him and managed to make the catch in spite of good coverage.
... ILB Danny Trevathan was responsible for arguably the loudest ovation of the day with a pick-six midway through practice. With Kool and the Gang's "Jungle Boogie" blasting from the speakers, Trevathan sprinted for the end zone and then greeted fans with low-fives to celebrate.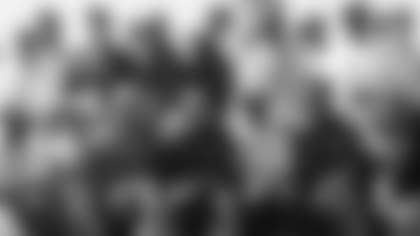 ... Rookie CB Taurean Nixon intercepted Dysert on a deep pass up the right sideline intended for WR Solomon Patton.
... Although there was little contact in practice, CB Curtis Marsh couldn't avoid making a big hit on WR Isaiah Burse as a pass from Dysert arrived. Both parties emerged unscathed.
... NT Darius Kilgo displayed his athleticism by reaching out for an interception of an Osweiler pass deflected by DE Josh Watson at the line of scrimmage.
... Another loud ovation followed a Peyton Manning-to-Demaryius Thomas post route for a touchdown in a red-zone period.
... The special-teams emphasis was on punt protection. With Omar Bolden working as a gunner on the punt-pro unit, Jordan Norwood, Emmanuel Sanders and Solomon Patton fielded punts.
... More than 50 former Broncos watched practice and posed for a picture on the south field after the session concluded.
... WR Emmanuel Sanders saw his most extensive work since straining his hamstring last week and saw action in team periods throughout the two-hour practice. "I feel really good," Sanders said. "Obviously, with the hamstring, I'm taking it day by day." He said he felt "no pain at all" and was back to being himself.
... CB Chris Harris Jr. was sidelined for a fourth consecutive practice since he cramped up last Friday. Kubiak has indicated that Harris' absence is precautionary in nature, and he said Tuesday he wants to see him at 100 percent health before he returns.
... OLB Lerentee McCray and NT Marvin Austin remained sidelined because of groin injuries.
... TE Jeff Heuerman (torn ACL) is still on the 90-man roster, but is not practicing. He is not expected to go on the injured reserve list until the 75-man roster deadline Sept. 1, because to put him on that list now would entail exposing him to waivers.
... CB Kayvon Webster "tried to go," but left practice early. Webster injured his ribs during last Friday's practice and is still recovering. Webster received some individual repetitions during Tuesday's practice.
... S Omar Bolden left practice and received IVs after he "got a little winded," Kubiak said.
WEATHER REPORT:Clear skies and a postcard-perfect Colorado morning welcomed fans to the UCHealth Training Center. Practice began in 76°F/24.4°C conditions, and the temperature climbed to 81°F/27.2°C when practice ended.
The fans are back and the Broncos are on the field for Wednesday's practice at UCHealth Training Center.