... "We had a very competitive practice," Head Coach Gary Kubiak said, and it was hard to argue with him, especially since tempers flared briefly after one play late in practice.
... For a second consecutive day, a Broncos safety stripped a tight end of the football. Friday, it was Justin Simmons from Garrett Graham; Saturday it was T.J. Ward from Virgil Green. Ward recovered the loose ball himself and sprinted upfield for what would have been a touchdown in game conditions.
... CB Bradley Roby had the other big takeaway of the day, jumping in front of a Mark Sanchez pass for Emmanuel Sanders and taking it to the house. The play came on the first snap of the two-minute period.
... Sometimes, you have a play where both sides do well. One example came during the first team period of practice, when Sanchez ran the playfake bootleg to the right. Shaquil Barrett wasn't caught out of position; he read the developing play perfectly and had missile lock on Sanchez. But the quarterback lofted the ball over Barrett and found WR Bennie Fowler in stride as he ran toward the right sideline.
Fowler made an outstretched grab, adding to his growing ledger of impressive catches this summer.
"You guys are watching Bennie Fowler become a really good player," Kubiak said.
... For the second consecutive day, Kubiak had the offenses run a series that began at the offense's 1-yard line. All three units got a first down.
Sanchez and the No. 1 offense moved the sticks thanks to a 6-yard pass to Demaryius Thomas on third-and-5 that saw the quarterback release the ball just before Ward arrived on a safety blitz.
The No. 2 offense, led by Siemian, got out thanks to Kapri Bibbs' legs. Bibbs took off on second-and-5, roaring through a big hole on the left side created by OT Cameron Jefferson and TE Jeff Heuerman.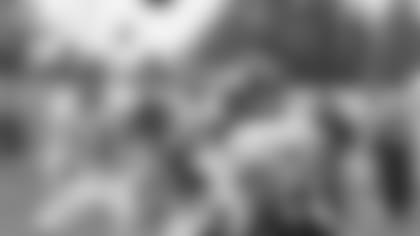 Paxton Lynch completed a pair of quick passes to get the offense out of the shadow of its own uprights. After a deep incompletion, he hit Garrett Graham and Bralon Addison on short passes to get the offense to the 12-yard line. Graham's catch was particularly nice; the pass was behind him but he reached out and tipped it to himself.
... All three offenses scored in the team red-zone period near the end of practice.
Siemian led the first team to a pair of scores: a 20-yard pass to Emmanuel Sanders on a post route past Roby and a 5-yard strike to Demaryius Thomas.
Working with the No. 2 offense, Sanchez found Cody Latimer on a slant for a 16-yard touchdown -- but CB Lorenzo Doss was signaling that he would have had a sack in a game situation on the play after he roared into the backfield on a corner blitz. The No. 2 defense stopped the No. 2 offense on its subsequent series, with a run stuff, pressure from Shiloh Keo that led to an incompletion a pass that ended five yards short of the line to gain.
Paxton Lynch led the No. 3 offense to a pair of red-zone touchdowns in as many opportunities. He hit Devontae Booker for a 1-yard, third-and-goal touchdown in the first series, then capped a four-play second series with a 12-yard scoring pass to Kalif Raymond, who was running a post route.
... C Matt Paradis was treated on the field, putting a scare into the Broncos and their fans gathered on the west hillside, but he returned for the next period. Kubiak said Paradis just "had the wind knocked out of him."
... RT Donald Stephenson sat out practice because of a calf strain he suffered Friday. "We expect him back soon," Kubiak said.
... RG Ty Sambrailo missed a fifth consecutive practice because of the right elbow injury he suffered last Sunday.
... TE John Phillips stood on the sideline for a sixth consecutive practice, taking mental repetitions next to Tight Ends Coach Brian Pariani. Phillips injured his ankle last Saturday.
... OL Michael Schofield worked at right tackle in place of Stephenson during the early portion of practice, then moved to left tackle later after Russell Okung's day was done as he continues to be eased back into full work.
... OT Kyle Roberts saw some first-team work at right tackle after Schofield moved to left tackle.
... OL Darrion Weems worked at right guard in place of Sambrailo.
... LG Max Garcia was back to a full practice workload after missing some work because of a sprained ankle earlier this week.
WEATHER REPORT:Practice took place under mostly cloudy skies with temperatures remaining between 66°F/19°C and 68°F/20°C.
ATTENDANCE:For the fourth consecutive day, a crowd of greater than 5,000 attended practice. The throng of 5,370 was the second-largest of training camp and raised this year's camp average to 4,575.
The Broncos practiced Saturday morning under cloudy skies before a day off on Sunday. (Photos by Eric Bakke, unless noted)