ENGLEWOOD, Colo. -- **The first team belonged to Brock Osweiler for the second time during training camp, and although there were some hiccups, Osweiler closed Sunday morning's practice strongly and with more consistency than he showed during the first veterans' rest day last Monday.
"I thought Brock did a good job," Head Coach Gary Kubiak said. "He missed a few plays, and I know he missed a skinny [post] there on a little mock situation we had on third-and-7, but he made a lot of plays, too."
At times, Osweiler did well dropping the ball through narrow windows and trusting his pass catchers to make the plays. Early in practice, he found tight end Virgil Green in the left flat against tight coverage from linebacker Reggie Walker.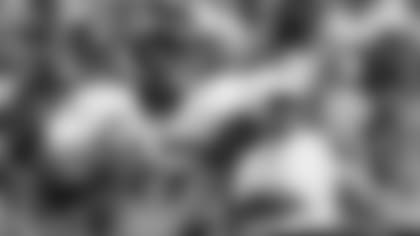 Osweiler is also improving at using his pump fake to get defenders to bite, as he did on a seven-on-seven touchdown pass to tight end Dominique Jones. However, a pump fake later in that period didn't work out as well, as Tony Carter read the pass and deflected it before Demaryius Thomas could catch it.
Another Osweiler-to-Jones completion stood out, because it relied on precise timing. Osweiler moved to deliver the football before Jones cut off his route and turned back for the football; the timing of the play was perfect.
"He made some plays," said wide receiver Andre Caldwell. "When he steps in, we see no downfall. We expect the same out of him as we do [QB] Peyton Manning. He came out of here and made plays. [He is] showing that if time presents itself, he'll be a game changer for us."
One of Osweiler's best throws came during a red-zone period when he spotted Demaryius Thomas on a post route in the end zone. Osweiler fired a bullet that was perfectly placed, leading Thomas for a touchdown reception. Thomas ran into the foam support around the base of the goal post after the play, but was okay.
Osweiler's ability to lead Thomas is a product of the snaps they're finally receiving together after infrequent on-field work from 2012-14.
"I think that play alone kind of showed that work paying off," Osweiler said. "Hopefully I get a lot more."
The pass came just a few moments after Osweiler missed Thomas on a short crossing pattern that was nearly intercepted by linebacker Todd Davis.
So as Kubiak noted, Osweiler missed some plays, and he made some. But his second day running the first team in training camp was much better than his first.
"He makes plays out here, he takes control of the huddle, he comes in there and it doesn't really make a difference who is out there," said wide receiver Cody Latimer. "We have great quarterbacks. Brock's doing a great job, he knows the offense and he's out here making plays."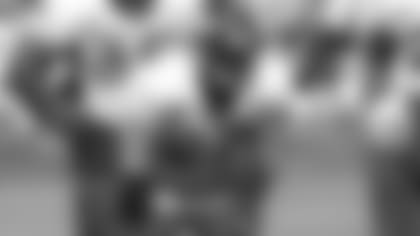 ... RB C.J. Anderson walked up to me in the team cafeteria to ensure that I would share four words from him: "I am not hurt." He played like it, too, with a strong day punctuated by a long run that began when he burst into a hole off left guard and through a lunging tackle attempt from ILB Brandon Marshall.
Anderson banged his shoulder during Saturday's practice, but was not limited Sunday. "He wakes up this morning and says, 'I'm going; I feel great,' Kubiak said."
... C Matt Paradis and LG Max Garcia worked on the first team for the fourth consecutive day. The team releases its first depth chart Monday, and although Kubiak advises the public to read "not very much" into it, it will offer a guidepost for the progress of young linemen like Paradis, Garcia and Ben Garland, who along with center Gino Gradkowski has worked on the second unit since the Broncos' first off-day of camp last Wednesday.
... In addition to a near-interception of Osweiler, Davis played well against the run, and is learning how to better read the flow of the play and diagnose the offensive intent. On one play, he single-handedly stopped Anderson after he didn't follow the flow of the play to his left, and instead watched the ball and followed Anderson right to be in position for the tackle.
... DE Kenny Anunike not only turned in a scoop-'n'-score on a fumble recovery, but caused that fumble by bursting into the backfield to engulf Jeremy Stewart. Anunike had a strong day overall and generated consistent pressure in the pass rush.
... WR Corbin Louks had one of the most athletic receptions of camp, making an outstretched grab of a pass from QB Trevor Siemian in the back of the end zone during the seven-on-seven period.
... One of the nicer plays in the red-zone period came when Stewart followed the blocking of FB/TE James Casey outside for a score. Casey blocked safety Omar Bolden, allowing Stewart to get to the pylon.
... Manning didn't practice, but kept busy. He was a constant presence beside Quarterbacks Coach/Passing Game Coordinator Greg Knapp, and carried a play sheet with him wherever he walked, keeping his eyes constantly on the work unfolding in front of him.
... Kubiak gave TE Owen Daniels, CB Chris Harris Jr., QB Peyton Manning, OLB Von Miller, CB Aqib Talib, RG Louis Vasquez, OLB DeMarcus Ware and safety T.J. Ward a rest day Sunday. All were also held out of last Monday's practice as part of the overall training-camp plan for limiting the work of key veterans.... WR Emmanuel Sanders saw some work in the individual periods as the coaches ease him back up to speed following a hamstring injury.
... S David Bruton missed a second consecutive practice because of a sore Achilles tendon.
... OT Michael Schofield did not practice for the third time in four days because of a back problem.
... CB Kayvon Webster was held out of practice because of a rib injury.
... ILB Steven Johnson was limited to warm-up work without a helmet. He has not practiced since spraining his knee last Thursday..
... DE Derek Wolfe did not practice as he proceeds through the league-mandated post-concussion protocol.
... OLB Lerentee McCray, S Ross Madison and NT Marvin Austin continued to miss time because of groin injuries.
... CB Curtis Marsh sat out for a third straight day because of tightness in his quadriceps muscle.
... TE Jeff Heuerman (torn ACL) remains out indefinitely. He cannot go on the injured reserve list until the 75-man roster deadline Sept. 1
... FB/TE Joe Don Duncan left practice with a neck injury suffered in a collision as he pulled to the right side to block for RB Montee Ball. Trainers examined him on the field before he walked back to the locker room under his own power.
... ILB Brandon Marshall was pulled from practice after he "just got a little sore," Kubiak said. The decision to remove him from on-field work was precautionary as he continues to recover from offseason foot surgery.
... WR Demaryius Thomas collided with the padding around the goal post after catching a touchdown pass and was slow to arise, "but he's okay," Kubiak said.
WEATHER REPORT:It was another comfortable morning at the UCHealth Training Canter. Temperatures ascended from 74°F/23.3°C to 81°F/27.2°C when practice ended.
The Broncos were back on the field at UCHealth Training Center on Sunday, take a look at some of the photos from the morning's shooting period.