ENGLEWOOD, Colo. -- **The rhythm of training camp grows monotonous after a while, but it's finally about to break.
Sunday brings a day off after Saturday's scrimmage. The Broncos practice Monday and Tuesday, but then they travel to Chicago on Wednesday in advance of their preseason opener -- the first of four days in a 10-day span in which they'll get to collide with someone other than themselves.
The change in pace -- and the chance to see another team -- comes exactly when the Broncos need it.
"I can't wait to hit somebody else," said Chris Harris Jr., who intercepted a pass during the scrimmage Saturday. "I'm tired of going against [WRs Emmanuel Sanders and Demaryius Thomas] 'E' and 'D.T.,' and I'm pretty sure they're tired of going against us.
"It's at that time where you're ready to see some other receivers and get ready for the season. I think we've got four more weeks, five weeks to get ready for [the Los Angeles Chargers]."
SCRIMMAGES ARE GOOD, GAMES ARE BETTER**
While Saturday's work helped illuminate coaches' evaluations of players and players' evaluations of themselves, the amount that all parties can extract pales compared with the games.
That starts with quarterback Trevor Siemian, who guided the No. 1 offense to its only first down of the the scrimmage Saturday via a 23-yard pass to Bennie Fowler.
"I just think I know more who I am as a player after playing in live games," he said. "[In games] I did some things OK last year and I did some things I really want to work on and get better at. For me, I want to improve and add value to this team."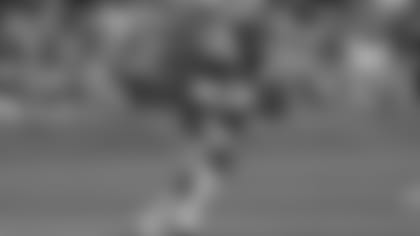 ISAIAH McKENZIE EARNS A GIG**
More than a handful of positions are still up for grabs with the preseason opener still five days away.
Punt returner is not. The job belongs to fifth-round pick Isaiah McKenzie.
"He won the position. Want to write that?" Joseph said, laughing.
It's not just McKenzie's quickness in traffic and burst to the edge that allowed him to seize the job. It's the diligence he's shown to his craft and the extra work he's put in when he's made mistakes, such as the extra 50 punts he caught one day after muffing a punt in practice.
"He is so mature for a rookie. He is headstrong," Joseph said. "Nothing bothers him. He's had some bad days and you can't tell. He's [as] even as I've ever seen a rookie."
Saturday was a good day; he broke off a pair of long punt returns and had a 10-yard reception from Siemian with the No. 2 offense during the scrimmage.
"We've all seen guys that are really, really fast, but can't catch the football," Joseph said. "He can catch the football. I trust him to be our guy Week 1 against the Chargers."
GAUGING THE COMPETITION AT OLB**
At some point, the Broncos know that Shane Ray and Shaquil Barrett will be available to them. Obviously, the sooner that comes, the better. But until then, Kasim Edebali, Vontarrius Dora and DeMarcus Walker will grapple for playing time.
"We're trying to find the best guy to play opposite of Von in Week 1. Who's the best guy opposite of Von," Joseph said. "Who's the best player opposite of Von? We don't know yet. Walker's had some good days. Dora's had two good days ... Edebali's in the mix, also."
All have seen some first-team repetitions in recent days. Dora rotated onto the first team Saturday and had some strong moments, particularly against the run.
"Today he was physical and tough," Joseph said.
MUSGRAVE'S IMPACT ON THE QB ROOM**
Siemian, Paxton Lynch and Kyle Sloter are running Offensive Coordinator Mike McCoy's scheme. But it's Quarterbacks Coach Bill Musgrave who handles most of the work of guiding the three passers.
For Lynch, the area in which Musgrave has helped the most is in his confidence.
"Just coming out here and knowing that he trusts me and Coach McCoy trusts me to come out here and take your chances," Lynch said. "Obviously you're going to make mistakes but the biggest thing is putting the day behind you and moving on from it, whether it's a good day or a bad day."
Siemian said he's learned "quite a bit" from Musgrave, who has built on the foundation laid by the teachings of former position coach Greg Knapp in the 2015 and 2016 seasons.
"For me as a quarterback, you just want to be exposed to a bunch of different philosophies, kind of see what you think like and pick up whatever you can," Siemian said.
"He's a contrast personality-wise from [Knapp]. I've enjoyed them both and I've picked up as much as I could from both of them. Bill is obviously super bright and done a lot of good things around the league so I don't take a day for granted in that meeting room."
Before a record crowd, the Broncos had their most intense tune-up yet on Saturday at training camp. (photos by Gabriel Christus unless noted)