ENGLEWOOD, Colo. --Even for the most successful of teams, football is about coping with adversity.
So the one thing Head Coach Vance Joseph wanted to see above all else Monday was how his offense handled itself following a Sunday performance that was out of sync and defined by frustration and missed opportunities.
Starting from the push the offensive line got in an early period that emphasized power running, he got it.
"Offensive-line-wise, they came back and they were physical today," Joseph said. "I told the guys, 'It's not that things are going to happen. Things are going to happen. But how you respond is the key.'
"Football is a game of adversity and a game of mistakes. That's going to happen. You're going to have bad days. But how you bounce back is critical."
The line played a big part in that. But on some of the early carries that unclogged the offense's plumbing, so did fullback Andy Janovich, which is where Monday's takeaways begin.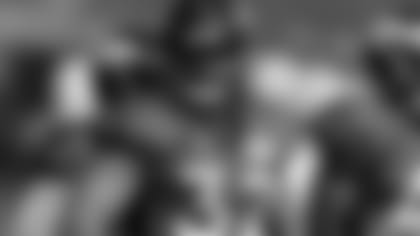 1. JANOVICH: A 'BIG PART' OF THE PICTURE
The emphasis on the run early in practice was right up Janovich's alley. He sprung C.J. Anderson, De'Angelo Henderson and Stevan Ridley for some of their best runs, powering to the hole and through defensive linemen and linebackers.
Throughout the offseason, some observers have questioned whether there was a place for a fullback in an offensive scheme that some players have described as "pass-happy." But past iterations of offenses in which Offensive Coordinator Mike McCoy and Offensive Line Coach Jeff Davidson have been involved have made heavy use of the fullback. As recently as last year, McCoy drafted a fullback: Wisconsin's Derek Watt, who played all 16 games last year.
Janovich is the only fullback on the roster, and it's clear there is a place for him -- even if you don't get into his extensive special-teams role.
"If we had 22 Jano's we would be all right," Special Teams Coordinator Brock Olivo said. "He's tough, he never says a word and never complains. He just does his job. He's the first one in the meeting every day. He's on it X's-and-O's-wise.
"He knows what to do, he's tough and he finishes. I love the guy, if you could tell. He's going to be a four-phaser for us. He's a really good football player."
By "four-phaser," Olivo means that Janovich can play on four different phases of special teams -- punt coverage, punt returns, kickoff coverage and kickoff returns.
"He is very valuable to our football team from a physical standpoint," Joseph said. "He is an old-school fullback that can also carry the ball that is going to be great for Brock [on special teams]. So he's a big part of what we're going to do offensively and special-teams wise."
'DECISION-MAKING' REMAINS KEY ATTRIBUTE IN QB COMPETITION**
What rankled Joseph about his quarterbacks' performance Sunday were the misfires in the red-zone and goal-to-go periods -- the plays that, in games, lead directly to massive swings on the scoreboard.
A play like the interception by Bradley Roby off Paxton Lynch, for instance, would have represented a 14-point swing under game conditions, as it would have almost certainly been a 99-yard touchdown return for the fourth-year cornerback.
Mistakes matter anywhere on the field, but Joseph understands the higher-leverage nature of work inside the red zone.
"I'm looking for decision-making, guys. That's why I was so disappointed with [Sunday's] results," he said. "Making critical errors in the scoring zones -- we can't have [that]. Now, you make an error out [at midfield] on first-and-10, second-and-10, we can overcome those, but if we're going into score, and we've already got three points, and you give them seven points, we can't have that. That costs you games."
McKENZIE PUTS THE EXTRA WORK IN**
... WR Isaiah McKenzie continues to impress on punt returns, but all was not perfect, as he muffed one punt during Monday's work.
"He dropped a punt, and that's an unusual occurrence for him, because he's usually spot on," Special Teams Coordinator Brock Olivo said.
When practice ended, McKenzie went to work trying to atone for the miscue and prevent it from happening again.
"He was out here and he caught probably 50 punts [after practice]," Olivo said. "That's the kind of kid he is. He's a budding pro, and we're happy about that."
"[McKenzie] wants the ball in his hands and he likes the fact that there is a Tyreek Hill in our division, a guy that he can strive to be as good as or better someday," Olivo said. "That's the kind of kid he is. I know he's thinking that in his head because he's very confident and I love that about him.
"You see that, the quickness, the lateral movement, the burst, the toughness to stand in there. Again, we'll see coming up in the first preseason game and throughout preseason just how much guts the kid has when gunners are running down in front of his face. I have confidence he's going to be just fine."
Recent years have seen some lineup changes or other shuffles in the distribution of repetitions after the first off day of camp. The potential for such changes is likely to be a topic Tuesday as Joseph, the assistant coaches, President of Football Operations/General Manager John Elway and other members of the personnel staff meet to review the first five days of training camp.
"We're going to have a personnel meeting tomorrow morning with John and his staff to kind of go through the roster and talk about the health of the roster and kind of figure out our next plan moving forward," Joseph said.
Joseph said he would ease the team back up to full speed after its rest day.
"Our vision as a staff is to have an off-day tomorrow, kind of bring it back Wednesday and kind of build it back up Thursday [and] Friday for our first scrimmage on Saturday," he said.
There's no such a thing as a case of the Mondays for the Broncos, as evidenced by Emmanuel Sanders and Demaryius Thomas' dunks. (photos by Gabriel Christus unless noted)