ENGLEWOOD, Colo. --The 4,741 fans who gathered on the west hillside at the UCHealth Training Center didn't see nine Broncos starters who had the day off. But they did see a practice dotted with big plays and the emergence of Kalif Raymond.
He was a standout sprinter at Holy Cross. He ran the 40-yard dash in 4.34 seconds when he ran at Harvard's Pro Day; that speed helped him get open for a deep reception from Paxton Lynch up the right sideline during Sunday's practice.
But it's not just about having speed. It's what you do with it.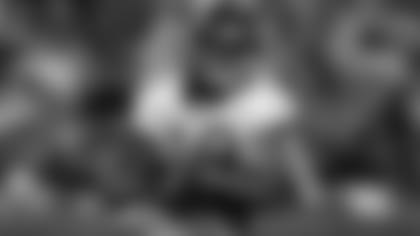 The undrafted rookie has far more than just straight-line speed disposal as he battles for a role as a returner and wide receiver. The 181-pounder possesses outstanding football instincts and a fearless desire to meander into heavy traffic for a reception.
Raymond's route-running is precise, and his ability to sell his cuts is already at a high level. Twice during the one-on-one period, he got separation from Lorenzo Doss by stopping and moving his shoulder in one direction, and then cutting in the other.
For that, Raymond gave all the credit to Wide Receivers Coach Tyke Tolbert.
"We have box drills and everything like that. You talk about a great coach -- Coach Tyke knows it all," Raymond said. "We work on those drills, so when we finally get to actually be able to rep it out, it feels like something that I've been doing the whole time, because we work on that stuff. We work on our stems and our comebacks and our box drills. Everything that he's got us doing is translating."
But Raymond knows he also needs to improve on special teams, which represents his primary path to a roster spot. During a punt period drill, he muffed two punt returns, although his hands were consistent during OTAs.
"I had two mistakes on punt, and then I jumped offsides on one play. That's stuff that if I can get corrected, that now I can feel like I had a complete practice. That's stuff that I need to work on.
"The catches are awesome; that's what I work for. But I'm trying to clean it up."
He wants to because he wants nothing more than a roster spot. Raymond is usually the first player on the field before practice, looking for any extra repetition he can find.
"This is my dream, so anything I can do to get on that field -- receiver, returner, sniper, gunner, anything they need me to do. I'll go out there and snap the ball if they want me to," Raymond said. "I'm coming out here and making sure that whatever they put me at, I'm doing it 110 percent -- receiver, returner, whatever I can do to get on this team is what I'm going to do, because this is the organization I want to play for."
KEEPING TEMPERS FROM GETTING OUT OF HAND.**
Once camp becomes monotonous, scuffles become inevitable. And with the hitting in practice getting more intense in full pads, the dustup between Corey Nelson and James Ferentz wasn't a surprise.
But it was also key for Head Coach Gary Kubiak to immediately call the team together and tell them to quickly move on and not let one kerfuffle go viral and spread.
"Well, there is a fine line," Nelson said. "Coach Kubiak said, 'You have to be smart.' That may not have been the smartest thing that we've done out there, but it shows that we're passionate. We're passionate about our jobs, we're passionate about what we're doing out here, and that's only making us better.
"But the fine line is, we do need to be smarter, we do need to be better, and not have fights like that."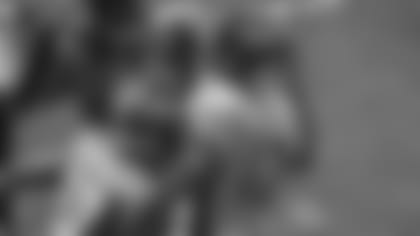 Lynch's back-to-back connections with Raymond and Mose Frazier, and then a subsequent long shot to a diving Durron Neal, galvanized the offense during the seven-on-seven period and helped get the offense untracked after three practices in which deep completions were scarce.
The day wasn't perfect for Lynch; he was intercepted once in the one-on-one period and again during the team period. But his confidence was high, and his touch and placement on passes short and long was the best it had been.
"He's just better every day," Kubiak said. "Every day we are out here, he tends to make some big plays and do some good things. He struggles at times, but you are just seeing a guy get more and more confident. That's part of being a young player."
Later in practice, Lynch had one of his best moments, standing tall against Darius Kilgo's inside charge. Kilgo got his hands up, but Lynch threw around them and found Raymond on a quick slant in traffic -- a play that also showed Raymond's fearless nature.
But this being an off day for some key veterans, the offense didn't have to contend with Chris Harris Jr., T.J. Ward and Darian Stewart, all of whom watched from the sideline, which moved everyone in the secondary up and changed some of the matchups. Their expected return to practice Monday could prevent more deep shots like the ones seen Sunday.
"They're very good," Offensive Coordinator Rick Dennison said of the entire defense. "For us, it makes us work very hard."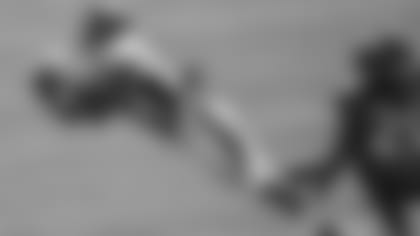 4. SANCHEZ STAYS ON TRACK.
Like Lynch, Mark Sanchez took some shots downfield. He found Cody Latimer along right sideline off of a play-action fake, and then later in practice hit him again on a deep pass up the right sideline.
But perhaps Sanchez's best moment of training camp so far came on a deep playaction pass to Bennie Fowler near the end of practice. Sanchez sold the fake and found Fowler deep on a pass route just past Justin Simmons and Bradley Roby. Sanchez laid the ball out for Fowler, who lunged for the ball and came up with his best reception of camp so far.
"That's football. That's game day. You are out there playing all day long and when everybody is worn out, the quarterback has to step up and make plays," Kubiak said. "He did that at the end of practice. He made some great plays, great throws."
Sanchez also did well at squeezing the ball into tight windows. He found Jeff Heuerman short in double coverage for a reception early in the team period.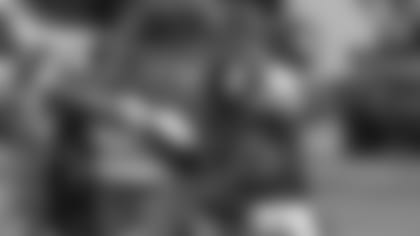 5. YOUNG D-LINEMEN TAKE ADVANTAGE.
Despite injuries to nose tackles Sylvester Williams and Phil Taylor, the remaining defensive linemen snuffed out multiple run plays in the backfield. Rookie Calvin Heurtelou broke into the backfield to snuff out a pair of runs, and fellow rookie Kyle Peko burst into the backfield by shedding as blocker and reading the developing play perfectly to get to Juwan Thompson in the backfield.
The defense had other standout moments:
... CB Kayvon Webster intercepted a Lynch pass during the one-on-one period, stepping in front of a throw intended for WR DeVier Posey. Webster nearly intercepted Trevor Siemian on the first play of the seven-on-seven period.
... Rookie CB John Tidwell, a Rangeview High School product who earned a roster shot thanks to his work at the Broncos' Pro Day in April, broke up two passes in a row during the one-on-one period -- one from Lynch and another from Siemian.
... Safety B.J. Lowery intercepted Lynch during a team period, and safety Antonio Glover picked off Sanchez during the seven-on-seven period.
... DE Vance Walker worked inside of Max Garcia and got his hands up in front of Trevor Siemian, forcing Siemian to settle for a throwaway.
... Safety Shiloh Keo blew up a handoff to C.J. Anderson by ageessively hitting the hole as he came forward in run support.
... Safety Justin Simmons nearly had an interception as he read a developing playfake perfectly, sprinting forward to defend Latimer as Sanchez tried to complete a pass to him in the right flat.
On the fourth day of training camp, the Broncos kept working hard through the end of the weekend. (photos by Eric Bakke unless otherwise noted)