ENGLEWOOD, Colo. -- **The Broncos gathered for the first team photo of the Gary Kubiak era on Saturday, with Annabel Bowlen front and center.
Bowlen represented her husband, Broncos Owner Pat Bowlen, in the photo as he continues to focus on his battle with Alzheimer's disease. The Broncos are set to begin their 32nd season under Bowlen's stewardship, which has included 17 playoff bids and more Super Bowl appearances (six) than losing seasons (five).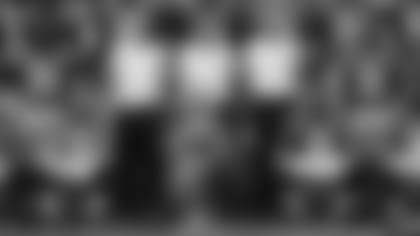 "It's very, very special, and it is a great honor to myself and our family," said Annabel Bowlen, who spent time after the photo greeting a host of players, along with Kubiak, Executive Vice President/General Manager John Elway, and President/CEO Joe Ellis.
"I loved today. It was special, because I always see the players just from a distance, and to actually be able to talk with them and spend a little bit of time and hear their stories is really great, and I feel like I'm a part of the team," she added.
Saturday's photo shoot was the first to take place in the new indoor practice facility at the UCHealth Training Center. The last time the Broncos took a team photo inside was in 1999, in the pressurized practice bubble that the team formerly utilized.
With Owner Pat Bowlen represented by his wife Annabel, the Broncos posed for their annual team photo at the UCHealth Training Center.