SEATTLE --The scoreboard result of Friday's preseason opener against the Seahawks will be quickly forgotten. But there are a few areas in which this game could provide long-term impact:
It's young, as Head Coach Gary Kubiak promised July 30 at his pre-camp press conference. It might be good. But its composition may change again depending on how the collective unit and each individual player fares.
For rookie left guard Max Garcia and 2014 practice-squad center Matt Paradis, Friday night's clash at CenturyLink Field represents an opportunity. How will they fare in a hostile environment, and against a defense that is expected to be weakened by injury, but will nevertheless remain ferocious up front? The chemistry Garcia and Paradis developed in their second-team work during the offseason and the first five days of training camp aided their transition to the No. 1 unit, but now they must continue to build cohesion with their new linemates.
Friday also represents a chance for players like Chris Clark, Ben Garland and Gino Gradkowski to find footing in the race for the starting lineup. Preseason games will have a massive impact on determining the depth chart going into Week 1, and there remains potential for movement up and down.
What Kubiak wants to see long-term is a line that will "play together," he said Wednesday. That isn't going to happen immediately. But some seeds can be sown Friday.
"I think that offensive line is not about having one great player or two great players. It's about five guys playing together scheme-wise and staying out there on the field together," he said. "The great ones that I have been around, they all stay out there and find a way to be there every snap. That's the sign of a good offensive lineman or a good group, so we'll see. They'll build their identity, but we just need them to play good enough for our football team to be successful."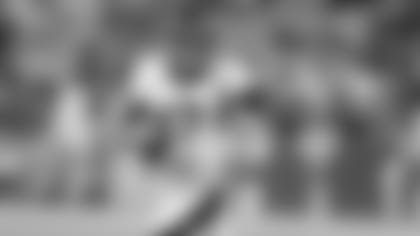 2. BIG NIGHT FOR THE BACKUP QUARTERBACKS.
It can be argued that no one has more on the line this month in terms of long-term career aspirations than Brock Osweiler. His starting assignment Friday offers him the chance to get timing with the first-team offense while working against a ferocious defense and raucous crowd that represent the most rigorous examination the preseason can provide.
Osweiler had a handful of snaps behind most of the first-team offensive line late in the second quarter of a 2013 preseason loss at Seattle, and struggled under pressure. This will offer an opportunity to see how far he has come, and also to see whether this tweaked offense that melds principles from recent Broncos seasons and concepts from Kubiak and Dennison's offenses is a good fit for the mobile 24-year-old passer.
But there's plenty of intrigue beyond Osweiler. Zac Dysert is expected to receive plenty of work, and Trevor Siemian should receive a decent run, as he has practiced throughout training camp without any restrictions as he comes back from the torn anterior cruciate ligament he suffered at Northwestern last November.
Dysert mentioned earlier in training camp that he hopes to show the ability to go deep a bit more often. Last year, his preseason work was mostly limited to checkdowns and underneath passes. That reflected in his statistics; he had a 100.7 rating and completed 66.7 percent of his 12 passes, but his 5.9 yards-per-attempt average was the lowest of the three quarterbacks who played in 2014.
Siemian fires bullets in practice and looks more comfortable working under center, rolling out and throwing each day. Dysert's two previous seasons of NFL experience give him an edge, but Siemian could close the gap with some good work Friday and in future weeks.
Complicating matters is the overall roster calculus. The Broncos possess a deep team at most position groups. Keeping three quarterbacks on the 53-man roster might be difficult because of the abundant quality at so many other spots. But if Dysert, Siemian or both flourish in the next few weeks, they can force themselves onto the 53-man roster.
DEFENSIVE POSITION BATTLES.**
Much of the starting defense for Week 1 on Sept. 13 appears to be set, barring any further injuries. But with some starters being eased back into work -- both short- and long-term -- Friday represents an opportunity..
Kubiak mentioned Tuesday that there is a competition brewing for the second safety spot between current starter Darian Stewart and second-teamers David Bruton and Omar Bolden. Backup cornerback also has some intrigue, with Curtis Marsh, Tony Carter, Lorenzo Doss, Taurean Nixon and Tevrin Brandon all having some flashes of brilliance during practices in recent days.
With Chris Harris Jr. and Kayvon Webster missing practice time this week, the ensuing tumble of dominoes should give the young cornerbacks plenty of opportunities. Seattle's ground capability also ensures the coaches will get a good look at what they do against the run, which is how Bradley Roby made his first impression last year. A cornerback listed on the third, fourth or fifth line of the depth chart could climb the ranks by being effective reading outside runs as they develop and attacking.
The inside and outside linebackers will also bear monitoring. You want to see inside linebackers who read the run plays as they develop, fill holes and don't get caught out of position. On the edge, how well will Shane Ray, Shaquil Barrett and other OLBs attack, and against the Seahawks' mobile quarterbacks, can they avoid over-pursuing?