COLORADO SPRINGS, Colo. --Director of Player Development Ray Jackson had a decision to make.
In the past, new NFL draft picks would travel to a central location for a symposium that featured presentations and workshops. But in 2016, the NFL switched its policy and decided all rookies would attend local symposiums with their teammates.
And so Jackson needed a plan. He thought about staying at UCHealth Training Center, but he quickly crossed that off the list. Soon, however, he thought of a place where even the most athletic rookies would be challenged by those around them. Just like that, Jackson decided the team would head south to Colorado Springs and the home of the United States Olympic Training Center.
During the three-day symposium from June 22-24, the players heard lectures from NFL and NFLPA reps on union benefits, the dangers of drugs and alcohol, how to avoid fines, the importance of preventing domestic violence and sexual assault.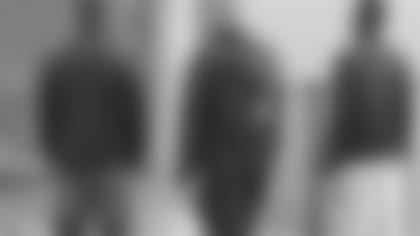 They also watched a series of videos with game footage that touched on fighting, taunting and interactions with coaches. Through the entire session, Jackson had a simple message for the group of rookies that he's been advising for the past several months.
"It's hard enough to stay in this league, but if you put yourself out, that's a travesty," Jackson said. "Be in this moment. Live this dream."
The Broncos took a little break from the lessons and headed up the mountain via cog train to Pikes Peak, they soaked in a small amount of the appreciation they'll soon receive in large doses. They posed for pictures and waved as other trains passed by, but also got a chance to take in the sights during one of several activities Jackson planned during the symposium.
The bigger impact, though, seemed to come outside the scheduled programming when the rookies had the chance to interact with potential Olympians. On a tour, on the basketball court and in the dining hall, the Broncos spoke with young athletes who have dedicated themselves to an ultimate goal. Even for a group of individuals that has reached the pinnacle of football success, that was something to admire.
As DE Eddie Yarbrough put it, the Broncos rookies represent their city. The athletes training in Colorado Springs represent the entire nation.
It's for that very reason Jackson decided to bring his group down to the impressive training facility, and it sure seemed like the message sunk in.