ENGLEWOOD, Colo. --** This will be a training camp unlike any other in the 18-year NFL trek of Peyton Manning.
But in his career, he's adapted to changes. New coaches. Tweaked schemes. And finally, in 2012, the new reality of playing after multiple neck surgeries and with a new team. So getting extra time off while adapting to an offense with some new concepts isn't something that the future Hall of Famer can't handle.
There are similarities between Manning and John Elway at similar points in their careers, and now that Gary Kubiak is the Broncos' head coach, he is the common thread linking the two. Kubiak helped craft the schedule and offensive style for Elway from 1995-98 after joining the Broncos as their offensive coordinator. What Kubiak did worked perfectly then, and some of the most productive years of Elway's career followed as the Broncos won consecutive Super Bowls.
"I can remember some of the conversations that we're having now and some of the same conversations we had as coaches going into John's last year, too, [regarding] how we're going to approach his work and how we're going to go about things," Kubiak said. "Peyton is part of the conversation every day as far as reps and throws go.
"[Manning's workload] will be monitored. I think that he responded really well in the offseason program about not working every day. I think that his arm looked really good. I thought, physically, he looked really good and I want to stay that course. I think that it will be good for him and good for the team."
Keeping Manning fresh is a priority; he and the Broncos want to be at peak efficiency in December and, hopefully, a playoff run in January.
But so is getting backup quarterback Brock Osweiler more repetitions with the first team, which is why this camp will be as different for the quarterback with 30 career regular-season attempts as the one with 9,049 under his belt.
"Brock needs to be able to go out there every third or fourth day and prove to the guys that he can run the football team," Kubiak said.
So for fans who come to training camp, there's a 25 to 33 percent chance that they won't see Manning at work. But on those days, they could get a glimpse at the Broncos' future. This has multiple benefits: it helps Osweiler refine his timing with the first-team wide receivers, and it helps the Broncos' coaches get a better evaluation on the Arizona State product.
"I think it's very big," said wide receiver Emmanuel Sanders. "That's one thing coming into camp. Last year, even these past OTAs, every time we were doing individual routes, I was always going with Peyton. But I'm going to try to mix it up and go with Brock a little bit more."
If the plan works as the Broncos hope, then the rest days will help the 39-year-old quarterback maintain peak effectiveness for a longer period -- not just for this season, but perhaps beyond.
"I think the key thing with Peyton -- and I think Peyton's on board with it -- is that even though you can't feel it now, if you're doing too much work now, eventually that's going to catch up to you," said Executive Vice President/General Manager John Elway. "Because at 37, 38, 39-years-old where he is, you can't make that up at the end.
"It's going to be important that he's a part of that management process and willing to be able to take some time off to where he is just as good late as he is early and we don't wear him down. That's the key thing. He'll never feel it, but all of a sudden you get to December or we get to January and if we haven't taken care of that in August, September, October, then that could hurt him and us."
And the plan also ensures that the Broncos are better prepared if Manning should succumb to an injury.
"You never know. We have a long journey ahead of ourselves and things happen," Sanders said. "Injuries occur. Sometimes Brock might have to go into a game if Peyton's not feeling well or Peyton went down. I think that Brock is definitely one of those quarterbacks that works his butt off. I think that when a situation, if it does occur, that he'll be prepared for it."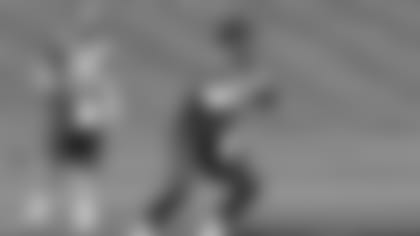 And the Broncos will be better prepared for a decision on Osweiler, as well. This is the 2012 second-round pick's contract year, and every snap helps the Broncos have a broader sample size to make their evaluation.
Practice snaps aren't game snaps, but they do have value for the point when Elway, Kubiak and the rest of the Broncos' football-operations staff makes the call.
"We'll evaluate him through training camp and evaluate him through preseason and I think that he got a lot of reps this offseason and we saw what he could do in practice so we'll do the best we can to try to evaluate him," Elway said. "We'll cross that road when we get there.
"I do feel good about Brock. I feel good about his progress and we're fortunate in the fact that Peyton's been able to play this long. To that respect it's been a positive. Obviously to Brock, it's not been a positive because Brock hasn't got the playing time but Brock's done a tremendous job handling the situation and continued to put his nose to the grindstone and continue to work and that's all he's done and I'm sure he'll continue to do that and we will get something worked out with that later."