ENGLEWOOD, Colo. --Nine young players walked onto the turf field inside the Pat Bowlen Fieldhouse late Tuesday morning. They stretched. They chatted with Broncos coaches and personnel officials, who gradually filed into the building. They stretched out.
It looked like just another day in the sport. But for each of G/C Ben Clarke, safety Troy Donahue, WRs Joe Hansley and Max McCaffrey, RB Cameron McDondle, TE Michael Miller, DE Taylor Sheridan, CB John Tidwell and DE/OLB Eddie Yarbrough, this was something far greater: it was one of the biggest days of not only a football life ... but of life itself.
All went to high school within 20 miles of Sports Authority Field at Mile High, making them eligible for Broncos Pro Day -- and for a dream come true, an opportunity to show their skills in front of Broncos coaches and personnel executives, including Executive Vice President/General Manager John Elway and Head Coach Gary Kubiak.
"Growing up in Denver, Colorado, you're driving on I-25 or I-70, and you see Sports Authority Field. You see John Elway in the commercials and everything like that," said Yarbrough, who played at Grandview H.S. before attending Wyoming. "So it's amazing to actually be here and be here first-hand to see what it's all about. It's a beautiful, beautiful facility."
Added Rock Canyon H.S. standout and Montana State product Taylor Sheridan: "I was a Denver fan since I knew what football was, back when Elway and Terrell Davis were killing things out there."
"This was a dream come true for the little 3-year-old watching back-to-back Super Bowls."
For McCaffrey, the son of Broncos wide receiver Ed McCaffrey (1995-2003), the experience was also the realization of a dream.
"Getting that call to come to the local Pro Day, there's definitely jitters," he said. "You grew up a fan your whole life, and now you get to come out here to actually play in this facility."
Of course, just because you're from Denver does not mean you're a Broncos fan.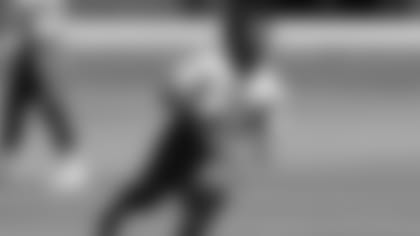 "Actually, my family is all Raiders fans, so they were mad about this," said Columbine and CSU-Pueblo alumnus Cameron McDondle. "But I've always liked the Broncos."
The prospects were put through position drills run by the respective position coaches. This Pro Day was about football, not 40 times and bench-press repetitions.
"Out here, we're running routes now, so it's back to receiver stuff and football," said McCaffrey.
That allowed the coaches to get active in their teaching. Tight ends coach Brian Pariani offered some pointers on blocking to Miller. Wide Receivers Coach Tyke Tolbert counseled McCaffrey and Hansley on running crisper routes. Defensive Line Coach Bill Kollar exhorted Yarbrough and Sheridan.
"A lot of the routes that we run at Duke are a little different than the ones we ran out here, so [Tolbert] was just giving you pointers, to keep your head down and stay low on your routes," McCaffrey said. "It's great stuff to carry on."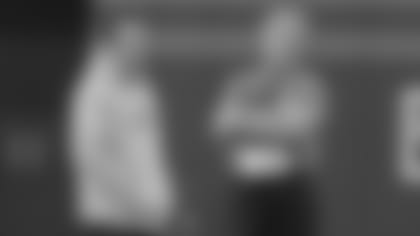 The focus on football drills created some adjustment for prospects like Hawai'i's Ben Clarke, a Chatfield H.S. product who conditioned himself for the Pro Day gauntlet but now found himself gasping as he went through backpedal, change-of-direction and lateral-movement drills designed to test his ability to keep his balance in pass protection and then accelerate and hustle downfield after the pass is thrown.
"I think I'm a little bit out of shape. The coaches might tell you that," Clarke said. "Training for Pro Day and stuff is a little different than [being in] game shape, so now I've got a couple of weeks to get ready for minicamps.
"The biggest thing is the shift in focus for what I'm training for. Pro Day is so specific with the bench, 40 and the agility drills that it's hard to relate that to football. So now I get to actually do football work."
Although none of these prospects was invited to the NFL Scouting Combine, that doesn't mean they're off radars. Miller, for one, has worked out with four other teams -- including the Panthers and Cowboys on multiple occasions -- despite being a converted quarterback and a receiver at NAIA Taylor University in Upland, Ind.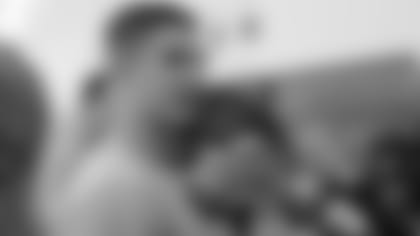 Even McCaffrey was not invited to the Combine in February, to the surprise of many observers who watched his senior-year emergence and pegged him a potential draft pick.
McCaffrey's reported 4.36-second 40-yard dash at his Duke Pro Day turned heads, and Elway and the coaches paid close attention to him during his work.
But their focus was all over the field, as well, equally on each of the nine players looking to impress their hometown team.
"It's one of those experiences where you want to take it all in, because it's something you never do. You never do it twice in your life," Yarbrough said. "Walking through these doors, seeing the different individuals that I've seen, it's really just breathtaking.
"But at the same time, I came here to get some work done. But I definitely have to step back and smell the roses and acknowledge where I am."
And no matter what happens, each left with a memory they will carry with them forever -- and some souvenirs.
"I got some sweet Broncos gear to rock," Sheridan said.
Hosting nine local draft prospects -- including Max McCaffrey -- the Broncos held a local pro day on Tuesday. (Photos by Scott Ward)