ENGLEWOOD, Colo. --With Owner Pat Bowlen set to be inducted into the Ring of Fame this weekend, Broncos President/CEO Joe Ellis sat down to discuss Bowlen's lasting legacy, his continued influence on the organization and the hopes for the future ownership of the franchise.
What do you think it meant to Mr. Bowlen to see the franchise get back on the right track before he stepped away because of Alzheimer's disease?
"Well, I think he was proud of that. But that was also -- and always will be -- his expectation: that we're going to put the right people in place and we're going to turn it around, and if we make a mistake, then we're going to fix it again.
"He didn't consider it rocket science. He's had -- and has always had -- a good feel for when it's time to make these moves, and when the right time is. But he doesn't take much satisfaction [in it]. He's too modest to take personal satisfaction in having those situations corrected. He's more concerned with, 'Are we ready to win the Super Bowl each and every year?' I think that's his focus.
"I don't think he is a guy who believes in rebuilding. He's a guy that believes in quick retooling. That's how he approached it, and I don't think he sat back and said, 'Wow, look at the moves we've made to make things better.' Because it's never good enough for him until you win that Super Bowl. That's how competitive he is."
And even after Bowlen stepped back, that attitude still pervades the organization, making tough moves like what happened after last season, parting ways with one coach and bringing in Gary Kubiak and a mostly new staff:
"Yes. He wasn't involved in that decision last year, obviously, but I think if he were, he would have understood. He was always very supportive of those who reported to him that had the courage of their convictions and felt things were the right things to do, whether it was Mike Shanahan running the team for 14 seasons, or even Dan Reeves prior to that.
"He's proud of John [Elway] for the way that he's designed and been the architect of this franchise. He's very, very proud of the work John's done, no question in my mind."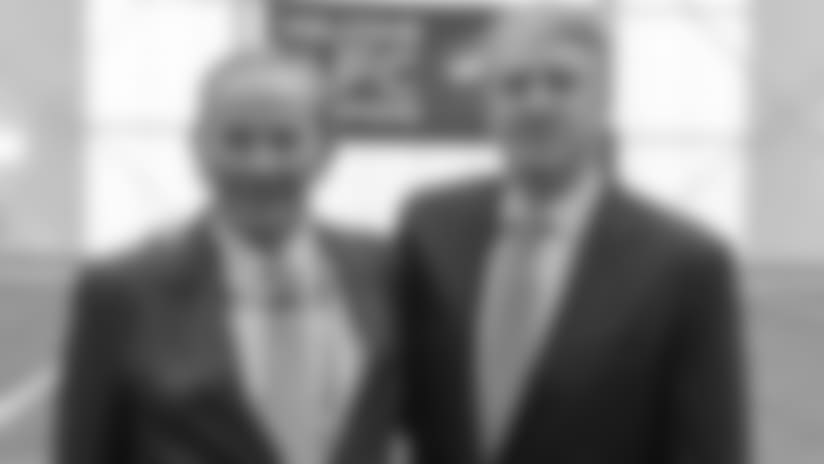 How about Bowlen's influence on you? How often at a big decision do you ask yourself, "What would Pat do?"
"If those things come about, I do reflect back on how he handled things and what he would have done, because in my mind, he did everything the right way when it came to running the organization. If there are things that I think should have been done differently, maybe I'd consider that.
"But I always consider what I think he would have done, and one of the things he always did was stay out of peoples' way and listen and if their recommendations were sound and solid, he'd give them the the opportunity to execute them."
And Bowlen is still the owner. The wins the Broncos accumulate still count toward his total. This is still his show, even though he's not here every day.
"And I think we as an organization still understand that if they've got something they want to present, whether it's a football transaction or a business transaction, step up and give it a try, because the odds are, you're going to get the rope to do it."
You have a unique perspective because you were on the business staff when Bowlen became the Broncos' owner in 1984. What changes did he make, and what tone did he set when he assumed control of the Broncos?
"He didn't mandate anything. He made it clear that he was coming in to learn and he was going to listen to [Head Coach] Dan Reeves and [General Manager] John Beake on the football side. They were running the whole program at that time, and he deferred to them. I wasn't in a lot of those meetings, because I was 27 years old, and not privy to his discussions at the highest levels, but if he were operating the way I think he always has operated, he was just asking a lot of questions.
"And I remember he told something to Paul Tagliabue. He said, 'When I first bought the Broncos, I saddled up to [then-Commissioner] Pete Rozelle and I said, 'How should I conduct myself as an owner?' And Pete Rozelle said, 'You know, you ought to spend the first three to five years keeping your mouth shut and learning what goes on in this league.'
"[Bowlen said,] 'I did that, and then unfortunately for Paul, I was in my sixth year in the league when he became commissioner,' so that's when he started speaking up. And actually, just prior to that, he started speaking up, because he was one of the ringleaders to get support for Tagliabue.
"The vote came down to Jim Finks [a long-time personnel executive, then the Saints' general manager] and Paul Tagliabue, and Pat was firmly entrenched in Paul's camp. And I think he rallied other owners around him and they eventually got the votes, and they put the right guy in there, and the league took off with Paul, and Roger [Goodell] has taken it to another level. But people forget that Paul Tagliabue into the early 1990s and early 2000s really grew the game."
And a big leap forward came in the 1990s, with the Fox TV contract in 1994 and then the CBS/FOX/ABC/ESPN contracts of 1998.
"Yes, and then NBC went away, and came back with Sunday Night Football in 2006, which was Mr. B's baby, along with Dick Ebersol. [Bowlen] really grew in stature and he was a good listener. And he has great instincts. He's always had great instincts as an owner."
And so much of what he envisioned comes together in the NFL of this moment: Thursday night games on the NFL Network, Sunday Night Football and a growing international presence starting with the three games this year in London:**
"Exactly. He is kind of the author of a lot of this that got everything propelled and moving forward. I think he'd be stunned by what's happened in the league if he were back in his office right now, but he'd be full speed ahead. He certainly would."
What does it mean not only to the organization, but its fans, that the Bowlen Trust was set up to provide stability and keep the team running smoothly -- because some other ownership transitions throughout pro sports have turned chaotic?
"Well, he had a firm plan for keeping the team in the family, and it's his hope that it will remain there, and one of his children will come along and earn the right to sit in his chair. He was unwavering in that, and he set out some guidelines and everything else as to what he'd like to see.
"But he planned ahead, and he had a very strict vision, if you will, as to what needed to happen. Hopefully we can keep things afloat until the right child comes along."
Will the changes approved in May by league owners to allow trust ownership and reduce the percentage of a team that must be controlled by the managing partner (to 5 percent) help make it possible to keep the team in the family?**
"In some ways, yes. The trustees have work to do with the league to make sure that we are always in compliance with league ownership policies. That's our job, that's our task, that's our responsibility for Pat, so we continue to work all the time on those things."
What has Gary Kubiak brought to the building to energize the atmosphere around the team?
"Well, I think with the players, there's a clear path to how we're going to succeed on the field, and that come from Gary and his staff. It's a renewed sense of accountability, which I think is the word that's up in the back of the team room now. I see that in the players, and in some of the discipline they've shown on the field, and how they've performed.
"So we're off to a great start. It's a long season. Let's hope the last 10 games go as well as the first six."
And with Kubiak and his staff, there's a deep connection to the successful legacy of the Broncos:
"There is a connection to the history of the team -- during an era when there was tremendous success, led by Mike Shanahan and some great players such as John Elway, Terrell Davis, Gary Zimmerman, Shannon Sharpe and people like that.
"But this is a new era, and you have to prove yourself every day, and all those coaches know that down there. They're dedicated to their craft, and they're working as hard as they can to give the Broncos success."