ENGLEWOOD, Colo. --The Broncos will prepare throughout training camp as though Derek Wolfe would be the starter in Week 1, Head Coach Gary Kubiak said Thursday. But he knows that with a four-game suspension to start the season, he must also work on the contingency plan.
"It's like having an injury. Somebody's got to step up," Kubiak said. "It's an opportunity for someone on this football team, and maybe we don't know who that is right now. We'll find out along the way. But that's why we're here: to go to work and fill those voids."
Added outside linebacker DeMarcus Ware: "He's going to be missed, but we've got guys that will fill his role until he gets back." The first, steadiest option to fill in for Wolfe is Vance Walker.
"Vance, he had a really good offseason," Kubiak said. "The thing about Vance, he gives us flexibility. He's going to play some nose, also, he's going to play the end position. That was a key acquisition."
Defensive end Antonio Smith, who will take part in training camp, will also be in the mix, although he projects as more of a third-down, pass-rush specialist in the 3-4 alignment, mirroring the bulk of his role when he played in this defensive scheme with the Texans.
Because Smith did not take part in offseason work while attending to personal matters, he will be on a different protocol than his teammates when training camp begins as he gets eased into full-scale work.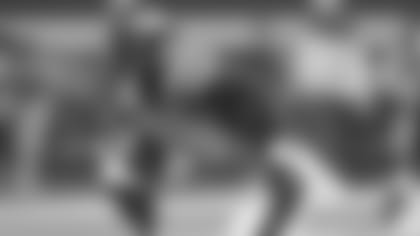 But there are young possibilities who could benefit from the increased opportunities, led by Kenny Anunike, who missed last year with an elbow injury but earned raves from teammates and coaches for his offseason work.
"No doubt, absolutely. Kenny was probably one of the standout players throughout our offseason, in our workouts and our OTAs," Kubiak said. "I think Kenny's challenge as a player is his size -- can he hold up physically with his size and what we're asking him to do in a 3-4 look, but he's put some weight on and hopefully he can hang on to that. But the effort's there, the ability's there."
Added Ware: "He had a whole offseason to really get himself right and I've seen how hungry he was coming into the minicamp and he was right there behind Wolfe and played on both sides, both tackles in the 3-4 and he was actually out there with the [first team] sometimes making plays and doing well, so Kenny really stood out to a lot of guys. He's coming along really well."