ENGLEWOOD, Colo. -- **The Broncos concluded their final practice of the preseason Tuesday, leaving players on the back end of the roster one final chance Thursday night to make an impression before the cut to 53 players.
1. WANT TO STICK? MAKE IT HAPPEN ON SPECIAL TEAMS.
It can be argued that no position is deeper than wide receiver, from a pair of Pro Bowlers on the top line of the depth chart (Demaryius Thomas and Emmanuel Sanders) to Cody Latimer, Andre Caldwell and Jordan Norwood through players like Bennie Fowler, Isaiah Burse, Jordan Taylor and Corbin Louks. All have made impressions and big plays, whether on the practice field or the three preseason games to date.
But it will be special teams that separates the group.
"It's huge," Head Coach Gary Kubiak said. "We could be a five-, six-, seven-receiver football team depending on how things play out here over the weekend. It's very big. Bubba's been a good special teams player and [WR] Bennie has been good. Bennie's been nicked a little bit. He's got a sore hip, so I'm hoping he's ready to go Thursday. It will be a big part.
"You'll see Taylor play a lot more special teams in this game, also."
Burse has returned kickoffs and punts in the preseason. Norwood has punt-return experience; Caldwell has handled kickoffs before. And Louks has a 26.0-yard average on two kickoff returns this preseason and could see some work on punts Thursday.
"From what I know, I think that I'm doing punt [returns[ as well, but definitely kickoff [returns]," he said.
Louks said that he volunteered for return opportunities after joining the Broncos during training camp. He handled kickoff returns in the Fall Experimental Football League (FXFL) last year.
"I just like having the ball in my hand and I like to run," Louks said. "I feel like it's natural once you catch it and you just let the instincts take over."
With the competition for punt and kickoff return spots still open, Louks has a chance to impress and stick on the 53-man roster. But so do the other receivers. The Broncos have plenty of excruciating cuts still to come, but they might be most painful at wide receiver given the position group's quality.
SPLITTING THE REPETITIONS AT RUNNING BACK.**
Montee Ball spoke Monday of how he wanted to get into a groove. Rhythm tends to help a running back, and he'll have the chance to find it Thursday, as the work at the position is expected to be split between Ball and Kapri Bibbs.
"They both deserve plenty of touches and they should get them coming out of this game, and they will both play special teams a great deal, too," Kubiak said.
Bibbs has yet to carry the football in the preseason. Ball has 16 carries, fewer than Ronnie Hillman, C.J. Anderson or Juwan Thompson, who have 21, 20 and 17 rushes apiece, respectively.
"That's an important thing for a running back, to get that lather. To just figure out how the linebackers are flowing and stuff like that," Ball said Monday. "But I'm not complaining at all. I'm not complaining."
He's not, but it's clear he aches for the opportunity he will receive Thursday.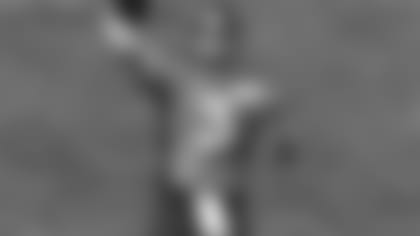 Brock Osweiler will get the first half, but Siemian, one of the Broncos' three seventh-round selections, is expected to play after halftime, which would give him nearly a full game's worth of preseason snaps.
Siemian's impressive numbers are hard to ignore. Among the 85 quarterbacks league-wide with more than 15 attempts this preseason, Siemian's gaudy 132.0 rating ranks eighth.
"Trevor's obviously kind of in a whirlwind; [as a] rookie quarterback, there's a lot coming at you," Osweiler said. "He's done a tremendous job of handling all that, being prepared on a daily basis and making plays when his number's called."
His footwork has improved as a result of daily work with Quarterbacks Coach/Passing Game Coordinator Greg Knapp. But it's his preparation -- on the field and off -- that leads to the unruffled game-time demeanor that helped him lead the game-winning drive in Houston on Aug. 22.
"Yeah, I feel like I prepare pretty well," he said. " When I get out there, it's no different than being out here. That's kind of the mindset that I take into it and just take it one play at a time. There are definitely some things to work on, but I'm having a ton of fun."
The Broncos put a special focus on special teams during Tuesday's practice. (All photos by Ben Swanson, unless otherwise noted)