ENGLEWOOD, Colo. --Three takeaways from the Broncos' first of two practices during the last week of the preseason:
1. MONTEE WANTS THE BALL.
It has been a frustrating preseason for third-year RB Montee Ball, who has had some big runs in practice, but has struggled to get untracked during games. Against the 49ers on Saturday, he was the fourth running back to get into the game, and he mustered 11 yards on four carries.
"I was expecting a lot more playing time. It caught me off guard. But my head's not down; I'm going to keep it up and keep fighting."
With 41 yards on 16 rushes, he's fourth on the Broncos this preseason. But that could change Thursday if the Broncos opt to rest C.J. Anderson and Ronnie Hillman, the two backs to work most extensively with the first team this preseason.
If they rest, all the carries would be split among Ball, Juwan Thompson and Kapri Bibbs. Ball might finally get the chance to get into a groove that has eluded him this summer.
"It is tough, because I feel like I really haven't had the opportunities, really, with these preseason games," he said. "But there's still one more left, and I think I'll get some playing time in this one, and I'll show them what I can do."
And then he will have to hope that it is enough. The Broncos' running back corps is one of the deepest in the league; the question now is whether there will be room for four members of the group on the 53-man roster.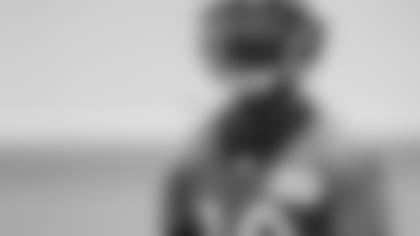 Wide receiver Emmanuel Sanders returned to practice after struggling with a hamstring injury the past three and a half weeks. He had a full workload, working with the first team. There were no signs of hesitation; the hamstring responded well.
But the rest of the last three weeks did take a toll on Sanders' conditioning.
"That's the tough part. I think that right now, it's Emmanuel, 0, altitude: 1. It's definitely kicking my butt," he said. "But I'm just trying to get out here, run full speed and just prepare for Baltimore [in Week 1]."
The timing between Sanders and Peyton Manning appeared unaffected by the layoff; they connected on multiple passes during Monday's practice. But if the offense can't find more consistency, he might not have the opportunities he had last year in breaking the 100-catch barrier.
Sanders is electric, of course, but he needs the ball in his hands. And that's why an opportunity might lurk on punt returns. To no one's surprise, he's more than willing to take on the task.
"Yeah," he said when asked whether he wanted to return punts. "The first time that I stood in front of you guys, I said that I wanted to bring a world championship to this city. So whatever they want me to do, I'm going to do it. I feel like if I get back there, I'm going to give it my all. I feel like I could be dangerous back there. If coach calls my number, I'm going to be back there and I'm going to try returning."
3. FIRST TEAM = SCOUT TEAM.
The Broncos have started their first-teamers in the preseason finale just once since 2001 -- in 2010 at Minnesota. That trend is not expected to change Thursday, but Kubiak wanted to ensure that Peyton Manning, Von Miller and their fellow starters got plenty of work.
So for this week only, the first team is the scout team, and Kubiak plans to "practice the heck out of them."
"A lot of them thought they weren't going to get a lot of reps today, but they took every rep with the scout team and you can see they're still out there," he said. "We'll get our work in. It's a good time for them.
"For some of those guys that you may not play this Thursday, [you] mentally to rest them a little bit as far as game plans and those type of things, but physically it's a big work week for them."
The Broncos got back on the practice field Monday as they prepare for a final preseason game. (All photos by Ben Swanson, unless otherwise noted)