ENGLEWOOD, Colo. -- **If all goes according to plan, Brock Osweiler will have played at least seven and a half quarters of preseason football by the time he leaves Thursday's game against the Arizona Cardinals.
Only five quarterbacks have thrown more passes than Osweiler this preseason. Only one of them -- New England's Jimmy Garroppolo -- has a higher completion percentage than Osweiler's 66.1 percent figure on 37-of-56 passing. Osweiler has had the chance to settle down and find a rhythm within the offense, and aside from one pick-six he'd love to have back in the 14-10 win over the Houston Texans on Aug. 22, his play has been the best of his career.
The goal for Thursday is simple: continue that upward trajectory. He was at the helm for three of the Broncos' four touchdown drives -- and nine of their 12 scoring drives overall -- this preseason.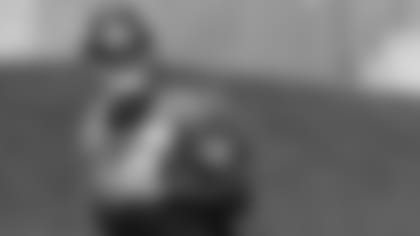 "I'd just kind of like to see him solidify what he's done through the preseason in a lot of ways," Head Coach Gary Kubiak said. "He's played well. I think he has improved a great deal from OTAs through training camp. He knows the team is his.
"He's got a bunch of young guys that are playing with him. From a quarterback standpoint, your play should reflect through those young guys. You should raise their level of play, so that's what I want to see him do—just operate the group and raise up some of those young guys he's got out there with him."
But that's about to end. At halftime Thursday -- or shortly thereafter -- Osweiler will cede the reins to rookie Trevor Siemian. And although there may be some opportunities for extended work in practice depending on whether Peyton Manning is given any off-days during weekly preparation, Osweiler is about to return to a more limited role as he begins the final season of his rookie contract.
"The biggest thing is just maximizing your reps in practice," Osweiler said. "If you get two reps, as far as your offense goes that week, you need to make the most of those two reps and you really need to be focused and make the most of them.
"At the same time, I've taken scout team very serious. I think it's very important that myself, along with those 10 other scout guys, we give our defense a great look to be prepared on [Sunday]. I go out there and I treat those scout-team reps like a game so that if my number gets called on Sunday, I'm prepared."
He's aware of his future, but it's not on his mind -- mainly because he's learned how to narrow his focus to what's in front of him, both in scanning the field and in viewing his career.
One of the signs of his growth is his ability to cut out the noise. As a rookie, there was so much to process that he was slow to react. In his fourth year, he's figured out what pre-snap distractions he can tune out. The result is a quarterback who is more focused, polished and mature in his play, poise and presence.
"I think the most part anytime you're able to step foot on the football field and play in a game, you need to enjoy the moment because you don't know the next time it's going to come," he said. "I treat every week like that. I'm living the dream playing quarterback in the National Football League. Obviously, I'm going to enjoy the moment, but at the same time, we have a job to do, and that's to beat the Arizona Cardinals. That's what the true focus is on."
... Kubiak said that he didn't expect to play his first-teamers against Arizona. "The plan right now is to play all our young guys,' Kubiak said. "We do have a few guys [who] we'd like to get a few snaps, but we're going to go up and talk about it right now.
... LG Evan Mathis worked on the first team -- which for a second consecutive day was the scout team to help the backups prepare to play Thursday. Kubiak said that he might have Mathis wear pads during a Wednesday walk-through, and then Mathis would have a strenuous workout Thursday, along with other players who will not play against the Arizona Cardinals.
... Kubiak said he has not decided whether DE Derek Wolfe will play against the Cardinals. Wolfe faces a four-game suspension for a violation of the league's PED policy.
... OL Max Garcia again worked at center. Gino Gradkowski lined up alongside him at left guard.
... ILB Zaire Anderson had a well-timed blitz to pressure Peyton Manning into a hurried throw. Anderson and Corey Nelson worked together extensively during Tuesday's practice.
... CB Chris Harris Jr. saw individual work and also received repetitions in team and seven-on-seven periods. Harris missed last Saturday's game with a hamstring injury and did not practice Tuesday.
... WR Emmanuel Sanders saw individual and team work, and could have played this week if it were the regular season. "I think we went about it the right way," Kubiak said. "There has been no setbacks this week. He's had good work."
... WR Bennie Fowler was limited with a sore hip. "I'm hoping he's ready to go Thursday," Kubiak said.
... Safety Omar Bolden sat out due to soreness in his ribs.
... OLB Lerentee McCray worked with a strength and conditioning coach after seeing individual repetitions Monday. McCray is recovering from a groin injury.
... CB Tony Carter remained sidelined because of a hamstring injury.
... DE Kenny Anunike was not at practice, but remains on track for a potential Week 1 return.
The Broncos put a special focus on special teams during Tuesday's practice. (All photos by Ben Swanson, unless otherwise noted)