DENVER --Three days after losing rookie tight end Jeff Heuerman to a torn anterior cruciate ligament, Executive Vice President/General Manager John Elway and Head Coach Gary Kubiak continued to pick up the pieces and move forward.
The third-round pick was integral to the Broncos' plans at tight end for 2015, and their long-term goals for him remain the same, even though he is not expected to play this year.
"He's going to be in the meetings, part of the team. He's going to help us coach the tight ends, and he's going to have a great career here," Kubiak said after speaking with Elway at the John Lynch Salute the Stars luncheon Tuesday.
"(It is an) unfortunate situation, but you've got to get stronger through adversity, and I'm sure we'll have more. So that's part of this game, but we'll work through it."
Added Elway: "I was talking to him yesterday, (and he said) he's never had a knee problem in his life. So I think that those freak things happen. I just feel real bad for him, because he's a great kid. But you know what? He'll bounce back. There's always a silver lining somewhere. We just can't see it right now."
The torn ACLs suffered by Heuerman and Jaguars first-round pick Dante Fowler Jr. last weekend ignited chatter over the extent of work during rookie camps.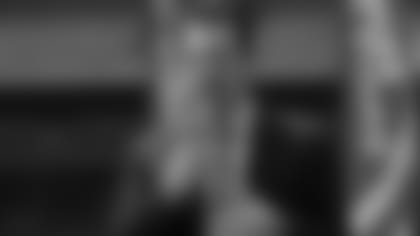 "Obviously you've got guys in here that you signed, and you've also got a group of guys that you try out and take a look at. It is a fine line. How much have they been doing those types of things?" Kubiak said.
"You know, we were having a great weekend, and really, actually, that afternoon, we weren't doing much at all. But it's just, things happen in this game. Hopefully as a coach you try to learn from them, but you've got to support those people, that things happen too."
Elway recalled the energy that he felt during his first practices in 1983 after the Broncos acquired him in a post-draft trade with the Baltimore Colts.
"I remember my first minicamp we were running around like chickens with our heads cut off, too. So it's always hard to pull the reins back," Elway said.
"But you know, we had three good practices up to that point, and really Gary had backed everything off at that point in time. We were just going through some drills on special teams. So it's very unfortunate. It's something you can't control. we do everything we can to control it, but ultimately, we can't."
Heuerman suffered the injury while running downfield and cutting during a practice without helmets or pads.
"Very tough. I wish that was me," Kubiak said. "It was such an unfortunate situation, to just be running down the field and that happened. We're going to miss him. He was going to be a big part of what we're doing. But he's still going to be a big part of what we're doing."
Added Elway: "I'm sure he'll bounce back and be as good as ever."