ENGLEWOOD, Colo. -- **There were familiar faces at the Broncos' fourth organized team activity of the offseason, but most of them were on the sideline, and that's where the takeaways from Monday's OTA begin:
1. AN ALL-STAR CAST WATCHES.
In baseball caps and visors Monday were a virtual who's who of recent Broncos Pro Bowlers: Chris Harris Jr., Peyton Manning, Von Miller, Emmanuel Sanders, Aqib Talib, Louis Vasquez,T.J. Ward, DeMarcus Ware. With tight end Owen Daniels, recently signed tackle Ryan Harris and healing linebackers Brandon Marshall, Shane Ray and Danny Trevathan also on the sideline, the two-hour midday session belonged to Brock Osweiler, Shelley Smith, Shaquil Barrett, Kayvon Webster, Bradley Roby and other young Broncos who could use the extra repetitions.
"I am trying to figure out the youth of this football team, the depth of this football team and how it's going to help us," Head Coach Gary Kubiak said. "So I'm trying to really rep those other guys."
This is the second time during OTAs that the veterans have gotten a respite, and it won't be the last. Kubiak had similar days in Houston, but said that there will be more days than he has used in the past, after he was exposed to how Baltimore got repetitions for its younger players -- which helps explain why the Ravens are among the league's best at developing young talent.
"We'll continue this process. I want to practice at least one day with those other guys sitting," Kubiak said. "I just think it's important. Probably you're going to see it some in training camp."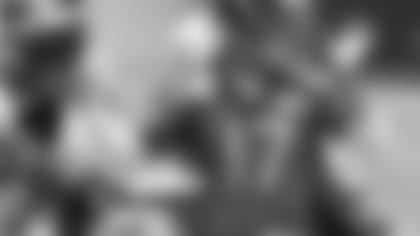 2. BROCK OSWEILER'S PROGRESS:
No one could benefit more from the extra work than the backup quarterbacks.
"I absolutely love it," Osweiler said. "I'm getting more reps than I've ever gotten as a Bronco … I'm getting twice what I usually get."
Although the fourth-year backup's mobility should lend itself to the rollout elements of the new offense, he has to learn how to operate under center, which he said he has not done extensively since pee-wee football. Most of his work at Arizona State was in the shotgun, as well as his high-school repetitions.
"You're able to make some reads that maybe would have taken a little bit more time [in shotgun]," Osweiler said.
But that's only the beginning of the changes.
"I'm asking him to read some things a little bit different. I teach guys to read with their feet, and how they hitch and how they do things. So that's different for him," Kubiak said.
"Your feet tie into your progression," Osweiler said. "You guys (the media) have probably seen a coach on us pretty good about that. It's telling you on one hitch the ball should be going here; if you're taking one, you should be moving to here; if you're taking two, you should be moving to here."
It was crucial for Kubiak to see how Osweiler and Zac Dysert handled themselves when given a practice to direct the team.
"Last week, that day that we did it, it wasn't very good. Today it was actually pretty good," Kubiak said. "I like the tempo of practice. There's always mistakes, but we practiced a lot better with our young players today than we did last week."
It wasn't perfect; Osweiler threw an interception and had a fumbled snap with center Gino Gradkowski, and all three quarterbacks misfired at times. But the offense settled into a rhythm and grew more consistent, with an array of targets catching passes.
"The ball was off the ground more," Osweiler said. "Things just seemed to flow a little bit better."
3. QUARTERBACKS BEYOND OSWEILER:
No one has more to gain from the extensive extra work than the young quarterbacks. Dysert followed Osweiler and had a solid day, and showed confidence firing the football into tight spaces. One of his best completions came to recently acquired tight end Marcel Jensen, who leapt for a 20-yard grab in double coverage during the seven-on-seven period.
Even seventh-round pick Trevor Siemian saw some seven-on-seven snaps as he continues to work his way back from a torn anterior cruciate ligament; he misfired on two passes but had one completion to Kyle Williams that was perhaps the hardest-thrown pass of the day.
"I'm trying to really rep those other guys," Kubiak said.
TY SAMBRAILO SETTLES IN.**
Last week, there were some timing issues as Sambrailo got adjusted to left tackle in place of Ryan Clady, who was lost for the season to a torn anterior cruciate ligament on Wednesday. Working alongside another player who has never started before in the NFL, left guard Ben Garland, exacerbated the issue. Monday, their play was smoother and had increased cohesion.
"The first day we were kind of stepping on each other a little bit and we didn't really know each other's steps on certain blocks and plays," Sambrailo said. "Now you kind of get in a groove as you take more reps."
The improvement was obvious to Kubiak.
"He (Sambrailo) has had no problem mentally," Kubiak said. "Physically, it's going to be a continuous deal. But he's a worker, and I think the players respect how he's going about his business, and like I've said, he's got to do it really fast."
Kubiak also said that Michael Schofield "has really improved" in his work in recent OTAs. With Sambrailo moving to left tackle, Schofield will see work at both tackle spots, as the Broncos hope -- at minimum -- that the 2014 third-round pick can be a swing tackle.
"I think you throw everything at them and you see what's sticking and where their strengths are," Kubiak said. "It's our job as coaches, by the time we get to the fall, to do what they do best.
"But right now, we need to see how much they can handle. When they're in mental overload, how well do they practice? So we're trying to find out a lot about them as people, and they're getting reps that they never knew that they were going to get. So we'll see."
5. TODD DAVIS MAKES THE MOST OF HIS CHANCES.
Davis intercepted Osweiler early in practice, and was active working from an inside linebacker position alongside Steven Johnson. He was equally disruptive during last Wednesday's practice, and looks like he picked up where he left off last year, when his play improved from week to week after he was forced onto the first team late in Week 15 because of injuries.
6. JORDAN TAYLOR TURNS HEADS.
The undrafted rookie had two long receptions -- a deep catch from Siemian in a seven-on-seven period in which he turned back to the line of scrimmage and nicely adjusted to the flight of the football, and a deep catch from Osweiler, in which he sprinted past fourth-year cornerback Curtis Marsh and grabbed the pass in stride.
Taylor uses his size (6-foot-5, 210 pounds) well and has a long, easy stride that allows him to get upfield on go routes in a hurry.
7. MANNING STILL GETS IN WORK.
Even though he saw no repetitions Monday, the quarterback wasn't idle; during one drill, he worked on his drop-backs and play-action fakes off to the side.
You knew Manning wouldn't let a day go to waste.
The Broncos continued with their Organized Team Activity practices on Monday, finally joined by Shane Ray.