ENGLEWOOD, Colo. -- **Twice in the first three plays of practice Tuesday, first-round pick Bradley Chubb burst into the backfield and generated pressure on quarterback Case Keenum. On one of them, he stopped himself short, holding up on what would have been a sack in game conditions.
This continued throughout practice. Chubb was a consistent, occasionally dominant presence in the pass rush, at one point notching a strip-sack of Case Keenum when he and defensive end Derek Wolfe burst through the right side of the offensive line,
That said, it was only just practice, and while Chubb, Von Miller, Shane Ray, Jeff Holland and others in the front seven had dominant stretches, Miller knows not to get too hyped about the late-spring results.
"You really can't get too high off a sack in practice out here," Miller said. "I mean, I think that's a joke -- 'I had 10 sacks today' -- you really can't put too much into it. You've just got to come out here and work and grind for the upcoming season."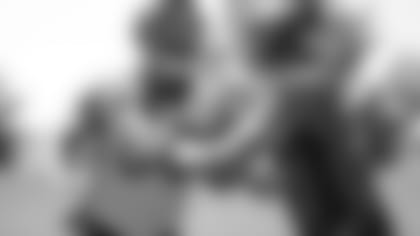 But just seeing Chubb burst into the backfield time after time -- whether he was standing up on the edge or moving to defensive end with his hand on the ground -- was enough to offer a tantalizing glimpse of what he could deliver in what Head Coach Vance Joseph said will be a multifaceted role.
"Last year, we were in base probably 35 percent of the time and then sub the rest," Joseph said. "So [Chubb] is going to be an outside linebacker slash defensive end on sub [packages]. Schematically, we won't change what we're doing because of one player." No, but Chubb can change the possibilities of what the Broncos do within that scheme -- and along with eight-year veteran Von Miller, Chubb can help improve the blockers who try to adapt to contain him play after play.
"It's going to pay off in the fall," tight end Jake Butt said. "I don't think it will get any harder than blocking Von Miller and then Chubb's a different beast off that edge. If you can figure out how to block these guys, then you can probably hold your own throughout the league."
... "We're still working to get that connection going," wide receiver Demaryius Thomas said of his work with Keenum.
But during Tuesday's OTA, they looked like they were in a groove. During a four-play stretch midway through practice, Keenum hit Thomas twice down the right sideline for long receptions, including one that saw Thomas use his arm to generate separation from Tramaine Brock, who had tight coverage on the nine-year veteran receiver.
... Keenum did a good job generating space for his receivers with a bob of his shoulder to sell a pump fake. He also elicited an offside penalty from the defense with his hard count.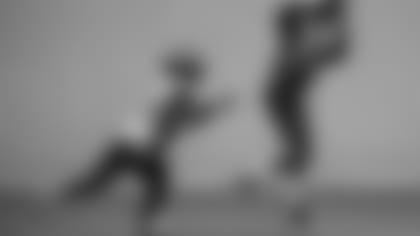 ... Rookie wide receivers Courtland Sutton and DaeSean Hamilton both caught touchdowns from Chad Kelly. Sutton grabbed a touchdown pass in the back of the end zone on a post route that he executed perfectly.
Hamilton broke though later in practice, one play after a Kelly attempt in his direction fell incomplete. to grab a deep scoring strike from Kelly.
The play began with Kelly rolling to his right while keeping his eyes downfield, a trait that was evident from his Mississippi film. As he saw Hamilton working to get open despite coverage from C.J. Smith, Kelly waved his hand, directing Hamilton, then fired the pass.
... Hamilton spent extra time after practice catching footballs fired at him with a JUGS machine, continuing an activity that has long been a post-practice routine.
"I've done that ever since I was a freshman in college, and I'm making sure I'm not losing that when I come here," he said.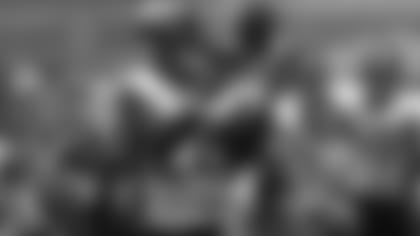 ... Brock and Smith each intercepted passes. Brock picked off a Keenum pass that bounced off tight end Jeff Heuerman, returning it for what would have likely been a touchdown under game conditions. Smith grabbed a pass from Kelly that was intended for Carlos Henderson.
Cornerbacks Chris Harris Jr. and Brendan Langley each had chances for interceptions, but failed to make them. Harris' near-pick was set up by pressure from DeMarcus Walker up the middle, which helped forced a hurried throw.
Harris also made an outstanding play on Emmanuel Sanders near the sideline, arriving with the football to prevent a completion from Keenum during a full-field team period. Sanders later rebounded, catching a touchdown pass from Keenum on a slant route near the goal line.
... Walker's pressure was a promising sign for the second-year player, who is back up to 277 pounds as he returns to the defensive line after working at outside linebacker for much of last season.
"He looks good. Having him with [Defensive Line Coach] Bill [Kollar] all the time has helped him. Having him at one position has helped a lot," Joseph said. "Obviously being bigger is going to help him play better for us.
... Tight end Matt LaCosse made a nice play to move the chains on a third-and-11 play, catching a pass from Kelly, then stopping as he changed direction, which forced safety Dymonte Thomas off-balance, allowing LaCosse to surge forward for what would have likely been a first down under game conditions.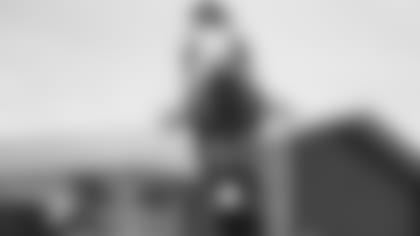 ... Butt leapt in the end zone amid a crowd of defenders for a 15-yard touchdown pass from Paxton Lynch in a red-zone period late in practice, and continues to show no lingering effects from the torn ACL that he suffered in the 2016 Orange Bowl. Lynch rolled right and fired a strike across his body that only Butt could pluck from the sky.
The play was also reminiscent of one Lynch made last week, where he set up Sutton for a leaping grab. In both cases, Lynch ensured that defenders had no chance at making a play on the football.
"He took a leap last year from training camp to Week 17 against the Chiefs," Joseph said. "That game, I was impressed with how he played. And from that game to now, he's taken huge strides."
... Kelly closed out the scoring for the day's red-zone work by hitting Jordan Leslie in the back left corner of the end zone for a score. One play later, a defensive pass-interference penalty nullified a chance for Kelly to hit River Cracraft down the right sideline.
After resting up during the long, holiday weekend, the Broncos were back on the field Tuesday to start the second week of OTAs. (Photos by Ben Swanson)