ENGLEWOOD, Colo. --Jeff Heuerman knows this is a critical offseason. He's in his third year, which is often the fork-in-the-road juncture for players. He's also been limited to just 12 games in his first two seasons because of injuries.
He also knows that making downfield plays like the ones he had with Trevor Siemian during this week's OTAs will help his cause.
One day after Siemian hit him for a long touchdown down the seam, the two collaborated once again, as Siemian hit Heuerman 15 yards upfield during a team period Tuesday. On each of those passes, Siemian led Heuerman perfectly, giving the third-year tight end an opportunity for yardage after the catch.
These were the kind of connections that you start seeing after weeks of work to hone the chemistry.
"A lot of of the timing routes are starting to come together," Heuerman said after Tuesday's work. "You can start to see it out there. Every day you can see the offense just kind of getting in more of a groove.
"[We're] getting more of a feel for the offense and the plays and how we're calling things, how we're motioning, where we're going, who's running what. So that's really good."
While the offensive has shown improved form in recent days, the defense has maintained its usual level. Tuesday, that bore itself out in consistent pressure that often forced Siemian and Paxton Lynch to step up and make quick decisions.
The give-and-take, back-and-forth nature of Tuesday's practice is exactly what the team wants as it develops.
"These practices have been more competitive in OTAs than they have been in the last two years, I think," tight end Virgil Green said. "There's a lot of talking out there. The defense is getting at us. We're getting at the defense.
"Today's practice was very intense, and it was fun. We enjoyed it."
A closer look at what happened during Tuesday's practice: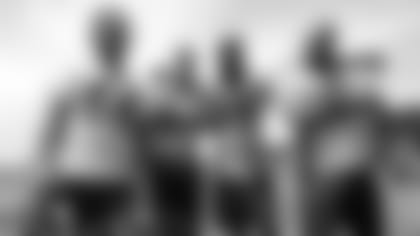 ... The edge rushers had a productive day, starting with the third play of the first team period of practice, when Shane Ray burst into the backfield, forcing Lynch to make a quick decision to scramble to get something out of the play.
The next time the No. 1 defense took the field, it was Von Miller's turn. He whipped around the edge to quickly reach the pocket for what would have been a sack under game conditions.
Reserves Vontarrius Dora and Ken Ekanem also generated multiple pressures. Ekanem's quickness around the edge has allowed him to break into the pocket on a regular basis during the last two weeks.
... OLB Kasim Edebali also showed quickness working to the outside and inside. One of his pressures came when he used a spin move to the inside, forcing a quick throw. Near the end of practice, Edebali whipped around the edge to force another hurried throw that fell incomplete.
... The right side of the offensive line did a good job quickly getting outside on a screen pass from Lynch to Thomas, roaring into position and creating a convoy that allowed Thomas to turn up field for a solid gain.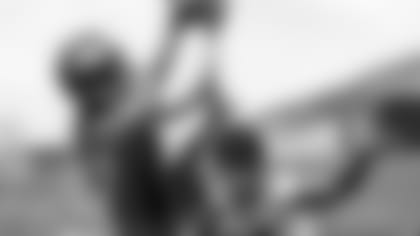 ... Siemian and Jordan Taylor connected for one of the most notable plays of the day. Siemian fired a pass toward Taylor near the left sideline. Taylor then out-leaped rookie CB Brendan Langley for the football and took off upfield for a long gain before being pushed out of bounds.
... Lynch scrambled out of rushes on multiple occasions, but also did well to extend plays with his feet and give his targets a chance. One example came late in practice, when he stepped forward and found rookie Isaiah McKenzie through a narrow window.
... The secondary didn't intercept any passes Tuesday, but made its share of plays on the football. Rookie Dymonte Thomas had one such play, showing good timing to anticipate and break up a pass intended for fellow rookie Carlos Henderson. Later in practice, Langley broke up a pass intended for Henderson.
... Rookie RB De'Angelo Henderson continues to do a good job showing quickness and the ability to make tacklers miss. He turned a potential loss of a yard into a modest gain thanks to two cuts that generated room, and turned a short grab into a long gain when he made the first defender miss in the left flat.
... RB C.J. Anderson has enjoyed a solid two weeks of work. Tuesday, he showed good quickness getting to the edge on toss sweeps, eluding defenders in the backfield to turn upfield for solid gains.
... WR Emmanuel Sanders was able to turn one reception in the left flat into a long gain by bursting upfield. He also made one short reception despite tight coverage from Aqib Talib.
Photos from a competitive practice on Tuesday during the Broncos' eighth day of OTAs. (photos by Ben Swanson)