ENGLEWOOD, Colo. --It was just a glimpse. But midway through Thursday's practice, rookie wide receiver Carlos Henderson showed with one reception why the Broncos are so high on his potential.
That's where the notes from Thursday's organized team activity begin.
... Henderson punctuated the day with a dazzling touchdown catch from Trevor Siemian that saw him work his way into space between two defenders near the goal line. Siemian uncorked a deep pass, and as Henderson found a gap, he turned and adjusted to the ball. He smoothly hauled it in and tumbled into the end zone for a score that elicited whoops and hollers from the offense.
Fellow draft pick Isaiah McKenzie also showed off his speed, taking a short pass as he crossed from left to right, getting to the edge and sprinting upfield past a cornerback and a safety.
Henderson and McKenzie will forever be connected because they came from the same draft class and were brought in for the same reason: to give the Broncos more speed and burst on offense and special teams.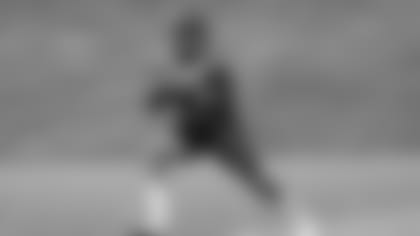 "They can fly," WR Demaryius Thomas said. "They both can run and catch the ball. They can do things after the catch. I look forward to seeing what they can do for the team."
"If you're out there at practice the past couple of days ... you could see the playmaking ability that they have," Offensive Coordinator Mike McCoy added. "So they're explosive players."
Yet they have much to learn, just like all the rookies do. That is their top priority.
"No. 1 is [to] learn the system, because they're swimming. All the rookies that just got here not long ago, they're trying to figure out which way is right and left right now," McCoy said.
"But the most important thing right now -- and it's really the whole entire offense -- is put yourself in a position come training camp to win a spot on the football team. And don't worry about anybody else, just take care of your own job, and that's what I tell all the players -- not just those two young receivers, but everybody: Learn the system.
"When you leave this office, you've got to study. That's the most important thing, because they're talented players, and once they learn it, and they know where they're going and how to get there, it's going to be fun playing with them."
... The quarterbacks continued to rotate reps on Day 3, with Siemian leading the first team. He showed good placement on some of his passes, including when he hit Emmanuel Sanders near the sideline with a pass that was placed at the outside shoulder, giving Chris Harris Jr. no chance at making a play on the ball. Siemian later made a similar pass to Demaryius Thomas, allowing the offense to move the chains on a third-and-7 play.
A day after leading the first-team offense, QB Paxton Lynch worked with the second unit. He closed an impressive opening week on a strong note with three consecutive completions, including a perfectly-placed throw to TE Steven Scheu. As was the case Wednesday, Lynch showed good composure and decision-making when the defense cranked up its pass rush, and he spread the ball around to a variety of receiving targets.
"He's a very talented player. He can throw. He can make every throw that we're asking him to make and that he needs to make to win a football game and move the ball up and down the field," McCoy said. "He's very athletic and you love his size with his ability to sit in the pocket and see the whole field. He's just poised in the pocket and [can] throw those comebacks and out routes effortlessly."
... LG Ron Leary helped spring C.J. Anderson for one of his best runs of the week, creating an inside seal that the five-year veteran back dashed through for a big chunk of yardage on a second-and-7 play.
... Teamwork came into play on a pair of interceptions. On the first, safety T.J. Ward tipped a pass, allowing Bradley Roby to record an interception for a second consecutive day. Roby nearly added another interception later in practice.
The defense's second interception also came via a tip drill, as Harris deflected a pass skyward, allowing OLB Shane Ray to record the interception.
... The "No-Fly Zone" also teamed up against the run. CB Aqib Talib stripped Devontae Booker of the ball as he moved upfield, allowing Darian Stewart to recover and return it for a touchdown.
... DE Jared Crick did a good job getting his arms up as the quarterbacks threw, leading to a deflection at the line of scrimmage.
... Safety Will Parks shone on back-to-back plays early in practice, following a pass breakup by reading a draw play perfectly and filling the hole, cutting off Juwan Thompson's path forward.
.... CB Taurean Nixon showed good anticipation Thursday, jumping on a quick slant and arriving at McKenzie along with the football, allowing hm to break up the pass without drawing a penalty. Later in practice, Nixon nearly intercepted a pass.
... Moments like those are learning experiences for the offense.
"Well, the great thing for our football team is playing against our defense every day. It's one of the best -- if not the best -- in the league," McCoy said. "And having played against them [with the Chargers] the past four years twice a year -- and then the first year, the third time [in the playoffs], it's great to go against the best in the business."
But at this point in the year, miscues are going to happen because the offensive players are in a new scheme, while the veteran-laden defense is in its third year in its scheme. The coaches are learning what the players can do best, which facilitates further tweaking of the scheme to play to the unit's strengths.
Each misstep and each turnover offers a chance for growth.
"There's plenty of mistakes that we're making that we're cleaning up, but the good thing about that is we're coaching off of that," McCoy said. "It's never going to be perfect. Every game, there's plenty of mistakes that you look at and say, regardless of the score, 'Hey, here are some plays I wish we would have done better, here's how we can correct some things.
"Everyone's getting reps right now, so it's been a productive couple of weeks on the field for the players."
The Broncos are back! The team returned to UCHealth Training Center for the beginning of offseason team activities. (photos by Gabriel Christus)